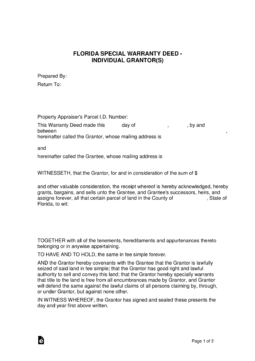 The Florida special warranty deed is another document that can be used to convey real estate in Florida. This type of deed provides a limited guarantee. The grantor, or seller, is guaranteeing that he or she has not made any encumbrances or claims and that will defend, on behalf of the buyer, any claims made through the grantor's interest. As in all case, it is prudent to complete a title search to determine exactly what interests in the property are actually being conveyed.
How to Write
Step 1 – Fill in the name of the person who is preparing the deed.
Step 2 – Enter the name of the person to whom the recorder should return the deed. Usually the grantee (buyer) or the grantee's lawyer.
Step 3 – In the next spot, write in the parcel ID number. This can be found at the county recorder's office.
Step 4 – Specify the date of transfer.
Step 5 – In the next blanks, print the name and address of the grantor and grantee.
Step 6 – Indicate the consideration for the property.
Step 7 – Write in the county in which the property is located.
Step 8 – In the next section, fill in the legal description of the property.
Step 9 – In front of two witnesses and a notary public, the grantor and grantee should sign and date.
Step 10 – The grantee should take the original to be recorded with the county recorder.