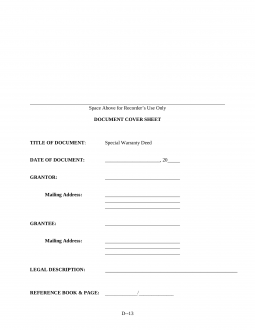 The Missouri special warranty deed is also a deed with a warranty, but unlike a general warranty, this type comes with a limited warranty. The grantor guarantees only that there are no other claims arising out of his or her ownership of the property. In other words, the grantor is guaranteeing that he or she did not convey any interest in the property to someone else while he or she owned it. However, the grantor does not guarantee that any other owner of the property did nor did not convey interests in the property prior to grantor owning it.
How to Write
Step 1 – On the cover page, fill in the following information:
date of the deed
grantor's name and address
grantee's name and address
legal description of the property being sold
book and page number
Step 2 – On the next page enter the following information:
date
grantor
grantor address
grantee
grantee address
consideration paid
county in which property is located
Step 3 – Attach a legal description as Exhibit A
Step 4 – Write in the date and sign in front of a notary public.
Step 5 – Have the document filed with the county recorder's office.