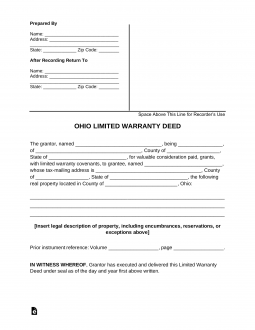 The Ohio limited warranty deed is similar to a warranty deed in that it conveys property interests with a guarantee. However, unlike a warranty deed, the grantor is only guaranteeing that he or she did not encumber the property while he or she owned it. That means that the grantor is guaranteeing that he did not given anyone else any interest in the property. The grantor does not guarantee what other owners may have done prior to grantor's ownership.
Laws – § 5302.07
How to Write
Step 1 – Fill in the name and address of the grantor and the grantor's marital status.
Step 2 – Add the amount of money paid for the property.
Step 3 – Write in the name and address of the grantee and the ownership status.
Step 4 – In the next section, fill in the following information:
street address of the property
legal description of the property
recording information of the property
Step 5 – The document should be signed and dated  by the grantor and grantee.
Step 6 – A notary should acknowledge the deed.
Step 7 – The grantee should record the document with the county recorder's office immediately.