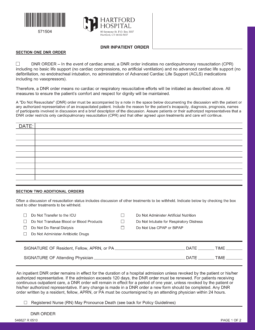 5.0 Stars | 1 Ratings
40 Downloads
Updated July 18, 2023
A Connecticut do not resuscitate (DNR) order form alerts medical personnel that they should not perform resuscitative procedures on the individual who requested the order in the event that they stop breathing. In Connecticut, bracelets are the only valid DNR identifier; necklaces, anklets, etc. are not recognized in the State. If a patient is hospitalized, they can request a DNR order, and their physician will write it out themselves. In situations outside of the hospital, a paramedic/EMT will attempt a number of procedures in an attempt to revitalize a person whose heart has stopped beating. However, some people (usually the terminally ill or those who are against the idea of life-prolonging treatment) choose not to be resuscitated in the aforementioned situation. A person who requests a DNR for the purpose of informing emergency responders outside of the hospital must ask their physician to order them a DNR bracelet.
Laws – § 19a-580d
Required to Sign – Patient and physician.
How to Write – Inpatient DNR Order
Step 1 – Download the form in PDF. (This form is a sample taken from the Hartford Hospital.)
Step 2 – Select the checkbox next to 'DNR Order'. In the fields provided, enter any relevant notes concerning discussions between patient and physician regarding the DNR order.
Step 3 – If other treatments are to be withheld at the behest of the patient, select all applicable checkboxes under 'Section Two'.
Step 4 – Signatures of the resident/fellow/APRN/PA and physician are required at the bottom of the form. The date and time of the signing must be provided as well.
How to Write – Plastic DNR Bracelet
Step 1 – Download form in PDF.
Step 2 – On the top four (4) lines, enter the name of the ordering institution/physician, their contact person, their address and their phone number.
Step 3 – Select a number of bracelets, multiply this number by $2.00 and enter the sum on the applicable line. Next, select either 'Adult' or 'Pediatric'.
Step 4 – Enter the appropriate number into the field next to "+CT State Sales Tax – Amount ordered x $.06=." Enter the total in the last field of the form.
Step 5 – Mail this form along with the fee to the following address:
CCEP-DNR
60 Kings Highway
North Haven, CT 06473
How to Write – Metal DNR Bracelet
Step 1 – Download the Metal Bracelet DNR form in PDF.
Step 2 – Enter the name, contact person, mailing address and phone number of the ordered physician.
Step 3 – Complete the 'Front Engraving' section by entering the patient's full name.
Step 4 – Under 'Reverse Engraving', enter the physician's name and phone number. Specify whether the bracelet is for an adult or a child by selecting either 'Adult Bracelet' or 'Pediatric Bracelet'.
Step 5 – Attach a copy of the DNR Verification Order written out by the physician and a copy of the patient's driver's license, SS card or birth certificate. Mail all documents along with the appropriate fee to the following address:
CCEP-DNR
60 Kings Highway
North Haven, CT 06473