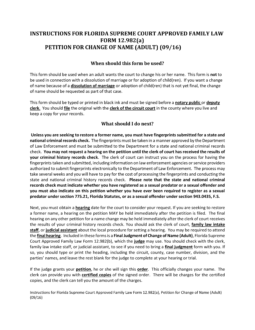 4.5 Stars | 28 Ratings
485 Downloads
Updated July 14, 2023
Florida name change forms are documents used to legally request a name change for reasons other than marriage or divorce. These forms may be used by an adult who wishes to change their own name. All filings must be submitted to a clerk of the circuit court operating within the applicant's county of residence.
Name Change After

Marriage
When filling out your marriage license application, enter a new last name in the area designated for the spouse's general personal information. You must then mention your maiden surname in the next available space. This process will notify the court of your intention to change your name.
Once your marriage is legal, the marriage certificate serves as proof of your legal name change. You can obtain a certified copy of the marriage certificate from the Florida Bureau of Vital Statistics.
Name Change After

Divorce
Indicate your desire to change your name in your marital settlement agreement and during your divorce court proceedings. When your divorce is completed, you will receive a divorce decree that can be used as legal documentation of your name change. Certified copies can be obtained through the Florida Bureau of Vital Statistics.
This process only applies if you are restoring your name to the one used prior to your marriage. Changing your name to anything other than your former name will require you to file the standard paperwork for an adult name change.
How to Change Your Name (5 steps)
1. Complete Background Check
Unless you are attempting to restore your former name, you must obtain a state and national fingerprint-based background check.[1] Contact the Department of Law Enforcement to locate a law enforcement agency or service provider authorized to do this. Next, go to the agency or service provider to have your fingerprints recorded. Fees vary based on the provider.
You may need to wait several weeks before receiving the results of your state and national background checks. After receiving your results, make copies for your personal records.
2. Fill Out Petition for Change of Name
Download and complete the Petition for Change of Name (Form 12.982A). If a person is helping you fill out your change of name request, that person must complete a Disclosure From Nonlawyer (Form 12.900A) form before assisting you.
Sign your Petition for Change of Name (Form 12.982A) in front of a notary public. The services of a notary public can often be employed for free at a local bank or credit union, though you may be required to pay a small fee depending on their business policy. A deputy circuit court clerk can also provide this service for you when you file your petition.
3. Submit Filings to the Circuit Court
Go to the circuit court in your county during business hours to submit your petition to a clerk. The following must be included in your filing:
Petition for Change of Name (Form 12.982A)
Disclosure From Nonlawyer (Form 12.900A), if applicable
A copy of your background check results, unless you are filing to restore a former name
Filing fees will vary depending on your county of residence, but typically fall in the range of $400.[2] To apply to have the filing fee waived, submit a completed Application for Determination of Civil Indigent Status.
4. Obtain a Hearing Date
Upon filing your petition, inquire with the clerk of court about the next steps. Your hearing may take place immediately or be scheduled for a future date. Depending on the county, you may be required to bring a prepared Final Judgement of Change of Name (Form 12.982B) to the hearing. This document will be signed by a judge after your request for a change of name has been approved.
5. Attend Hearing
Attend your hearing on the arranged date and time. When your case number is called, provide the judge with the Final Judgement of Change of Name (Form 12.982B) and answer any questions that the judge might have. If the judge approves your request for a change of name, the judge will sign the judgment form and return it to you. Complete the process by filing the form with a court clerk and requesting certified copies.
Driver's License
The Florida Department of Highway Safety and Motor Vehicles (DHSMV) cannot update the name on your driver's license unless you have reported the new name to the Social Security Administration (SSA). Therefore, before proceeding, you must submit the Application for a Social Security Card to the SSA and obtain a new social security card.
After reporting your new name to the SSA, visit a Florida DHSMV location and request an updated driver's license. They will ask you to provide an original or certified copy of the following documents:
Florida driver's license or ID card
Proof of U.S. citizenship or legal presence
Proof of name change
Proof of social security number
Proof of legal residency
Pay the $25 processing fee to complete the process.[3] The DHSMV will then provide you with a new driver's license showing your new name.
Voter Registration
Updating the name on your voter registration can be accomplished in one of two ways. You can visit the Florida Department of State webpage to change your name online, or submit a new Voter Registration Form in person or by mail to the County Supervisor of Elections. If updating in person or by mail, indicate that your name has changed by selecting "Record Update/Change (e.g., Address, Party Affiliation, Name, Signature)."
Sources