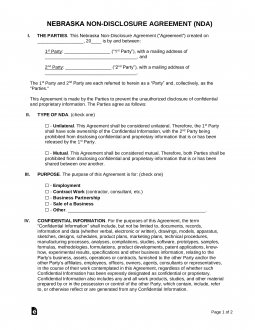 The Nebraska non-disclosure agreement is designed specifically to protect a company or individual's Trade Secrets (Confidential Information). Once a party has signed the document, they have agreed to hold and maintain the information defined as confidential in the strictest of confidence, and they will be held accountable should the information enter the hands of a competing business or other third party. These documents are often used during a company's hiring process as they allow an employer to train and inform a new employee freely knowing that, with the NDA signed, the employee will be liable for all damages that occur should they release the non-public information.
Definition of "Trade Secret" – § 87-502
Laws – 87-501 to 87-507
Non-Compete Agreement – A non-compete agreement is often used alongside a non-disclosure agreement; it prevents an employee from using Trade Secrets to compete in the same field and market as the company for which they work.
(Video) How to Make an NDA in Nebraska
How to Write
Step 1 – Download in Adobe PDF, Microsoft Word (.docx) or Open Document Text (.odt).
Step 2 – The first section of the form asks only for the date and the name of each party.
Step 3 – If the agreement is Unilateral, and only the 2nd party is prohibited from disclosing the Confidential Information, select the first option of section two (2). If the agreement is Mutual, and both parties are prohibited, select the second option. Describe the relationship of the parties to each other in section three (3).
Step 4 – The number of days either party has to return materials to a requesting party can be defined in section five (5).
Step 5 – In the final fields, each party can provide their signature, the day's date, and their printed name.