Updated August 31, 2023
A Connecticut notary acknowledgment form acts as an affidavit to authenticate a notarized document and the signatures included therein. Once the document (most commonly a legal document) has been presented to a notary public, it is their duty to confirm the identities of the signer(s) and certify that they signed the document under their own free will. Alternatively, the signer(s) may wait until they are in the notary public's presence to sign the document (this is often recommended as it could avoid legal complications in the future).
The acknowledgment form must be attached to the document requiring notarization (or an acknowledgment section may be included within the document) and completed by the notary once they are satisfied with the legitimacy of the signatures and identifications.
Laws – § 6-1-34
Notary Handbook – Connecticut manual for all notaries, or public officials, prepared by the Office of the Secretary of State as a tool to assist officials in the performance of their duties.
How to Notarize in Connecticut (5 steps)
1. Locate Notary
First, locate a notary public. This can be accomplished by visiting one of the following public places:
Verify a Notary in Connecticut (4 steps)
Step 2
In the "License Type" field, scroll down and select
Notary Public
.

Step 3
Using the search fields, fill in the name of the notary and click Submit. A list of matching results will be displayed.
Step 4
To view more details about a particular notary, click the detail button next to their name.
How to Write (For Notary)
Step 1 – Download the form in PDF, Microsoft Word, or ODT.
Step 2 – At the top of the form, enter the county and town/city in which the document is being acknowledged.

Step 3 – Provide the current date, notary's name, and name of the signing individual(s) in the appropriate fields. There are two (2) empty fields for the notary to select the appropriate verb and proper noun, respectively.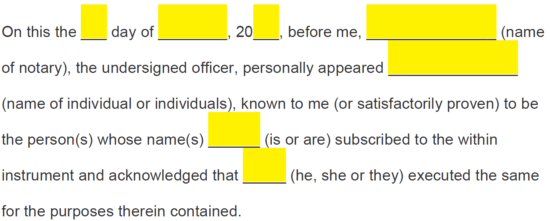 Step 4 – The notary must sign the form, enter the date of their commission expiration, print their name, and include their official seal or stamp.