Updated January 05, 2023
An Indiana notary acknowledgment form is a statement certifying the legitimacy of all signatures inscribed on a document. A notary public is responsible for verifying the identities of all signing parties (who must appear before the notary) and ensuring all parties did not sign the document under coercion or duress. Unlike some other notarial acts, the signers needn't sign the document in the presence of the notary, and can instead bring the document complete with signatures. (Some notaries will recommend that individuals wait to sign in front of a notary as this can sometimes save the signers from any legal hassle in the future.) If the document has already been signed, each signer must declare that they have signed under their own free will. Only then can the notary acknowledge the document by signing and stamping their official seal on the acknowledgment form.
Laws – § 33-42
Notary Handbook – Contains information pertaining to notary public commissions and notarial acts in the State of Indiana.
How to Notarize in Indiana
Step 1 – To locate a notary public, one could start by looking into one of the following options:
Banks and Credit Unions (Chase Bank currently has the most locations statewide)
Step 2 – The document in question must be presented to the notary public and all signing parties must personally appear before the notary.
Step 3 – All signers must identify themselves to the notary; this can be accomplished through photo ID, through a credible witness (in exceptional situations), or through personal recognition by the notary.
Step 4 – For documents requiring acknowledgment, signatures can already be inscribed on the document in question. In this case, all signers must declare that they have signed willingly. Other notarial acts will require each individual to sign the document in front of the notary public and, in some cases, swear an oath or affirmation regarding the truthfulness of the documents' contents.
Step 5 – Once the notary has completed their notarial duties, they can notarize the document by filling out the appropriate notarial certificate, including their official seal and signature.
Verify a Notary in Indiana
Step 1 – Visit the Notary Search page at the Secretary of State's website.

Step 2 – To find a notary, use the menu in the Profession field to select Notary Public.
Step 3 – Enter the notary's name and click Submit. A list of matching names will be provided.
Step 4 – Click on a notary's name to view more detailed information about them.
How to Write (For Notary)
Step 1 – Download the Indiana Notary Acknowledgment Form in Adobe PDF, Microsoft Word, or ODT.
Step 2 – The first two empty fields must be completed by providing the name of the county and the name of the signer.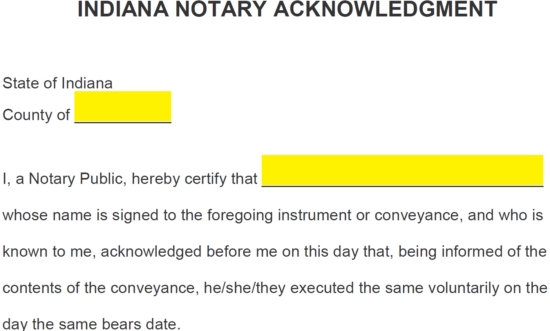 Step 3 – Next, enter the date and provide a notary seal, signature, title, and commission expiration date.