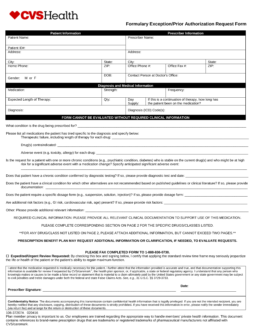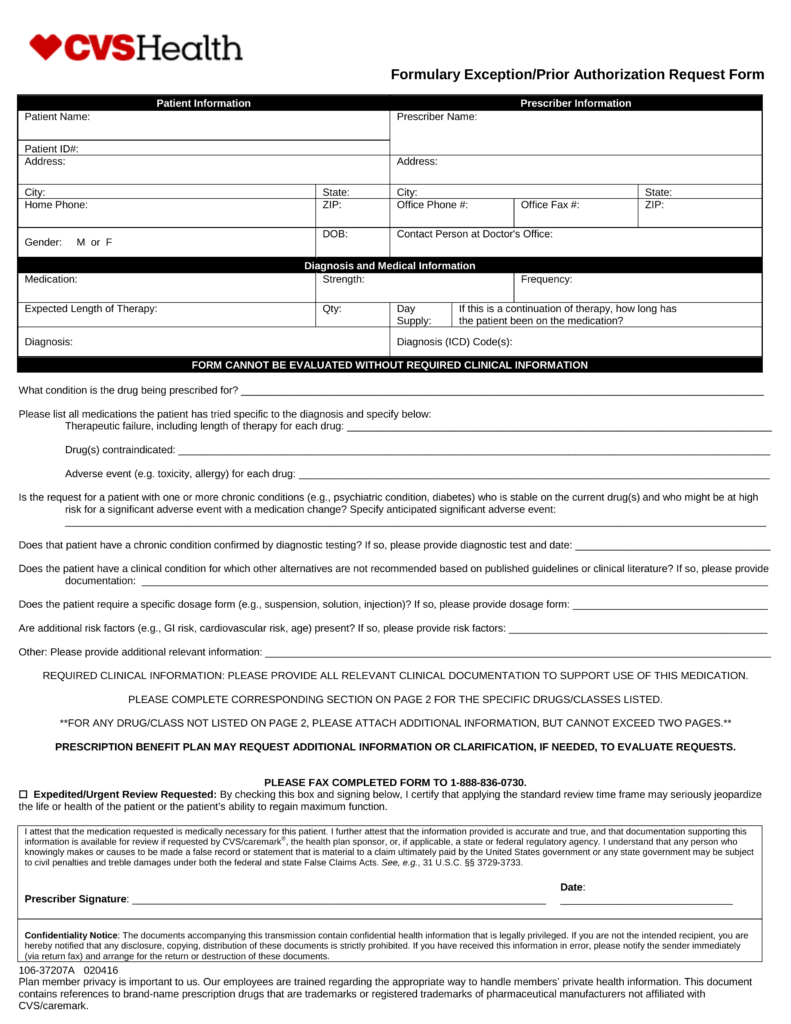 4.4 Stars | 59 Ratings
3,006 Downloads
Updated June 02, 2022
A CVS/Caremark prior authorization form is to be used by a medical office when requesting coverage for a CVS/Caremark plan member's prescription. A physician will need to fill in the form with the patient's medical information and submit it to CVS/Caremark for assessment. In doing so, CVS/Caremark will be able to decide whether or not the requested prescription is included in the patient's insurance plan. If you would like to view forms for a specific drug, visit the CVS/Caremark webpage, linked below.
Fax: 1 (888) 836- 0730
Phone: 1 (800) 294-5979
How to Write
Step 1 – In "Patient Information", provide the patient's full name, ID number, full address, phone number, date of birth, and gender.
Step 2 – In "Prescriber Information", provide the prescriber's full name, full address, office phone number, office fax number, and supply a name of a contact person.
Step 3 – In "Diagnosis and Medical Information", specify the medication, strength, frequency, expected length of therapy, quantity, and day supply. If this is a continuation therapy, specify how long the patient has been on this medication. Lastly, supply the diagnosis and diagnosis ICD code(s).
Step 4 – Next, specify the following: what condition the drug is being prescribed for, any therapeutic failure(s) (including length of therapy for each drug), contraindicated drug(s) and any adverse effects for each drug.
Step 5 – Specify whether or not the request is for a patient with one or more chronic conditions (e.g., psychiatric condition, diabetes) who is stable on the current drug(s) and who might be at high risk for a significant adverse event with a medication change. Also, mention any anticipated significant adverse events.
Step 6 – Specify whether or not the patient has a chronic condition confirmed by diagnostic testing. If so, provide diagnostic test and date.
Step 7 – Specify whether or not the patient has a clinical condition for which other alternatives are not recommended based on published guidelines or clinical literature. If so, provide documentation.
Step 8 – Specify whether or not the patient requires a specific dosage form (e.g., suspension, solution, injection). If so, provide dosage form.
Step 9 – Specify whether or not there are additional risk factors (e.g., GI risk, cardiovascular risk, age) present. If so, provide risk factors.
Step 10 – Provide any additional relevant information.
Step 11 – The prescriber must provide their signature as well as the date at the bottom of page 1.
Step 12 – On page 2, specify the type of medication requested and select yes or no in response to the questions related to each specific drug.