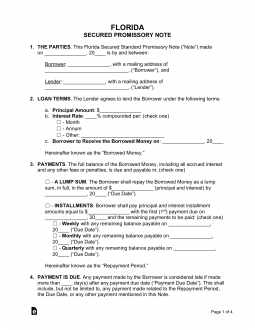 The Florida secured promissory note is an agreement that binds two individuals into a contract to help ensure a loaned balance is reimbursed to the lender. The lender and borrower will need to come to an agreement on things such as the full balance, the final due date of the balance, payment types, late fees, and other topics. Both parties will also need to come to an agreement on the item(s) that will be used as security for the transaction. The borrower can use his or her home, vehicle(s), or any other worthy personal possession to cover the cost of the balance in the case of a default.
How to Write
Step 1 – Begin the agreement by having the lender and borrower enter their names and addresses followed by the full balance and its associated interest rate at the top of the first page.
Step 2 – Heading to the first (1) section, determine how the borrower will pay back the balance. Options range from No Installments, to Installments, to Interest Only Payments. If the parties agree on an option that includes installments, proceed to the bottom of the first (1) section and select either weekly or monthly payments.
Step 3 – For both the second (2) and third (3) sections, enter the final due date for the entire balance followed by the interest rate that will be applied if the borrower defaults on the balance.
Step 4 – For the fourth section, enter how many days are required to pass before the lender can issue a late fee. Directly below that, enter the cost of the late fee itself.
Step 5 – For the eighth (8) section, enter how many days need to pass after a default before acceleration can occur.
On the last page of the document, write the date in the designated spot. Then, have the lender, borrower, and witness print and sign their names. Once this has been completed, the agreement will go into effect and the borrower will be required to make payments.