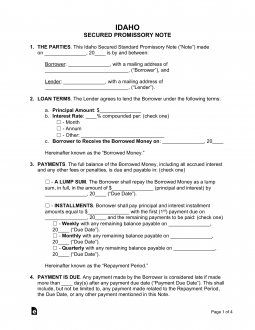 The Idaho secured promissory note is an agreement utilized by two parties who plan on engaging in a money leasing transaction. The lender in the agreement collects interest on an amount loaned to a borrower who either makes weekly or monthly payments or one lump sum payment. Both parties will need to agree on all aspects of the agreement before writing their signature on the document. Additionally, a witness should verify both parties signed the document themselves for legal purposes.
How to Write
Before heading to the first section of the agreement, both parties need to enter their name and addresses into the designated areas. Then, the full balance being loaned and the interest rate selected needs to be entered directly below the parties names.
Step 1 – In section one (1), determine the payment method that will be used for the agreement. The options consist of:
No Installments – Requires the borrower to make one single lump sum payment (including interest) to the lender at a predetermined date.
Installments – Requires the borrower to make either weekly or monthly payments to the lender.
Interest Only Payments – Requires the borrower to make payments that consist of interest only until the full balance is paid for.
Step 2 – At the bottom of the first (1) section, select either weekly or monthly payments if a payment option using installments was selected.
Step 3 – Heading to the second (2) section, enter the final due date for the balance. This includes all unpaid amounts such as late fees and interest.
Step 4 – For the third (3) section, enter the interest rate that will go into effect in the case of a default on the balance. Ensure it is a legal interest rate by checking the Usury Rates for Idaho.
Step 5 – For sections six (6) and eight (8), enter the cost of a late fee and the amount of days required to pass before one can be issued. Then, enter the amount of days that need to pass after a default before the lender can issue an acceleration.
Step 6 – Heading to the last page, enter the items that will be used for security. This can range from a home to a vehicle to any worthy material possession of the borrower. Next, enter the date followed by the printed and signed names of the lender, borrower, and the witness to the agreement. Once this has been completed, the agreement will go into effect.