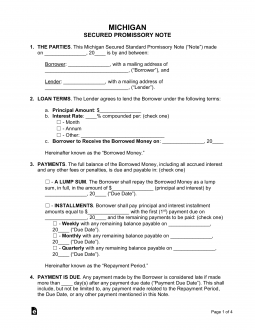 The Michigan secured promissory note brings two parties together around a template that outlines how a borrower of a monetary balance will reimburse a lender. The lender in the transaction makes a profit by receiving interest on top of the original loaned balance. Also included in the template is a section for security, which sets aside an item such as a home, vehicle, or boat which is granted to the lender in the case of a default.
How to Write
Step 1 – Before heading to the first section of the template, enter all required information regarding the lender and borrower into the designated spots. Then, enter the full amount of the balance and its associated interest rate.
Step 2 – Starting at section one (1), put a check next to the payment method you would like to be followed for the duration of the agreement. The options consist of No Installments (where the borrower makes a single payment of the full balance and interest), Installments (the borrower makes structured weekly or monthly payments), and Interest Only Payments  (the borrower makes payments of only interest either weekly or monthly).
Step 3 – If you selected an option using installments, check the box next to either weekly or monthly payments at the bottom of section one (1).
Step 4 – In sections two (2) and three (3), enter the final due date for the agreement, which requires the payment of all outstanding payments, accrued interest, and/or late fees. In the third (3) section, enter the default interest rate.
Step 5 – Heading to section six (6), enter the time span regarding late fees and the price of a late fee itself.
Step 6 – In section eight (8), enter the number of days required to pass after a default on the note before the lender can put an acceleration into effect. An acceleration makes all outstanding payments due at once.
Step 7 – At the seventeenth (17) section, have the borrower enter an item such as a home, vehicle, or boat that will be used as security for the note. The item selected should be of similar value as to the balance loaned.
To complete the note and put it into effect, date the last page and have the lender, borrower sign their names. If a witness was present during the signing (highly recommended), then have him or her sign their name into the designated spot.