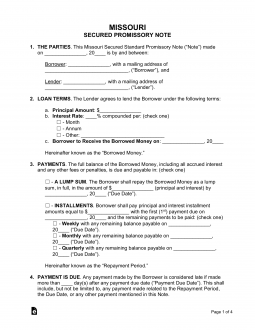 The Missouri secured promissory note establishes the basic structure of an agreement in which a lender loans a monetary balance to another individual, called the 'borrower'. The lender profits from the transaction by receiving a single payment of interest or installments of interest over a predetermined amount of time. The borrower will need to set aside an item for security to help protect the lender in the case of a default.
How to Write
Step 1 – At the top of the first page, enter the current date followed by the names and addresses of both parties, the full balance of the note, and the interest rate.
Step 2 – Head to section one (1) titled "Payments". Here, put a check mark next to the payment method you would like the borrower to follow for the duration of the note. If an option with installments is chosen, select either weekly or monthly payments, enter the date of the first payment, and then enter the day of the month (if monthly payments were chosen).
Step 3 –  For the second (2)  section, enter the final due date for the entire balance including any late fees and accrued interest.
Step 4 – For the third (3) section, enter the interest rate the borrower will be required to pay if he or she enters into default on the balance.
Step 5 – For the sixth (6) and eighth (8) sections, begin by entering all required information regarding late fees including the time span before one can be issued and the cost of a late fee. Then, enter how many days need to pass after a default has occurred before acceleration can occur.
Step 6 – In section seventeen (17), enter the item that will be used as security for the note. Items typically used are homes, vehicles, or boats. This item will be given to the lender if the borrower cannot reimburse the lender the full balance of the note.
Step 7 – On the last page of the agreement, enter the current date (day, month, and year) followed by the printed and signed names of both parties and the witness to the agreement.