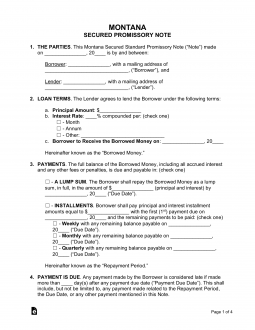 The Montana secured promissory note brings two parties that are planning on engaging in a monetary loaning activity together to agree on various aspects of the agreement such as payment types and interest rates. By ensuring the borrower is clear on the terms and conditions of the agreement, there should be no confusion as to when payments are due, thus increasing the likelihood of the lender receiving timely payments on the balance. If the borrower happens to enter into default on the balance, both parties will have previously agreed on an item or items to be put into security, thus giving the lender financial protection if the balance cannot be reimbursed.
How to Write
Step 1 – Enter the following information at the top of the first page:
Current Day, Month, and Year
Full Name of Borrower
Address of Borrower
Full Name of Lender
Address of Lender
Full Balance of the Note
Interest Rate
Step 2 – Head to the first (1) section of the template. Here you will select how the borrower will pay back the original balance of the note. Options consist of No Installments (borrower makes a single and full payment), Installments (borrower makes weekly or monthly payments), or Interest Only Payments (borrower makes weekly or monthly payments consisting of interest only).
[If an option with installments was chosen, look to the bottom of the first section and select either weekly or monthly payments as well as the day of the first payment]
Step 3 – For the second (2) and third (3) sections, enter the final due date (day, month, year) that the entire balance, accrued interest, and accumulated late fees will be due. Then, enter the interest rate required to go into effect if the borrower fails to make a payment within fifteen days or enters into default on the balance. This interest rate must be legal in the state of Montana – to ensure you chose a legal interest rate, check MT ST 31-1-107.
Step 4 – In the sixth (6) section, enter all required details regarding late fees into the two empty text boxes.
Step 5 – At the eighth (8) section, enter the number of days needed to pass after a default has occurred before acceleration can go into effect.
Step 6 – Go the the last section of the agreement (section 17) and enter the item or items that will be used as security for the agreement.
To complete the template and put it into effect, enter the current date followed by both parties signatures and the signatures of the witness.