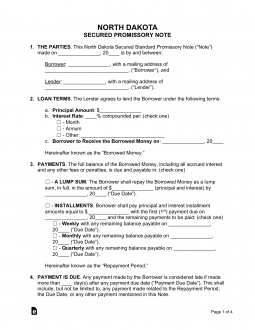 The North Dakota secured promissory note requires both the lender and borrower in a money-lending transaction to agree on several aspects of the agreement such as penalties for missing payments, how payments will be made, interest rates, and other important areas. In addition, the borrower will need to select an item to be used as security. This item should be of similar value to that of the loaned balance, as it will be given to the lender if the borrower is unable to make the required payments on the balance.
How to Write
Step 1 – To start off the document, begin by entering the current date followed by the names and addresses of the borrower and lender. Next, enter the full balance of the note as well as the interest rate that will be attached to it.
Step 2 – Head to section one (1) of the template and select the payment method that will be followed for the duration of the agreement. The options are as follows:
No Installments – Borrower makes a single payment of the entire balance plus interest.
Installments – Borrower makes multiple payments either weekly or monthly to the lender.
Interest Only Payments – Borrower makes weekly or monthly payments that consist of only interest.
Note: If an option with installments was selected, put a checkmark next to either weekly or monthly payments at the bottom of the first section.
Step 3 – For sections two (2) and three (3), enter the final due date that all outstanding expenses will need to be paid by. Next, enter the interest rate that the borrower will be required to follow if he or she enters into default on the balance or misses a payment by more than fifteen days.
Step 4 – Head to section six (6). Here, enter the amount of days that need to pass after a payment due date before the lender can issue a late fee. Then, enter the dollar amount of a single late fee.
Step 5 – Proceeding to the eighth (8) section, you will need to enter the time span needed to pass after default has occurred before acceleration can occur. If the lender decides to issue an acceleration, all outstanding debts (such as late fees, the balance itself, and accrued interest) will be due immediately.
Step 6 – Head to the last page of the template. In the seventeenth (17) section, enter the item that will be used as security for the agreement. This item is typically a home, vehicle, or boat, although any possession of the borrower that has a similar value to that of the loaned balance may be used.
Step 7 – Enter the following information to complete the agreement and make it a legally binding note:
Current Date
Lender's Signature and Printed Name
Borrower's Signature and Printed Name
Witness' Signatures and Printed Names