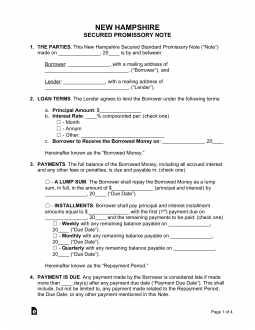 The New Hampshire secured promissory note helps put two parties involved in a money-lending transaction on the same page to ensure the borrower follows the payment type outlined in the agreement and is aware of the repercussions of not doing so. To help protect the lender from losing the loaned balance, the borrower needs to put an item into security such as a home, vehicle, or boat. This item will be given to the lender to help offset the unpaid balance of the note.
How to Write
Before proceeding to the first section of the template, head to the top of the first page and enter the following information:
Current Date (Day, Month, and Year)
Borrower's Name and Address
Lender's Name and Address
Full Amount of Note
The Note's Interest Rate
Step 1 – At the first (1) section, you will need to choose the payment method that the borrower will be required to follow throughout the course of the agreement. Out of the three possible options, two require the borrower to make routine installments. If an installment option is selected, check the box next to either weekly or monthly payments and enter the date the first payment will be due.
Step 2 – Next, head to the second (2) section and enter the final due date for the entire balance. Also due on this date is any accrued interest and any issued late fees.
Step 3 – For the third (3) section, enter the amount of interest the borrower will be required to pay if he or she enters into default on the balance.
Step 4 – Heading to section six (6), enter the time span and dollar cost of a late fee into the two empty text boxes.
Step 5 – At the eighth (8) section, enter the number of days needed to pass after a default has occurred before acceleration can be issued. Acceleration makes all outstanding debts (unpaid balance, late fees, and accrued interest) be due immediately.
Step 6 – Next, head all the way down to section seventeen (17). Here, enter the item that will be used as security. If the borrower enters into default and cannot pay the remainder of the balance, the item in security will be given to the lender to help cover the lost amount.
Step 7 – To complete the agreement and put it into full legal effect, enter the current date followed by the printed and signed names of the lender, borrower, and witness.