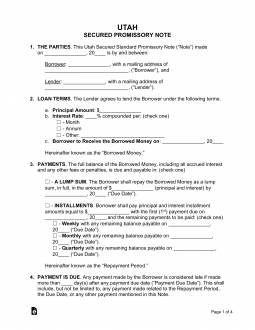 The Utah secured promissory note is a signed document that states how a borrower of a monetary balance will reimburse the lender of said balance. The document covers all pertinent details of the agreement; this ensures both parties are clear on payment due dates, late fees, interest rates, and many other important areas.
How to Write
At the top of the first page of the document, start by entering the current date followed by the names and addresses of the lender and borrower, the note's balance, and the note's interest rate.
Step 1 – Once the above has been completed, head to the first (1) section and select the payment method that the borrower will be required to follow during the agreement. If an option that uses installments is chosen, put a checkmark next to weekly or monthly payments and enter the date that the first payment will be due.
Step 2 – In the next section, enter the date that the entire balance must be paid by.
Step 3 – Proceeding to the third (3) section, enter the interest rate that will go into effect if the borrower defaults on the balance. This rate must be legal in the state of Utah; to ensure you have selected a legal rate, check UT ST § 15-1-1.
Step 4 – In the sixth (6) section, enter all required details regarding late fees into the two empty text boxes.
Step 5 – Next, go to section eight (8) and enter the time frame required to pass (after a default has occurred) before the lender can issue acceleration.
Step 6 – Head to the seventeenth (17) section and enter the item that will serve as security for the agreement. Homes, vehicles, or boats are typically used as security items, although any physical object can be used as long as it has similar value as to the amount of the note.
Step 7 – On the last page, enter the current date followed by the printed and signed names of the borrower, lender, and witness. Once this has been completed, the agreement will go into full legal effect.