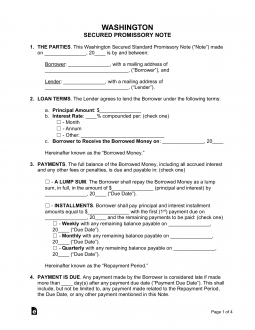 A Washington secured promissory note is a signed promise from a borrower stating he or she will reimburse a lender a loaned monetary balance in a structured and complete fashion. This note is secured by an object in the borrower's possession. If the borrower defaults on the balance and cannot recover, the item in security will be given to the lender to help cover the remaining unpaid balance.
How to Write
Before heading to the first section of the template, enter the current date, the names and addresses of the parties, the note's balance, and the note's interest rate at the top of the document.
Step 1 – Head to section one (1) and put a checkmark next to the payment method that will be followed for the duration of the agreement. If an option that uses multiple payments is selected, select either weekly or monthly payments and enter the date that the first payment will be due.
Step 2 – In the second (2) and third (3) sections, start by entering the date that the entire balance must be paid by. Then, enter the interest rate that the borrower will be required to pay if he or she misses a payment by more than fifteen days or defaults on the balance.
Step 3 – Proceeding to the sixth (6) section, enter the time span that needs to pass after a payment due date (that has gone unpaid) before a late fee can be issued. In the second text box enter the cost of a single late fee.
Step 4 – In section eight (8), enter the number of days the lender has to wait after a default has occurred before he or she can issue an acceleration.
Step 5 – Heading to the seventeenth (17) section, enter the item that will serve as security for the agreement.
Step 6 – Proceeding to the bottom of the last page, enter the current date and the signatures of the borrower, lender, and witness. Once steps 1-6 have been completed in full, the agreement enter into full effect.