Updated September 19, 2023
A Maryland property management agreement is a contract between two parties with the intention of setting forth the terms and conditions of a business relationship. The two parties – the owner of property and the property manager – will come to an agreement in regard to each party's responsibilities, duties, and obligations. In short, the property management agreement defines what types of property management tasks the manager will carry out and what type of compensation they will receive. The contract becomes binding upon both parties once they both inscribe their signatures.
Laws
Requirements – Property managers are not required to have a real estate license or broker's license to manage property.
Verify a Property Manager – Maryland Department of Labor
Sample Agreements (3)
---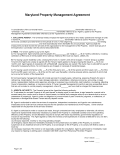 Bay Management Group
Download: PDF
---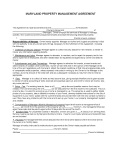 Calhoun Properties Group, LLC
Download: PDF
---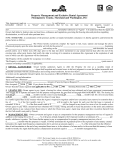 Greater Capital Area Association of Realtors
Download: PDF
Management Forms (4)
---
Download: PDF, MS Word, OpenDocument
---
Download: PDF, MS Word, OpenDocument
---
Download: PDF, MS Word, OpenDocument
---
Download: PDF, MS Word, OpenDocument