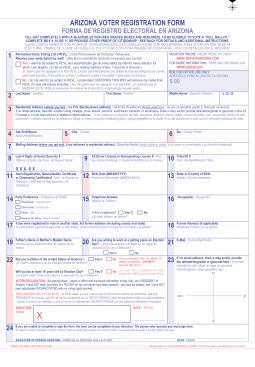 0.0 Stars | 0 Ratings
12 Downloads
Updated August 11, 2023
An Arizona voter registration form can be completed as long as the voter is a resident of Arizona and is at least eighteen (18) years of age. Once completed, forms can be mailed or delivered in-person to the individual's local County Recorder's Office. Alternatively, residents with a valid Arizona driver's license and/or Arizona non-operating I.D. card can register to vote online through the Motor Vehicle Division (MVD) web portal. To be eligible, voters must register at least twenty-nine (29) days before the election.
Check Your Voting Status – voter.azsos.gov/VoterView/RegistrantSearch.do
Deadline – 29 days before the election.
Find a Polling Place – voter.azsos.gov/VoterView/PollingPlaceSearch.do
Register Online – www.servicearizona.com/webapp/evoter/selectLanguage
Where to Send Voter Registration Form – By mail or in person at a local county recorder's office.
Voter ID (§ 16-579) – Upon arriving at the polls, voters must announce their name and place of residence and present one (1) piece of valid identification.