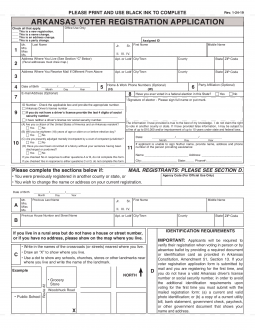 5.0 Stars | 1 Ratings
14 Downloads
Updated August 11, 2023
An Arkansas voter registration form allows residents of Arkansas to vote in any upcoming elections. Any change of name, address, or political party affiliation will require that a new registration form be submitted before election day. All forms must be sent to the Secretary of State thirty (30) days prior to any election. Only Arkansas residents eighteen (18) years of age or older are eligible to register/vote in the State of Arkansas. There are no online registration options. All voters must submit the Arkansas voter registration form by mail or in-person to the Secretary of State's office.
Check Your Voting Status – https://www.voterview.ar-nova.org/VoterView
Deadline – 30 days prior to an election
Find a Polling Place – https://www.voterview.ar-nova.org/VoterView
Register Online – No online registration available for the State of Arkansas. However, electors can obtain an application form by submitting an online request.
Where to Send Voter Registration Form –
Arkansas Secretary of State
ATTN: Voter Registration
P.O. Box 8111
Little Rock, Arkansas 72203-8111
Voter ID (§ 7-5-305) – Proof of identity will be required; does not have to be photo identification. Voters who fail to present identification can still cast a provisional ballot.