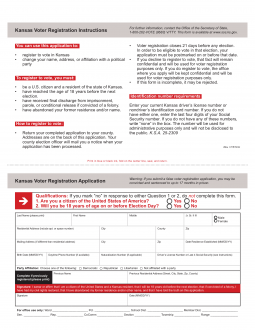 5.0 Stars | 1 Ratings
14 Downloads
Updated August 21, 2023
A Kansas voter registration form allows eligible Kansas residents eighteen (18) years of age and older to vote in upcoming local, state, and federal elections. Forms must be sent to the elections officer of the county in which the registrant resides. Alternatively, Kansans can register through the Kansas Secretary of State's online registration portal. The online registration process requires a Kansas driver's license or Kansas non-driver's ID card. Voter registration forms also ask for identification but those without the aforementioned identification numbers can submit the last four digits of their Social Security number. Residents must ensure that all forms and online registration submissions be completed twenty-one (21) days before any election.
Check Your Voting Status – https://myvoteinfo.voteks.org/VoterView
Deadline – 21 days before an election.
Find a Polling Place – https://myvoteinfo.voteks.org/VoterView
Register Online – www.kdor.ks.gov/Apps/VoterReg/Default.aspx
Where to Send Voter Registration Form – Forms can be mailed, faxed, or delivered in-person to the registrant's County Election Officers.
Voter ID (§ 25-2908) – Voters must present one valid piece of identification at their polling place.