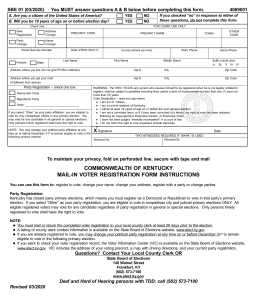 0.0 Stars | 0 Ratings
14 Downloads
Updated August 11, 2023
A Kentucky voter registration form can be used by Kentucky residents of at least eighteen (18) years of age to register to vote or update current registration information. This type of registration process is accomplished by submitting the voter registration form, by mail or in person, to the County Clerk's Office in which the registrant resides. As long as the form is delivered twenty-nine (29) days beforehand, registrants will be eligible to vote in any upcoming local, state, or federal election. Voters can also register online by following the "Register Online" link provided below. Both registration processes will require the registrant's Social Security number and date of birth.
Check Your Voting Status – www.vrsws.sos.ky.gov/vic/
Deadline – 29 days prior to election day.
Find a Polling Place – State Board of Elections
Register Online – www.vrsws.sos.ky.gov/ovrweb/default
Where to Send Voter Registration Form – Registration forms should be sent to the registrant's County Clerk.
Voter ID (KRS § 117.227) – Once at a polling station, voters must show proof of identity or the election officer must confirm their identity by personal acquaintance.