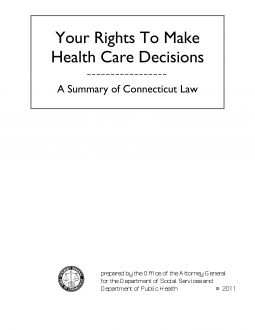 A Connecticut advance directive is a document that allows a person to set forth a health care agent and end-of-life termination plans in case they cannot speak for themselves. This designates a person, usually a spouse or family member, to make medical decisions in the best interest of the patient. It also allows a person to deny a ventilator or the assistance of food and hydration if they should be permanently unconscious.
Advance Directive Includes
Table of Contents
Laws
Statute – Title 19a, Chapter 368w (Removal of Life Support Systems)
Signing Requirements (§ 19a-575) – Two (2) witnesses.
State Definition (§ 19a-570(1))- "Advance health care directive" or "advance directive" means a writing executed in accordance with the provisions of this chapter, including, but not limited to, a living will, or an appointment of health care representative, or both;
Versions (3)
---
Download: Adobe PDF
---
Stamford Health
Download: Adobe PDF
---
Download: Adobe PDF
How to Write
Download: Adobe PDF
Step 1 – Acquire Your Copy Of The Connecticut Advance Directive Form From This Site
The Connecticut Advance Directive can be saved to any folder on your machine or network as a "PDF" template by selecting the appropriately labeled button underneath the sample image. Also, if preferred, this directive can be obtained by selecting the link "Adobe PDF" just above this area.
Step 2 – Review The Introduction To The Forms In This Template
This paperwork will enable you to accomplish several tasks with one package however, due to the seriousness of the topic, it is recommended that every Party involved read through the introduction. This is especially true for the Principal issuing this form. The Principal is the individual who will use this template to inform Connecticut Doctors of his or her wishes, appoint a Health Care Representative, or both. This is the future Connecticut Patient who wishes to make sure his or her wishes regarding health care in certain situations is respected. The introduction will contain a wealth of information that the Principal, especially, should be aware of and comprehend. 
Step 3 – Name The Connecticut Principal Issuing The Combined Directive
Once you have read through the entire introduction, locate the first blank line that requires information. This will be labeled "Advance Directives Of" and is in a noticeable font at the top of the twelfth page. Document your name on this line as the Principal issuing this document for Connecticut Health Personnel. If you are only preparing this document for signing, then input the name of the Principal who is issuing this. For our goals, it will be assumed that the Preparer and the Principal are one and the same.   
Step 4 – Briefly Address Your Intention Regarding Health Care Representative Appointment
Locate the blank line at the end of the statement beginning with the words "I Choose Not To Appoint A Health Care Representative…" If you, as the Connecticut Principal, do not wish to name a Health Care Representative then place your initials on the blank line between the starting phrase and the label "Initial Here." You may continue past the Health Care Representative's appointment section. If you do wish to designate a Health Care Representative, then do not initial this line as a confirmation of this intention. In the example below, the line has been initialed, and the issuing Principal will not grant a Health Care Representative authority to make decisions in the "Appointment Of Health Care Representative" section that follows.
Step 5 – Formally Identify The Connecticut Health Care Representative You Wish To Appoint
If you have abstained from initialing the previous section, then continue to the "Appointment Of Health Care Representative" section. The first blank line here is set after the term "I Appoint" and before the phrase "To Be My Health Care Representative" to receive the name of the Party you authorized to speak with Connecticut Doctors and Health Care Professionals on your behalf when you are unable to represent yourself properly, reliably, or are unconscious for an extended period of time. During such times, Connecticut Medical Personnel attending to your health and treatment needs may require authorization for certain procedures. This statement informs Connecticut Medical Personnel seeking your treatment decisions to direct their questions to the Health Care Representative being appointed on this line.
Step 6 – Engage A Precautionary Designation Of An Alternate Health Care Representative
Continue to the third paragraph of the "Appointment Of Health Care Representative" section (beginning with the word "If…). To make sure that you are assured of continuous representation with your medical and treatment needs, it is often suggested to set an additional Party in place as a Health Care Representative in reserve. This Alternative Health Care Representative will only be sought by Connecticut Physicians and Medical Personnel should the originally designated Representative be unable to act in this role. This could be because the Health Care Representative had to suddenly travel, refuses to make certain decisions, or you have revoked his or her power to represent you. In any of these instances, having a second Party would be advantageous. Thus, re-affirm your identity as the issuing Principal of this document on the blank line labeled "If…" to begin the process of setting an Alternative Health Care Representative in place. 
Continue through the Alternative Health Care Representative statement to the second blank line then officially designate a specific Party to this role by recording his or her name on it. Bear in mind, the Alternative Health Care Representative will remain without any power to represent you so long as the Connecticut Health Care Representative you named above is available and lives up to the role assigned through this document.   
Step 7 – Indicate If A Living Will Or Health Care Instructions Will Be Included
Before continuing to the next section, a brief verification of your intention with the advanced directives being developed is required. Locate the words "I Choose Not To Provide Health Care Instructions…" found at the top of the next page. If you do not wish to document your preferences, limitations, or restrictions to medical treatments administered to you when unconscious or otherwise unable to communicate, then initial the blank line in this statement (see example below). If, however, you do intend to issue a living will through this packet then leave this line unattended and proceed to the next section. 
Step 8 – Review The Basic Conditions Of The Connecticut Living Will
The introduction to the "Living Will Or Health Care Instructions" will declare the health conditions or medical state you must be in for your living will to be consulted. in short, if you are unable to comprehend and communicate regarding the treatment Connecticut Doctors plan to administer, this statement shall instruct them to refer to this document. 
Step 9 – Supplement The Initial Declaration With The Principal's Identity
Notice the bold paragraph beginning with the word "I." Here, the full name of the Principal must be presented on the blank line just before the words "The Author Of This Document…" This will establish that the Principal is deliberately setting his or her health care instruction to paper through this document and that he or she, in general, prefers to "…Be Allowed To Die" when his or her life is completely dependent upon life support, diagnosed with a terminal condition, or has been declared permanently unconscious.
Step 10 – Inform Connecticut Physicians And Attending Personnel Of Your Treatment Preferences
The "Specific Instructions" section will provide a basic guide to follow when dispensing your treatment preferences and authorizations and when it must be referred to by Physicians. A list of treatments commonly required when the human body suffers a traumatic event that prevents vital systems from functioning while to the right two columns ("Provide" and "Withhold") await your initials to indicate if the procedure on the right may be employed when necessary. Begin with the term "Cardiopulmonary Resuscitation." Commonly referred to as CPR, this technique will (often) manually keep someone alive when that person's heart stops beating or lungs/diaphragm stop working. This may involve physical manipulation and possibly an electric current applied. If you approve of this technique administered to keep you alive, then initial the blank line to the right of these words under "Provide." 
If you do not wish "Cardiopulmonary Resuscitation" administered when your heart or lungs cease working, then initial the corresponding blank line under the "Withhold" heading.
The next treatment description is "Artificial Respiration (Including A Respirator)." If you approve of having artificial breathing techniques administered when you are unable to inhale, exhale, or absorb oxygen then initial the "Provide" section of the corresponding blank line.  
To deny the administration of artificial breathing techniques when you are unable to breathe on your own then initial the "Withhold" area of the blank line to the right of the treatment label "Artificial Respiration (Including Respirator)"  
If you wish Connecticut Physicians and Health Care Personnel to feed, you through "Artificial Means Of Providing Nutrition And Hydration" to maintain your nutrient and water/fluid levels then initial the "Provide" column on the right to the third treatment label. 
If you intend to refuse being fed food, nutrients, water, or intravenous delivery of these items then initial the "Withhold" column to the right of the statement "Artificial Means Of Providing Nutrition And Hydration." 
Two blank lines have been provided under the presented treatment labels. If you have specific wishes regarding a specific treatment that will be administered only with the intention that it will prolong your current state, then report it on the first of these lines. Also, you must initial either the "Provide" column or "Withhold" column to indicate your preferences. In the example below the Principal has indicated that if "Dialysis" is needed then it should be administered.   
Step 11 – Continue With Any Specific Requests Regarding End-Of-Life Treatment
While the list format above acts as an efficient presentation, there may be additional concerns that should be dealt with in a more direct manner. For instance, you may wish treatments that you normally would not agree to administered for certain conditions or you may wish to withhold authorization of specific treatments in certain circumstances. the free-form area labeled "Other Specific Requests" should be used to document your treatment directives, restrictions, and authorizations. You may be as general or as specific as you like but this should be an accurate reflection of your exact wishes. 
Step 12 – Document Your Standing On Anatomical Gifts
Oftentimes, the issue of anatomical gifts will be discussed when near-death. This advanced directive will enable solidification of your stance on this topic. To begin locate the page titled "Document Of Anatomical Gift," then review the first two statements presented with an initial line. Only one of these may be selected. If you do not wish to make an anatomical gift, then initial the first blank line to select the statement "I Make No Anatomical Gift At This Time." 
If you do wish to make an anatomical gift "If Medically Acceptable" upon your death, then initial the second statement's line. This selection requires further discussion; therefore, you must review the items directly under this option after indicating that you authorize anatomical gifts  
Two options to define your anatomical gifts are presented. If you will donate any organ or body part, then initial option "(1) Any Needed Organs…" 
If you have granted authorization to make anatomical gifts but only wish to donate specific body parts, then initial option "(2) Only The Following…" then use the blank lines presented to list the tissues, organs, bones, and other body parts that you approve of donating.Another definition that should be delivered is your authorization for the purpose that an anatomical gift will be used. If you will allow your approved anatomical gifts to be made for any purpose listed in " (a) of section 19a-279f of the general statutes"
Step 13 – Name A Conservator Of Your Person
In addition to designating a Health Care Representative, this combined directive packet also allows you to name a Conservator. This is a right you may enact but are not required to. In fact, if you do not wish to designate a Conservator, initial the first line in the "Designation Of A Conservator OF The Person" section.  
If you have determined the identity of a Conservator then, you should list his or her full name on the blank line in the after the language "If A Conservator Or My Person Should Be…" and the wording "Be Appointed…"   
As with your Health Care Agent, you may wish to secure a person you trust in this position even if your original choice cannot or will not act in this way. To do so, report the name of your second choice for Conservator on the second blank space presented.
Step 14 – Execute The Advanced Directive Packet Before Two Witnesses
Review the previous three forms you have completed. If the information presented to them is complete, up-to-date, and accurate then it will be time to execute the appointment, living will and directives by signing the completed template(s). Before doing so look for the date formatted lines after the statement "This Request Is Made…" Record the date that you are signing this paperwork as a two-digit calendar month, day, and year just before the "Date" label then, immediately after supplying the current date, sign the blank line attached to the "X" These actions should be completed before two Witnesses who are unrelated to you, do not work in any facilities where you receive care, and are not related to anyone employed by a medical facility responsible for your health care. Release the signed document to the first Witness for review.   
Step 15- Prepare The Connecticut Witness Statement Properly
The testimonial provided as the "Witness's Statements" acts to verify that both Witnesses are qualified to act in this role and that both have watched the Principal sign this document. Before either of these Parties can attest to this, the "Witnesses' Statements" paragraph requires your name, as the Principal, supplied to the space following the phrase "…In Our Presence."
Step 16 – Each Witness Must Testify Through A Unique Signature Area
The first Witness is required to sign the "Witness" line beginning the left column under the "Witnesses' Statements" section while the second Witness must sign the "Witness" line on the right.   
Both Witnesses must supply their address directly underneath their signature beginning with the building "Number And Street" name on the second line available in their respective signature area.  
The third line of each Witness's signature area seeks the "City, State, And Zip Code" of the Witness's address supplied.  
Step 17 – Complete The Optional Witnesses' Affidavits
If you would like to further define this signing as accurate, then an affidavit where each Witness formally issues a notarized statement that he or she can attest to the authenticity of your executing signature. While the next page "Witnesses'' Affidavits' is not required, it may be helpful. This means that each Witness must complete an additional signature area, located on the affidavit, under the direction of the Notary Public in command.   
Step 18 – Appoint A Health Care Representative In a Separate Document If Preferred
While the combined directive packet above will allow two or more documents simultaneously, it also provides the option to designate your Health Care Representative either because you do not wish to issue any other paperwork (including the combined directives) or as an update. If you wish to issue an "Appointment Of Health Care Representative" then locate page 17, found after the dividing page with this name, then familiarize yourself with the introduction. 
Step 19 – Formally Designate Your Connecticut Health Care Representative
The first blank line that requires information provided in this appointment is in a declaration statement that will be assumed as the words of the Principal. As the Principal, record your name on the blank line preceding the term "…To Be My Health Care Representative."   
Step 21 – Set Up An Alternative To The Appointed Health Care Representative
If your Health Care Representative is unable to make medical decisions on your behalf for whatever reason (i.e. extensive travel or revocation of power), then it would be helpful to have a n Alternative Health Care Representative ready to assume the principal authority to act on your behalf before Connecticut Medical Professionals in charge of your treatment. To this effect, locate the last paragraph of this appointment then re-enter the name of your currently named Health Care Representative on the blank line placed before the language "Is Unwilling Or Unable To Serve…" 
Continue through the paragraph being attended then supply the full name of the person you wish to assume principal authority as the Alternative Health Care Representative should the previously named Representative be "Unwilling Or Unable" to fulfill the obligations of this role on the empty line set before the language "To Be My Alternative Health Care Representative."  
Step 22- Use Your Signature To Formally Execute This Connecticut Appointment
Once you have supplemented the above language with the entries needed to designate a Health Care Representative in the state of Connecticut, you must date and sign this document as two Witnesses observe. To begin, locate the three formatted spaces labeled "Date" near the bottom of the page. Report the current month, two-digit calendar day, and two-digit year as their content then sign your name on the line attached to the "X" 
Step 23 – Obtain Witness Documentation To Verify Your Signature's Validity
The "Witnesses' Statements" section requires some preparation before it can be used as a testimony to your signature. The blank line after the words "…Signed In Our Presence" must be populated with your name (as the Principal). Produce this information accordingly, then allow the two Witnesses to review this statement. 
Each Witness must sign his or her name directly below the "Witnesses' Statements" section on one of the lines labeled "(Witness)."  
After signing his or her name both Witnesses must use the "Number And Street" and "City, State And Zip Code" lines to document his or her address below the respective signature. 
While the Witnesses will verify your signing as authentic, the optional "Witnesses' Affidavits" well verify their signatures by having a Notary Public observe the signing then authenticating the Witnesses' acts of signing.   
Step 24 – Establish A Connecticut Living Will Independent Of Other Paperwork If Needed
This packet also provides the ability to issue a "Living Will Or Health Care Instructions" independently of other documents. This can be a useful option should it be necessary to update your current living will. For this task, locate page twenty titled "Living Will Or Health Care Instructions." This section will be separated from the previous pages with a dividing page carrying the same title. Take a moment to become familiar with the statement made in the first paragraph as this will be assumed to be your statement to Connecticut Physicians.
The second paragraph in the "Living Or Health Care Instructions" page is a solid declaration of your intention to withhold treatment should your body be unable to live without aid or you have slipped into a vegetative state with no hope of recovery. Produce your name as the Connecticut Patient or Principal who is declaring this intention on the empty line attached to the phrase "The Author Of This Document…"
Step 25 – Convey Treatment Authorizations To Attending Connecticut Medical Staff
If you are unconscious or unable to comprehend, speak clearly, or even indicate your medical wishes through simple actions to answer yes/no questions posed by Connecticut Physicians and other Professionals and do not have an informed Health Care Representative, then many would consider it a wise measure to specifically list what treatments you wish provided when in such a state (and when necessary) and which you intend to refuse regardless of the condition you are in. A basic list provided with two columns as a documentation area has been placed in the "Specific Instructions" section to this end. 
The first item on the list in "Specific Instructions" is "Cardiopulmonary Resuscitation" and refers to the technique of CPR. Here, the Medical Personnel will manually stimulate the heart and diaphragm to pump blood and breath for you in hopes of restarting either one if it stops functioning. If you wish this technique used to resuscitate you during a life-threatening event, then initial the blank line on the right under the word "Provide." If you do not consent to CPR, initial the blank line for this item under "Withhold."  
If you have stopped breathing Connecticut Medical Professionals will induce "Artificial Respiration (Including A Respirator)" as a response measure. Due to the nature of this document, if you approve of this, initial the "Provide" line on the right of the second list item however, if you refuse "Artificial Respiration…" techniques then initial the "Withhold" line.  
Connecticut Medical Personnel will administer food, water, fluids, and nutrients as needed to make sure your body is relatively maintained in this aspect. This may include hand-feedings and intravenous delivery systems. If you approve of receiving an "Artificial Means Of Providing Nutrition And Hydration, then you must initial the blank line in the "Provide" area. If you refuse to receive food, nutrients, and liquids artificially, then initial the "Withhold" line. 
Two additional empty lines are available for your use. If there are other life-prolonging treatments that you either with to deliver specific authorization to administer or definitively refuse, then report them on these blank lines making sure to initial the "Provide" or "Withhold" area to indicate your level of approval. You may add as many additional such authorizations or withholdings of approval as you feel necessary or you may leave these final lines unattended.  
If you have "Other Specific Requests" where you wish to document any conditions to treatments, specific treatment preferences, state your refusal to types of medical care, or address scenarios that have been left undiscussed, then use the blank lines provided to directly inform Reviewers of your directives. If more room is required, you may cite an attachment or insert additional lines to present your instructions.  
Step 26 – Date And Sign The Connecticut Medical Or Health Instructions Before Two Witnesses
Review the information you documented above. It is imperative that it is well-informed and clear. It is recommended that you present this paperwork to your Physician or similarly qualified Professional for a final and frank discussion. If this completed form represents your wishes and presents the information you wish conveyed to Connecticut Medical Professionals when you are unable to communicate or unconscious, then you may execute this paperwork. Organize your schedule with two Witnesses, gather together, then direct your attention to the formatted "Date" area at the bottom left of this document. Report the current "Date" to this formatted area then sign the blank line bearing the "X" as its label.
Step 27 – Gain Witness Verification To Your Signing
The first blank line in the "Witnesses' Statements" must be supplied with the name of the Signature Principal (You). Thus, re-enter your name exactly as it appears in the second paragraph of your living will then release this paperwork for the approval and signature of the attending Witnesses. 
Two columns have been provided at the end of the "Witnesses' Statement." Each Witness must select a column as his or her own, then sign the first labeled line ("Witness"). Once done, each Witness is to present his or her official address to the "Number And Street" and "City, State And Zip Code."   
Step 28 – An Optional Witnesses' Affidavits May Be Included
If you wish additional credence applied to the Witnesses' testimonial signatures above, the final page of this form will allow for an affidavit to be issued. This requires the coordination of the Witnesses and a Notary Public so this will mean the Notary Public should be present for the signing (though it is not mandatory). Review the affidavits for the location of the testimony, date it was made, both Witness signatures, and the credentials of the Notary Public.