What is eForms?
eForms.com is a website that provides a library of free printable forms and electronic forms (eForms) that are created after you answer some simple questions.
E-Sign – You may have the option to e-sign the end of compatible documents.
How Much is eForms?
$39 / monthly plan (7-Day Free Trial) – Our most popular option comes with a 7-day free trial to have full access to the site and on the 8th day you will be charged $39 per month. You can cancel this at any time, there is no obligation or termination fee. 
$45 / single purchase – For those who don't want to deal with any fuss and just want a single form.
$199 / annual plan – Our annual commitment saves over 50% compared to the monthly plan.
How to Cancel my Subscription?
Step 1 – Sign in to your account and go to your Subscription page.
Step 2 – Click the red 'Cancel Subscription' button. This will cancel your subscription and you will receive a confirmation email.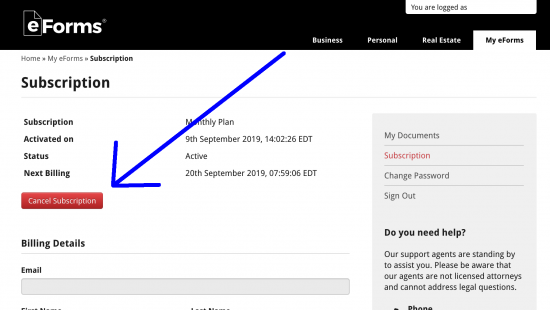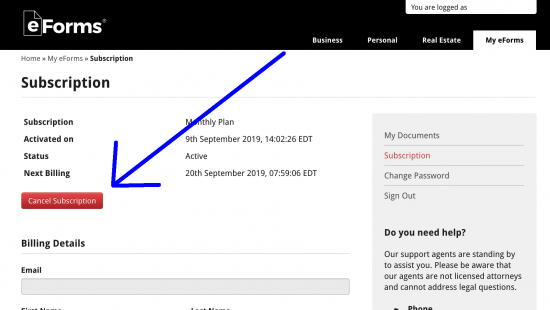 How to Edit my eForm?
Go to your My Documents and select the More button and then click Edit.

How to Download an eForm?
You must be logged in and have a current subscription with eForms.com
Step 1 – Sign-in and go to your My Documents page.
Step 2 – Select the Export tab next to the Document you wish to download.

Step 3 – A Preview Page will appear. Select the Download button and click on the desired format (Adobe PDF, Microsoft Word, or Open Document Text (ODT)

How to Sign an eForm?
There are two (2) ways to sign an eForm:
1. e-Sign – At the end of applicable documents, there is an option to electronically sign. This signature may be completed by using your mouse or trackpad to mimic your signature.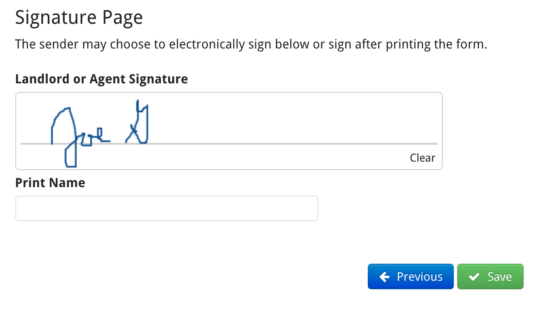 2. Print & Sign – With all documents you can handwrite your signature after printing your physical document. If there is no option to e-sign it is usually because witnesses are required or a notary public.
Why Do I Need a Credit Card for a Trial?
The credit card allows us to process your free trial as if you do not cancel, there will be a $39 payment to be made at the end of the 7th day and every month thereafter. If you decide to cancel within the 7-day trial period you will not be charged whatsoever.