Welcome to our Frequently-Asked-Questions (FAQ) page!
Below are detailed answers to our most commonly asked questions. To navigate, select a topic from Frequently Asked Questions or scroll down until reaching the desired subject.
Frequently Asked Questions
What is eForms?
eForms.com is one of the leading online providers of free printable forms and fillable electronic forms (eForms). Our database includes a form library ranging from real estate instruments, such as lease agreements and deeds, to estate-planning documents like wills and living trusts– and everything in between.
All of our eForms are fillable through intuitive software that allows customers to create individualized forms by answering a series of questions. Once all entries are filled, our software will automatically produce an official version of the form, which may be printed, downloaded, or emailed.
---
How Much is eForms?
There are three (3) pricing options eForms customers may choose:
(1) Monthly Plan (including a 7-Day Free Trial) – Our most popular monthly subscription option comes with a complimentary 7-day free trial that includes full access to all of our site's features and forms. Customers under the free trial are automatically enrolled in the monthly subscription on the eighth day unless the trial is canceled within seven days. Customers can cancel at any time, and there is no obligation or termination fee to cancel a free trial or any of our subscriptions. 
(2) Single Document Purchase – Customers looking to purchase only one form and not subscribe to a plan can purchase their document for a one-time, flat fee. The customer will not be subscribed to any ongoing service, nor will they have to cancel.
(3) Annual Plan – Our best deal yet. For a flat yearly fee, customers can enjoy full access to any and all fillable eForms for 365 days. Having an annual subscription saves more than 50% compared to the month-to-month.
To see a full breakdown of each option, visit our Pricing page for more information.
---
How Do I Cancel my Subscription?
Canceling a subscription is as simple as one-two-three. Check out the three (3) steps below to cancel any ongoing subscription:
Step 1 – Sign in to your account with the email address and password tied to your eForms subscription.
Step 2 – Once signed in, navigate to "My eForms" on the top-right corner of the page and select the 'Subscription' option. (Mobile/tablet users must locate the menu icon at the top of the screen: it appears as three horizontal lines.)
Step 3 – Click the red 'Cancel Subscription' button (pictured below). Doing so will cancel your subscription, and you will receive an email confirmation shortly thereafter.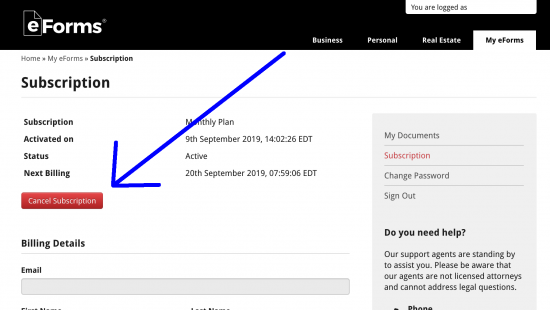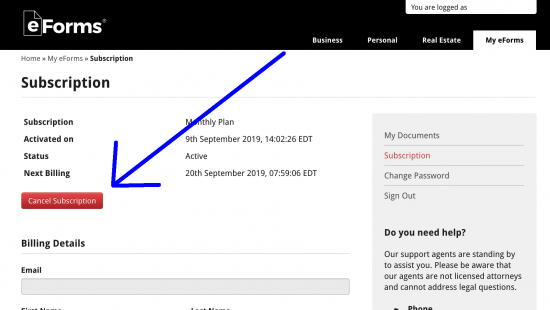 ---
How Do I Edit my eForm?
Users must be signed in to their account to edit any existing document. Once logged in, navigate to "My eForms" and select the 'My Documents' option. All the documents created under a specific account will appear on the My Documents page.
To edit a form, select the 'More' button adjacent to the document's name, and then click Edit.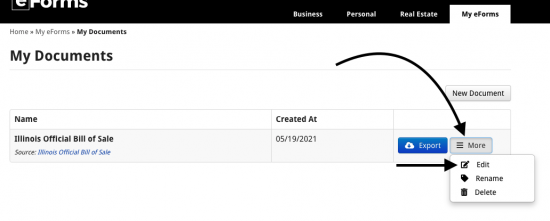 ---
How Do I Download an eForm?
Before downloading a fillable eForm, an account must be created with an email address in order to store the document onto a personalized account that only the account holder can manage. Follow the three (3) easy steps to download your eForm once it has been saved to your account:
Step 1 – Make sure you are signed in, and then navigate to "My eForms" and select the 'My Documents' option.
Step 2 – Select the 'Export' tab next to the document you wish to download.

Step 3 – A preview page will appear as a new window. Click the 'Download' button and select the desired format (Adobe PDF, Microsoft Word, or Open Document Text).

---
How Do I Download a Form for FREE Without a Subscription?
Our forms are available for FREE, as blank templates, without registering for an account or submitting billing information.
Step 1 – If you do not have a subscription and would like to download a free blank template, visit our Homepage (www.eforms.com) to find your form, utilizing the "Search" bar.
Step 2 – Once you find your form, you can download it for FREE by clicking on one (1) of the file formats (below the thumbnail image on the right).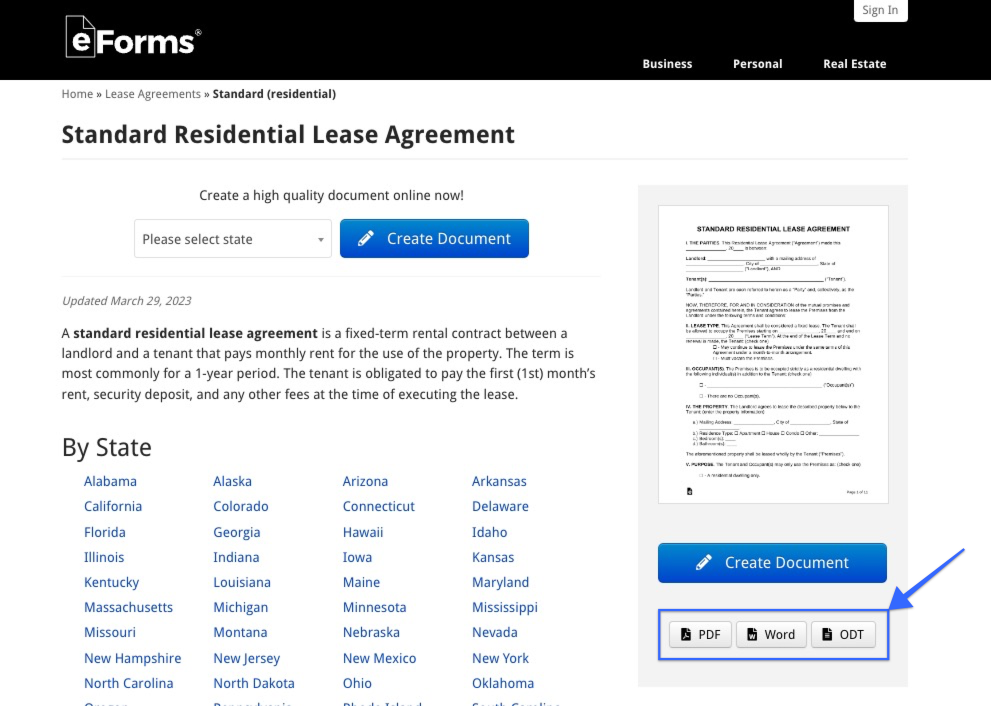 ---
How Do I Create an eForms Account?
Creating an account only requires a valid email address and password. To create an account, visit the Sign-Up / Access Your Documents page.
---
Why Do I Need a Credit Card for a Trial?
A credit card allows us to process a payment at the conclusion of the 7-Day Free Trial. If no cancelation occurs, a $39 payment is made on the 8th day and every month thereafter. If you decide to cancel within the 7-Day Trial period, you will not be charged whatsoever.
---
How Do I View All Available eForms?
Visit eforms.com/categories/ to view a list of all "parent pages." A state-specific eForm can be found by selecting the type of document and navigating to its state list.
---
Does eForms Provide Legal Advice?
eForms does not provide legal advice at this time. eForms is not a law firm, and use of the website does not constitute an attorney-client relationship. Visit our Terms of Use for more information regarding the matter.
---
How to Contact eForms
eForms strives to provide the utmost customer support. We can be reached via email (support@eforms.com), phone (844-533-6767), and through our chat feature.
---
Thank you for visiting our FAQ page. If you have further questions, please feel free to reach out to our Customer Service Team by visiting our Contact page.