A last will and testament (also referred to as a Last Will or simply a Will) is a document used to layout how a person's real and personal property (including bank balances and/or cash) shall be distributed after their death. The form should be filled in by the testator, person creating the will, and be signed with notary public and distributed to all beneficiaries and/or their attorney. No State requires the document to be registered but it may be filed with certain Counties Clerks, Probate Courts, and Secretary of State offices.
by State
Table of Contents
Last Will & Testament Topics
It is important to carefully read through your Will to unsure all clauses accurately coincide with your desires. All clauses in this Last Will and Testament are the most common issues found in most Wills. The language at first can be confusing so we have listed and explained with simplicity the Key Terms that you will mostly run into. If you still have questions about your Will, see our FAQs.
Making a Will
In order to successfully make a Will, you need to prepare steps prior to physically filling out your Will.  Once you have everything set in place and the people appointed to be your executors, beneficiaries and witnesses, you may proceed to fill out, sign and complete your Will.
1. Identify Your Assets
Before writing the document, make an itemized list of all valuable assets containing personal and real property. Select which assets, unless all, should go to whom and inform them of your decision so that they may be able to financially prepare themselves for the transfer in the unfortunate event of your death.
2. Appoint an Executor
Selecting a trustworthy executor that will carry out your desires set forth in your Will is almost as important as the Will itself. After your passing, the executor will make certain that the decisions in your Will go according to plan.
3. Choose Your Beneficiaries
The beneficiaries you select will most likely be your closest loved ones. If you are married, you normally would select your husband or wife to be your beneficiary and if they unfortunately pass away before you do, your children (if any) would be next in line as beneficiaries.
4. Find Two Witnesses and a Notary
Select at least two (2) witnesses to view the signing of the document and make arrangements to do this in front of a notary public. The Last Will is meant to be kept in a safe place with original copies provided to family and legal counsel. At the option of the testator they may register the will with the probate court in their county (if applicable).
5. Deliver and Store Your Will
After the form has been completed and signed it should be distributed to all beneficiaries. There is no State that requires the form to be registered, but for extra security, in some counties the Probate court will accept the filing and registration of it. Otherwise the testator should make as many copies as possible and give them to family, those mentioned in the document, and their family attorney.
Clauses
Clauses within a Will can sometimes be confusing, as legal documents such as a Will can contain legal jargon that is hard to comprehend. Below consists of a list of clauses found in your Will simplified for better understanding.
Assignment – Interest to a beneficiary listed on the will shall not be movable or transferred in any way.
Bond – Under the terms of this will, no bond is required which means it is very important to name an Executor (personal representative) that you know and trust. A bond is sometimes put in place as it places a measure of accountability on the Executor.
Contesting Beneficiary – Any beneficiary that attacks or contests the testator's will shall be removed (revoked) from the will. It's an important clause as it prevents a beneficiary from going after another beneficiary's interest and limits any sort of abuse.
Expenses & Taxes – At the time of the testator's death, all debt including expenses-owed and taxes shall be paid out of the estate before any property is transferred to the appropriate beneficiaries.
Gender – There are multiple ways of describing key terms within a will and this clause simply implies that key terms shall be interchangeable whenever appropriate.
Guardian Ad Litem Not Required – The will allows for the court to appoint a person, often a lawyer, to act in the best interest of a child or a disabled person, if a child or a disabled person happens to be a beneficiary in the will.
Omission – Anyone left out of this will has been done so intentionally. Only persons stated in this will shall be the beneficiaries.
Key Terms
Familiarize yourself with these terms found within your Will as it's important to have a clear understanding of their meaning.
Assets – The valuables, including property and money that will be transferred to your beneficiary upon your death.
Beneficiary – The person receiving the transfer of valuable assets/property upon your death.
Executor – The person in charge of handling your property and making sure that your property is transferred to the beneficiaries listed in your Last Will.
Notary Public – A disinterested 3rd party person who can attest to the signatures of the testator and all witnesses present when signing your Last Will. You can find a Notary Public by using a professional service or you can find at most banking institutions and they will usually help you for free.
Testator – The person who is the main subject of the Last Will; the person creating the Last will. He or she will define their preferences on how they want their property to be handled after death.
Witness – The person who is there to see your signature when you sign your Last Will. This person, known as a witness, will also place their signature on your Last Will. In most states, a Last Will requires two (2) people to witness a Last Will. For extra measures, whether or not your state requires it, it is recommended to also have a Notary Public to be present when all signatures take place.
FAQ (Frequently Asked Questions)
Is it really necessary to have a Will?
If you care about your family and for those that love you, you will not go another day without a Last Will and Testament. It's very important, especially if you are in the later stages of your life with a spouse and/or children. When a person dies without a Will, they leave their assets in the hands of the court system. Because of this, disputes and confusion can easily arise between family members. No matter your age, if you have valuable assets and loved ones, make sure you have a Will set in place.
Which State governs my Will?
Which ever state the testator resides is the state that governs the Will. If your primary residential address is in the State of Florida, normally your Will would be governed accordingly. (Typically the state you pay personal income tax is the state that will govern your will.)
What is the Difference between a Last Will and Testament and a Living Will?
A Living Will is directed towards your health care preferences if and when you become mentally incapacitated. It allows you to appoint a Health Care Proxy who will then carry out your health care preferences. A Last Will and Testament is legally enforced after your death which deals with the transfer of your assets and personal property.
What types of Personal Property can I include?
Personal property is any type of item in your possession that has value (Important: does not include cash). Personal property includes vehicles, jewelry, collectables, furniture etc. You may choose to give all your personal property to one person or you can proportionately allocate your personal property to multiple beneficiaries.
What happens if a beneficiary dies?
If your primary beneficiary dies before you do, you can alter and remove that deceased person from your Will, otherwise if you have a 2nd choice recipient/beneficiary, your property will go to that person. In some states that use the Uniform Probate Code, a beneficiary must survive for at least 5 days following your death in order to inherit your property. If there is no alternate beneficiary to inherit your estate upon your death, your Will would then be subject to your state's "Anti-Lapse" Laws.
Can I appoint someone to take care of my Pets?
Yes, in your Will, you can select a person to be the caretaker for your pets upon your passing.
State Laws & Execution Requirements
Every state has their own requirements when it pertains to the legality of your Will. The state of your primary residence will govern your Will. Most states require that you have two witnesses attest and sign your Will. Find your state below and be certain that you know the requirements.
How to Write
If you have download your Will for free, follow the steps and instructions below when completing your form.
Step 1 – In the header area, write to whom the will is for and in the first paragraph their details shall be entered as follows:
After "I", enter the same name as in the header
City, County, and State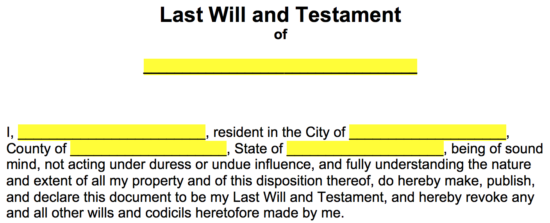 Step 2 – Fill-in who will represent as the personal representative (also known as the 'executor') of the will. This will be the individual that will oversee the probate process and ensure that the decedent's estate is provided to the rightful heirs. Their information should be entered with their full name and address along with any secondary personal representatives in the chance that the first (1st) is not able to act.

Step 3 – Enter the beneficiaries, otherwise known as the people that will receive the testator's personal and real property after their death. The document allows for the testator to state specific items to individuals or if there is to be only one (1) beneficiary the testator may enter 'All real and personal property'.
With this document the testator may fill-in up to three people (describing them should include their full address, relation, and last four (4) digits of their social security number (SSN)) and if there are more individuals they should be attached or added to Section III.

Step 4 – Enter the State that will govern the will. In most cases, the state inscribed will be that of the testator's primary state of residence.

Step 5 – The Testator should again, enter his or her name and date the will. They should then sign and print their name below.

Step 6 – Find at least two (2) witnesses (most States require two (2) witnesses) that can attest to the will and sign. It is strongly encouraged the the witnesses be disinterested from the will. For legal purposes, and so that the document is not contested by any third (3rd) party, the witnesses along with the testator should authorize the form with a notary public present.

No Will (After Death)
If there is no will that was recorded by the individual that has died (known as 'intestacy'), and the estate is under the State threshold for probate proceedings, the property may be distributed through a Small Estate Affidavit.