Updated March 16, 2023
A Montana last will and testament is a legal document used for estate-planning purposes that determines how a testator (the individual creating the will) wishes for their assets to be distributed after death. A will document provides detailed information regarding the portion of the estate each beneficiary shall receive and any additional conditions the testator wishes to stipulate. Beneficiaries are usually family, friends, and even charitable organizations– but the testator can name any individual or entity as a beneficiary of their estate. Wills must be signed by the testator in the presence of two (2) witnesses in order to be legally executed in the State of Montana. Notarization can be sought to add an additional layer of legal protection; this however is optional. Wills may be revoked or amended at any time.
Laws
Signing Requirements
Needs at least two (2) or more credible Witnesses. (Section 72-2-522)
State Definition
"Will" includes codicil and any testamentary instrument that merely appoints an executor, revokes or revises another will, nominates a guardian, or expressly excludes or limits the right of an individual or class to succeed to property of the decedent passing by intestate succession.
Related Forms
Download: Adobe PDF
---
Durable (Financial) Power of Attorney
Download: Adobe PDF, MS Word, OpenDocument
---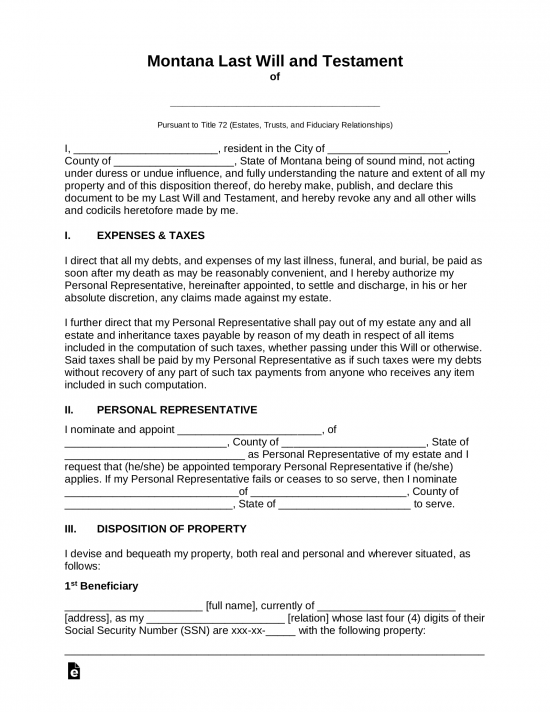 Last Will and Testament
Download: