Updated August 09, 2023
A Montana durable statutory power of attorney form allows a person to appoint someone else to handle their financial-related affairs on their behalf. The designation only occurs while the person granting power, the "principal", is alive and continues even if they should become incapacitated. The person selected to act in their presence, the "agent", can be any person of the principal's selection. It is recommended the agent be someone trustworthy due to the power and responsibility they hold.
Versions (2)
---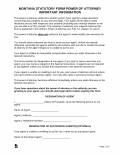 Download: PDF, MS Word, OpenDocument
---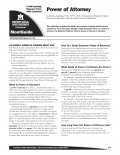 Montana State University Version
Download: PDF
---
Laws
Title 72, Chapter 31, Part 3 (Uniform Power of Attorney Act)
Definition of "Durable"
"Durable", with respect to a power of attorney, means not terminated by the principal's incapacity. (§ 72-31-302(2))
Definition of "Power of Attorney"
"Power of attorney" means a writing or other record that grants authority to an agent to act in the place of the principal, whether or not the term power of attorney is used (§ 72-31-302(7)).
Signing Requirements
The principal is required to authorize in the presence of a notary public. If the agent includes the optional Agent Certification then their signature must be acknowledged as well (§ 72-31-305, § 72-31-354).
Statutory Form
The Montana state legislature has created a sample statutory form for powers of attorney at § 72-31-353.
How to Write
Designation Of Agent
(1) Your Name. The first declaration statement requires the Montana Principal's name reported. As the Private Party issuing this document and granting some or all of your authority to an Attorney-in-Fact, you are the Montana Principal. Thus, assume this role by presenting your name.
(2) Your Agent. The Attorney-in-Fact who shall accept the principal power you are granting and the responsibility that accompanies it must be identified by name, address, and telephone number. Keep in mind, this form may be needed to contact this Entity, so make sure your Attorney-in-Fact's contact information is up to date.
Designation Of Successor Agent(s)
(3) First Successor Agent. An option of setting up a couple of Reserve Agents to take over the Attorney-in-Fact role (when needed) is presented. These Successor Agents will not be granted power at the same time as the originally named Montana Attorney-in-Fact. Rather, the First Successor Agent you name will be granted principal authority only if the original Attorney-in-Fact refuses the role, has been revoked, or becomes incapacitated (unable to wield power). The First Successor Agent's address and phone number must also be documented.
(4) Second Successor Agent. If neither the Montana Attorney-in-Fact nor First Successor Agent are willing or able to act in your name with the authority this document provides to do so, then it would be very useful to have named a Second Successor Agent to step into the Attorney-in-Fact role. To do so, the Second Montana Successor Agent must have his or her name, complete address, and current telephone number attached to this role.
Grant Of General Authority
(5) Selecting Montana Powers. A list of general subjects the State of Montana allows for an Agent's use of principal power to act with is on display. As the Principal, initial each power that you wish to appoint to the Montana Attorney-in-Fact from this list. If a  principal power on this list should not be placed in the control of the Attorney-in-Fact, then do not initial it. If you wish to grant all of these powers to the Attorney-in-Fact, then skip over the majority of this list and locate the final item.
(6) Appointing All Principal Powers. To grant power to your Attorney-in-Fact in every one of the areas of subjects in this list, then leave every item except for the final statement unmarked. Place your initials directly next to the words "All Preceding Subject" to grant the fullest general authority allowable in Montana to your Agent.
Principal's Special Instructions
(7) Your Directives And Limitations. You can limit your Attorney-in-Fact's powers, restrict some actions from his or her behavior, or set specific instructions on paper. Additionally, while this document is set to go in effect immediately and remain so unless revoked or until the Principal's death, you can set specific start and termination dates as you see fit. Any special provisions that you wish applied to the principal powers you are granting should be included to this form before you provide a valid signature.
Nomination Of Conservator or Guardian
(8) Your Conservator Nomination. This template will allow you to address the scenario where you have been incapacitated and the State of Montana intends to set a Court-Appointed Conservator to your estate. While the ultimate decision of who should be appointed to this role is up to the courts, your nomination as the Principal will be considered seriously. To make a nomination for the Conservator of your Estate, place his or her full name, current address, and telephone number in the appropriate area.
(9) Your Guardian Nomination. In addition to a Conservator of Estate, this paperwork also allows a nomination for a Court-Appointed Guardian of your Person. This also requires a record of your Nominee's name, address, then his or her phone number.
Signature And Acknowledgment
(10) Principal's Signature And Date. Your signature is required for this document to be executed. You must perform the act of signing before a Notary Public then immediately document the current calendar date.
(11) Your Name And Address. As the Montana Principal, present your printed name and residential address with your signature.
(12) Your Telephone Number.  
(13) Montana Notarization. The Notary Public that has watched you sign this form, will use the next area to validate your signature.
(14) Document Preparer. Name the Party that has prepared the information this document requests for the Principal's review.
Related Forms
---
Download: PDF
---
Download: PDF
---