Updated November 22, 2023
An operating agreement is a legal document between the owners (members) of an LLC that governs how decisions are made, contributions, and the entity's ownership. It is the only document that records each member's ownership interest.
An operating agreement is usually written when an LLC is formed and is not filed with any government office (each member keeps a copy). All members, no matter their ownership interest, are required to sign.
Is an Operating Agreement Required?
An operating agreement is required for an LLC formed in Alabama, California, Delaware, Maine, Missouri, and New York.
By State
By Type (2)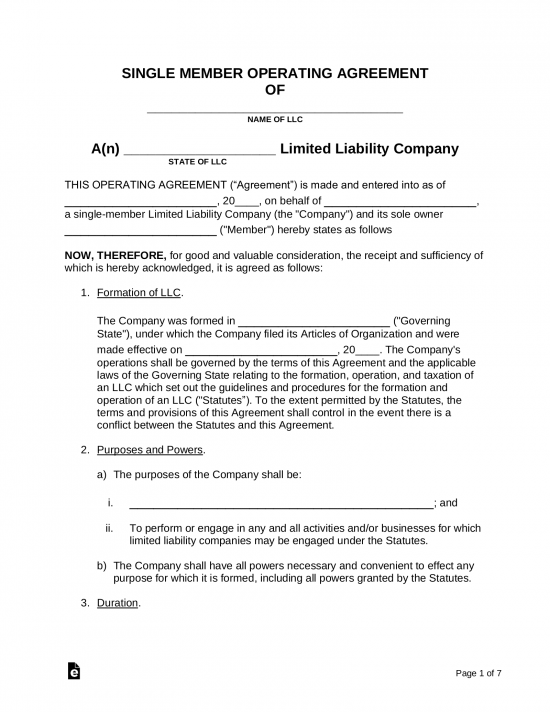 Single-Member Operating Agreement – To be used by an LLC with only one owner.
Download: PDF, MS Word, OpenDocument
---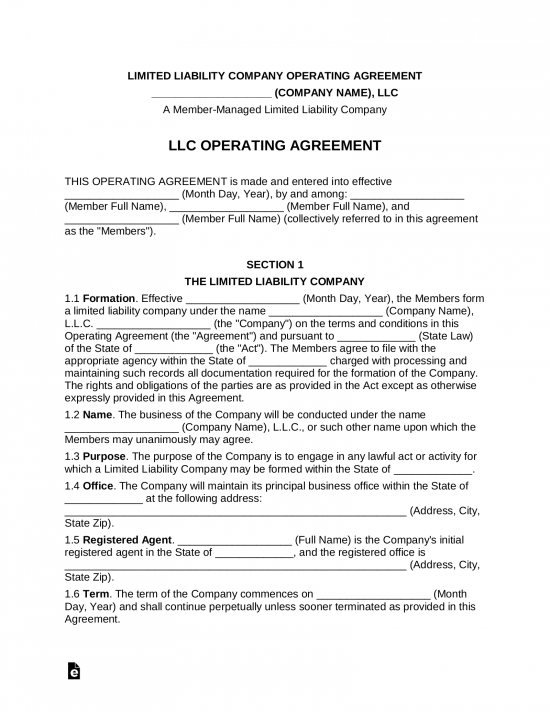 Multi-Member Operating Agreement – To be used by an LLC with more than one owner.
Download: PDF, MS Word, OpenDocument
---
What is an LLC Operating Agreement?
An LLC operating agreement is a document that acts as the bylaws of the company detailing its ownership, management, officers, and registered agent. It is required when opening bank accounts to show members who own more than 25% of the company.
Definition (Cornell Law)
Governing contract adopted by members of a Limited Liability Company (LLC). It may be used to regulate nearly all aspects of the LLC's affairs, including how the business is managed, how assets are used and how revenues are shared. An operating agreement will override any default rules presented by a state LLC statute, which controls in the absence of an operating agreement.
Source: www.law.cornell.edu/wex/operating_agreement
What to Include? (5 items)
Members
If a new member is added to the company, the LLC operating agreement must be amended with the written consent of all existing members. This also applies to increasing or decreasing ownership from one member to the next.
Distribution of Profits
It's easy to disburse profits to members within the LLC as each member is responsible for paying taxes on their income from the business.
Flexibility
When setting up the structure of your LLC operating agreement, you can keep it simple or add as many laws within the company as you see fit. An LLC typically has much less paperwork and meeting requirements than most other formation types.
Pass-Through Taxation
The business itself is not taxed; instead, each member pays their share of taxes for the money made or lost based on personal income.
Protection
LLC members are not personally liable or responsible for business debts and liabilities. This particular benefit is why many people choose to create an LLC over other entity types.
Sample
Download: PDF, MS Word, OpenDocument
LLC OPERATING AGREEMENT
OF


[NAME OF COMPANY]

, LLC
I. THE COMPANY. This LLC Operating Agreement ("Agreement") is made this [DATE], for the following:
Name: [NAME OF COMPANY] ("LLC")
Date Formed: [DATE]
State of Formation: [STATE]
II. THE MEMBERS. The LLC is a: (check one)
☐ – Single-Member LLC. The sole owner of the LLC shall be:
Member: [NAME]
Mailing Address: [ADDRESS]
Ownership: [#]%
☐ – Multi-Member LLC. The owners of the LLC shall be:
Member #1: [MEMBER'S NAME]
Mailing Address: [ADDRESS]
Ownership: [#]%
Member #2: [MEMBER'S NAME]
Mailing Address: [ADDRESS]
Ownership: [#]%
Member #3: [MEMBER'S NAME]
Mailing Address: [ADDRESS]
Ownership: [#]%
Hereinafter known as the "Members."
III. TERMS.
a.) Principal Place of Business. [ADDRESS] shall be known as the principal place of business of the LLC.
b.) Registered Agent. [NAME] shall be known as the "Registered Agent" with a mailing address of [ADDRESS]. The Registered Agent shall hold the rights and responsibilities granted to them allowed under state law.
c.) Management. The management of the LLC shall be decided by its Members to handle the following matters:
i.) Managers. To decide if a Manager or which Members shall run the day-to-day activities of the LLC;
ii.) Dissolution and Liquidation. Any dissolution or liquidation of the LLC's assets or property;
iii.) Accounting. Accurate books and records of the LLC that includes providing necessary documents for the Members iv.) to file taxes in a timely manner;
iv.) Distributions. Any disbursing of money from LLC profits or cash accounts to the Members;
v.) Annual Meeting. The Members of the LLC agreement to meet on an annual basis with the details of the meeting to be made with 30 days' notice;
vi.) Withdraw. To decide whether Members can withdraw themselves from the LLC;
vii.) Assignment. To admit new Members of the LLC;
viii.) Amendments. To alter, amend, or change this Agreement.
d.) Purpose. The purpose of the LLC is to engage in lawful business activity for the benefit of its Members and the general public.
e.) Governing Law. The LLC shall operate and run its business activities in accordance with the laws located in the state of formation.
f.) Indemnification. None of the Members shall bear the responsibility, obligations, or liabilities of the LLC or others who may act on the LLC's behalf.
g.) Capital Contributions. Any capital contributions made shall be attached to this Agreement and signed by the Members.
h.) Term. The LLC shall operate on a perpetual basis with no end date unless decided upon by the Members.
i.) Severability. If any provision of this Agreement shall be invalid or unenforceable, such invalidity or unenforceability shall not affect the other provisions of this Agreement, which shall remain in full force and effect.
This Agreement sets forth the entire and sole agreement between the Members hereto with respect to the subject matter hereof and shall be considered legally binding upon execution.
Member Signature: _____________________________ Date: ______________
Print Name: _____________________________
Member Signature: _____________________________ Date: ______________
Print Name: _____________________________
Member Signature: _____________________________ Date: ______________
Print Name: _____________________________
Related Forms
---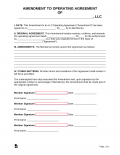 Amendment to an LLC Operating Agreement
Download: PDF, MS Word, OpenDocument
---
Download: PDF, MS Word, OpenDocument