Updated September 25, 2023
A New York LLC operating agreement is a required document for each LLC to outline how it operated and is owned. The agreement should include the management, voting rights, officer appointments, and any other relevant items. After signing, each member should keep a copy as it is not filed with the Division of Corporations or any government office.
Is an Operating Agreement 

REQUIRED

in New York?
Yes. New York is one of five states to legally require businesses to adopt an operating agreement.
By Type (2)
---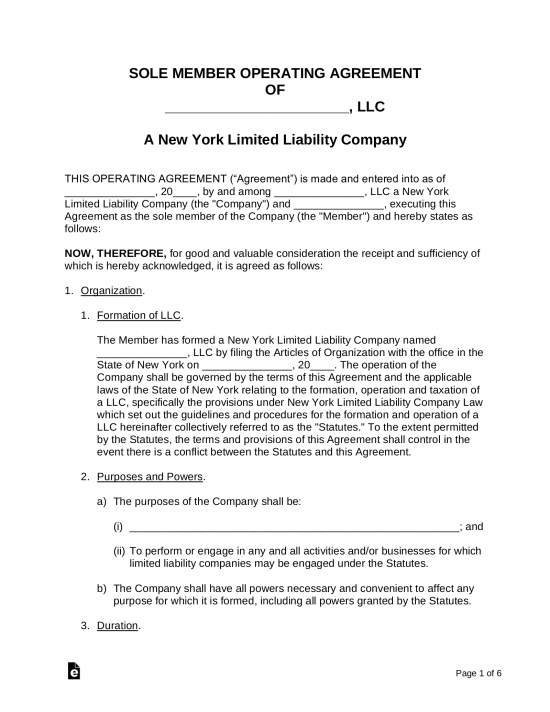 Single-Member LLC Operating Agreement – For use by a single owner of an entity. This document is required by the State of New York. The document will offer protection on various levels, to include creditors, any legal decisions would fall to the defaults provided by the State, unless the document is implemented.
Download: PDF, MS Word (.docx), OpenDocument
---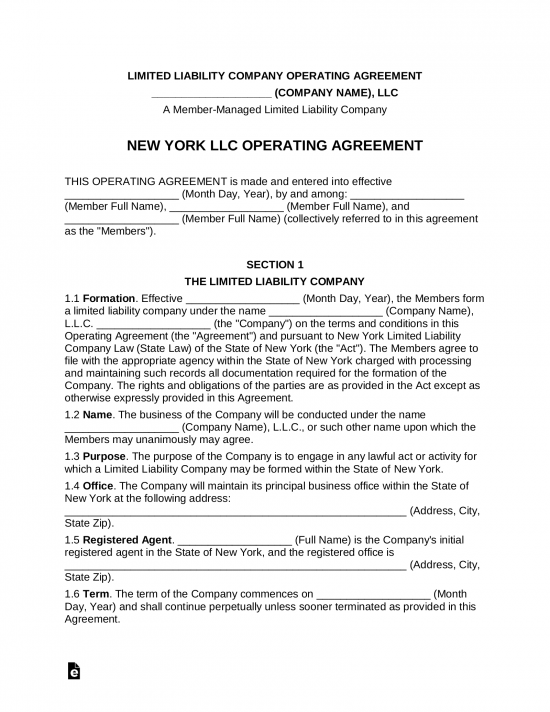 Multi-Member LLC Operating Agreement – For use for a company that has more than one (1) member. The document will establish company policies and procedures, as well, all ownership percentages and management.
Download: PDF, MS Word (.docx), OpenDocument
---
How to Form an LLC in New York (7 steps)
Filers must first verify that their business name is available for use in New York by conducting a Preliminary Search for the name in the State's records. If the name appears as an active business, or if the name is distinctly similar to that of another currently on file, it must be changed to one that is original.
1. Agent for Service of Process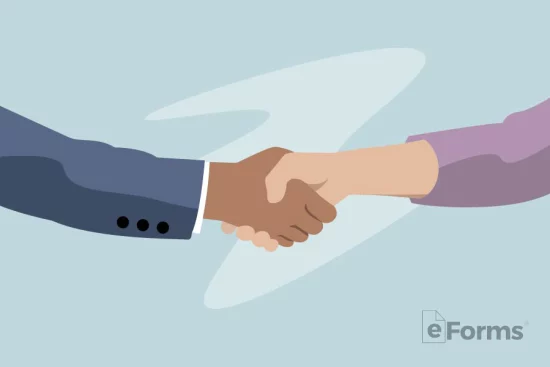 A Registered Agent is an individual or company that receives service of process on the company's behalf. Nominate the agent by employing the services of one of the following:
Person who is a resident or has a legal business address in the State
Business operating in the State
2. Choose LLC Type
Select your LLC type from the list below and complete the ensuing application.
Domestic (formed within the State) – Articles of Organization

Online – select

Domestic Limited Liability Company

, then scroll down and select

Apply Online as an owner

*Foreign (formed outside the State) – Application for Authority
*A Certificate of Existence, or document of equal qualification, must be included with all Foreign LLC filings.
3. Filing Fee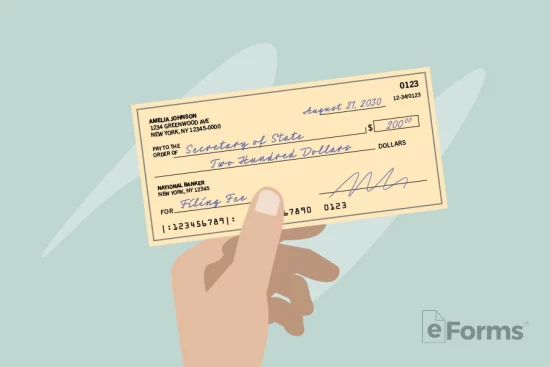 The fees for both Domestic and Foreign LLC applications are as follows:
Domestic – $200
Foreign – $250
Online filers will be instructed to supply the fee by credit card. Those filing via PDF must enclose a check and send all items to the address below.
New York State Department of State, Division of Corporations, One Commerce Plaza, 99 Washington Avenue, Albany, NY 12231
4. Publish the Articles
Once filed with Department of State, you will need to publish a notice of formation or a copy of the articles of organization/application for authority in two (2) newspapers which are designated by the country clerk in the initial jurisdiction. Afterward, you will receive an affidavit of publication from each newspaper.
5. Certificate of Publication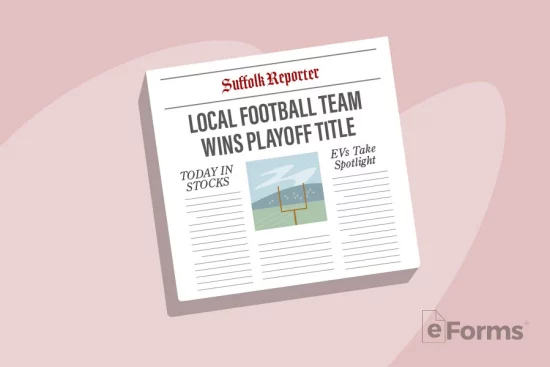 Complete the Certificate of Publication and deliver it to the address below. Along with the certificate, you must include a $50 filing fee and each of your affidavits of publication.
New York State Department of State, Division of Corporations, One Commerce Plaza, 99 Washington Avenue, Albany, NY 12231
6. Operating Agreement
State law in New York requires that all LLCs draft an operating agreement to set in place the rules and regulations for the business. Additionally, the form allows for documentation of each member's rights and initial investments in the company. Each member should review the document before signing it and keeping it for personal reference.
7. Employer Identification Number (EIN)
After completing your filing with the New York State Department of State, you should immediately apply for an Employer Identification Number (EIN). The number is issued by the Internal Revenue Service and used to identify businesses when reporting taxes to the federal government. Once acquired, your LLC will legally be able to open bank accounts and pay employees.
Apply for an EIN by completing one of the following:

Laws
"Operating Agreement" Definition
"Operating agreement" means any written agreement of the members concerning the business of a limited liability company and the conduct of its affairs and complying with section four hundred seventeen of this chapter.
Video