Updated September 25, 2023
A North Carolina LLC operating agreement outlines the terms under which a company must be governed. Such terms include the operational procedures, appointment of officers, and ownership interest. An operating agreement is the only document that holds the ownership of the members and a copy should be kept by each of the members. It is not filed with any government agency.
Is an Operating Agreement 

REQUIRED

in North Carolina?
No — businesses in North Carolina are not legally required to implement an operating agreement.
By Type (2)
---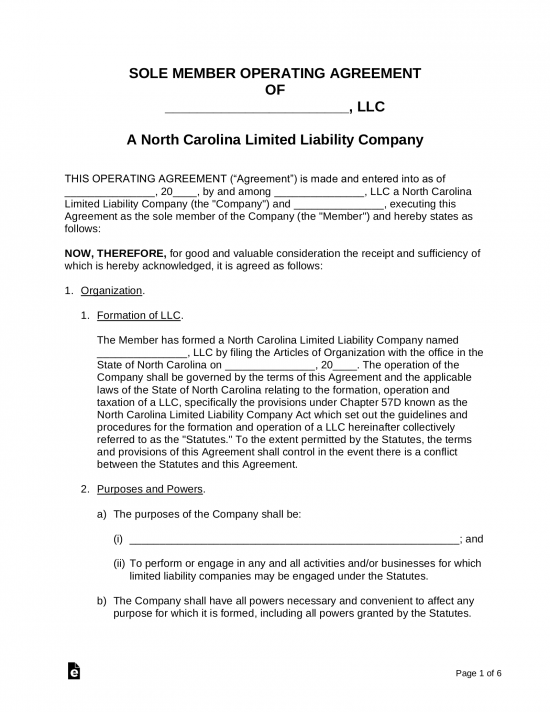 Single-Member LLC Operating Agreement – For use by a sole proprietor where there would be only one (1) member running the business. The document will separate the single member from the business, protecting the member's personal and financial assets.
Download: PDF, MS Word (.docx), OpenDocument
---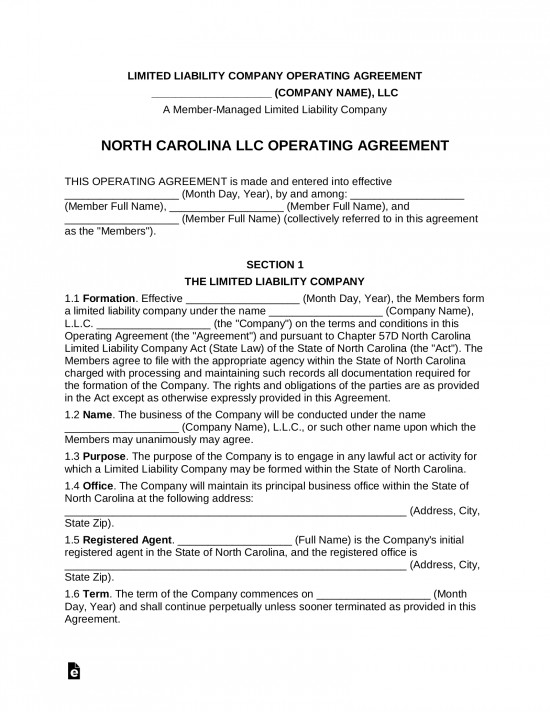 Multi-Member LLC Operating Agreement – For use by members of companies with more than one (1) member. The document will provide protections needed with regard to the personal interest of all members of the business.
Download: PDF, MS Word (.docx), OpenDocument
How to Form an LLC in North Carolina (6 steps)
The North Carolina Secretary of State requires all business filings to be submitted under an operating name which is unique to the company and dissimilar to any other business name registered in the State. For this reason, it is best to Search for your Business Name in the State's records prior to filing, thus ensuring the availability and uniqueness of the name.
2. Which LLC Type
Your filing circumstances will dictate which type of LLC needs to be applied for. A new company formed within the State is considered a
Domestic LLC
while a preexisting business expanding into the State from an outside jurisdiction is called a 
Foreign LLC
. Ensure you know which LLC type to apply for before proceeding.
3. Complete the Application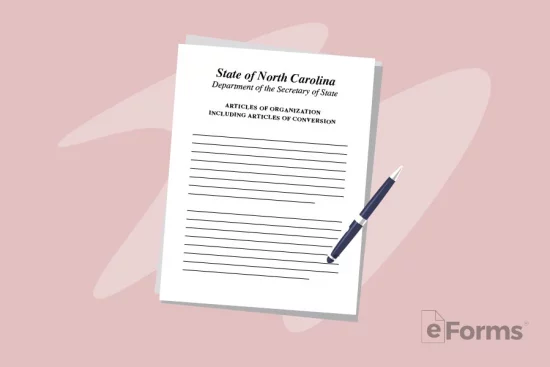 Download the appropriate application below and fill it in on your computer, or, print it off and use black ink.
Domestic – Articles of Organization

Online – create an account, then follow the instructions
PDF (Form L-01) – scroll down and select

Articles of Organization

*Foreign – Certificate of Authority

Online – create an account, then follow the instructions
*When submitting a Foreign LLC application, be sure to include a Certificate of Existence (or like document) which is less than six (6) months old and authenticated by an official in the initial jurisdiction.
4. Filing Fee
Enclose a check made payable to the 'N.C. Secretary of State' to cover the filing fee. The requisite filing fees are as follows:
Domestic LLC – $125
Foreign LLC – $250
Once the fee has been attached, place all articles in an envelope and send your filing package by mail to the following address:
Corporations Division, P.O. Box 29622, Raleigh, NC 27626-0622
5. Operating Agreement
LLCs are encouraged to draft an operating agreement to put in place a set of rules and regulations which will govern the general operation of the business. The agreement is not required in North Carolina, though without it the member(s) will have no proof of their initial investments and contributions to the company.
6. Employer Identification Number (EIN)
An Employer Identification Number (EIN) should be acquired after filing with the Secretary of State. This identifier is used by the Internal Revenue Service to keep track of the financial activity of entities registered in the country. If you would like to apply for an EIN, complete the Online Application or submit IRS Form SS-4 by mail.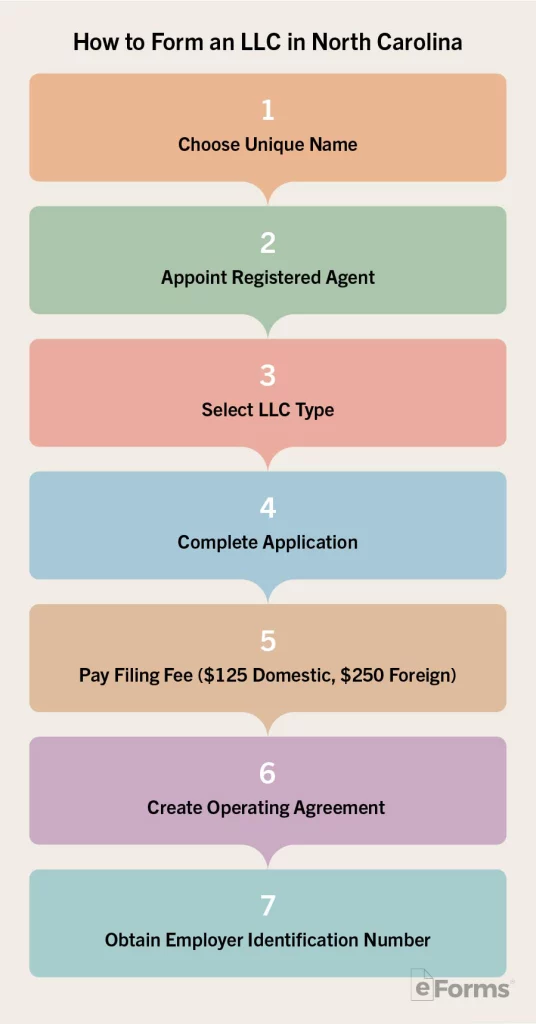 Laws
North Carolina Limited Liability Company Act

 – Chapter 57D
"Operating Agreement" Definition
"Operating agreement" — Any agreement concerning the LLC or any ownership interest in the LLC to which each interest owner is a party or is otherwise bound as an interest owner. Subject to other controlling law, the operating agreement may be in any form, including written, oral, or implied, or any combination thereof. The operating agreement may specify the form that the operating agreement must take, in which case any purported amendment to the operating agreement or other agreement expressed in a nonconforming manner will not be deemed to be part of the operating agreement and will not be enforceable to the extent it would be part of the operating agreement if it were in proper form. Subject to G.S. 57D-2-21 and the other provisions of this Chapter governing articles of organization, the articles of organization are to be deemed to be, or be part of, the operating agreement. If the LLC has only one interest owner and no operating agreement to which another person is a party, then any document or record intended by the interest owner to serve as the operating agreement will be the operating agreement.
Video