Updated August 25, 2023
A Utah LLC operating agreement is a legal document that has authority over the relations between the members and the activities and affairs of the company. The agreement states how the company will operate while also including its ownership structure. It must be agreed to and signed by all members of the entity, no matter their ownership interest. After execution, it is the responsibility of each member to keep a copy for their records.
Is an Operating Agreement 

REQUIRED

in Utah?
No. Businesses in Utah are not legally required to adopt an operating agreement.
By Type (2)
---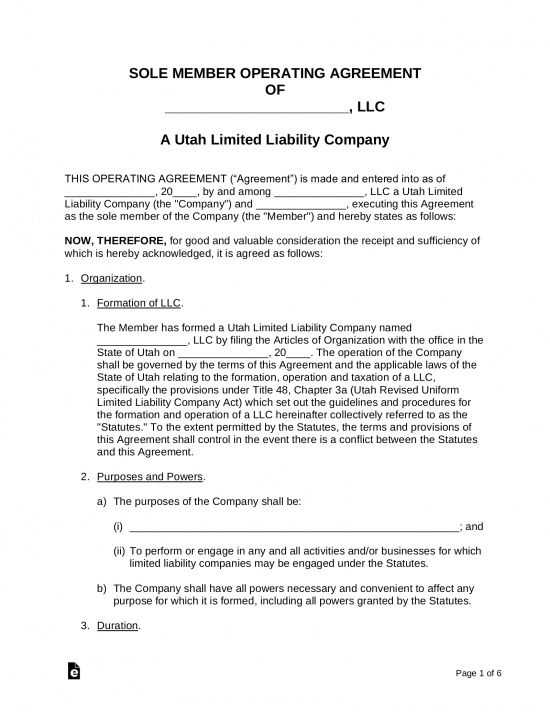 Single Member LLC Operating Agreement – To be used by a sole proprietor creating a company with only one (1) owner.
Download: PDF, MS Word (.docx), OpenDocument
---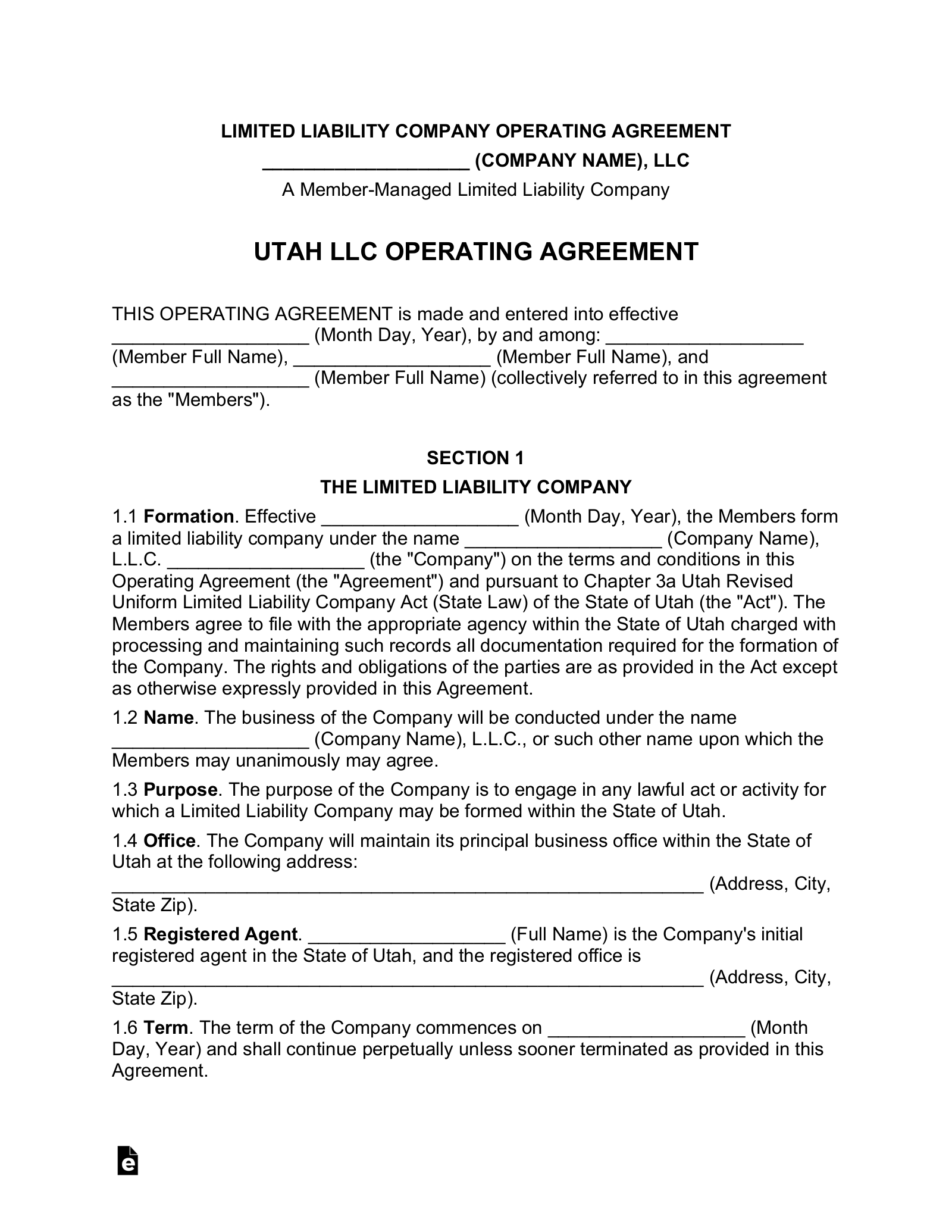 Multi-Member LLC Operating Agreement – For use by a company that has two (2) or more owners.
Download: PDF, MS Word (.docx), OpenDocument
---
How to Form an LLC in Utah (6 steps)
All LLCs operating within the State of Utah need to be registered with the Division of Corporations and Commercial Code. However, it is best to Search for your LLC Name in the State's database prior to filing to ensure that no other entity has taken or reserved the name. All duplicate and similar names will be declined by the State.
2. LLC Type
The Division of Corporations and Commercial Code has separate forms and fees for each LLC type. Therefore, you must make certain that you know which LLC type needs to be filed.
A

Domestic LLC

is a company formed within the State
A 

Foreign LLC

is a company initially formed in an outside jurisdiction
3. Complete the Application
From the following options, select the one which matches your LLC type and filing preference:
Domestic – Certificate of Organization
Foreign – Foreign Registration Statement
*Online filers will be required to create an Online Account in order to access the State's filing portal.
4. Filing Fee
A $70 filing fee must be supplied upon completion of the application. The fee is payable by credit card (online) or with a check/money order made out to the 'State of Utah' (paper). If filing by mail, send all articles to the following address:
Utah Division of Corporations & Commercial Code, P.O. Box 146705, Salt Lake City, Utah 84114-6705
5. Operating Agreement (not required)
An operating agreement is a multi-purpose document which LLC owners may use to standardize the operating procedures and provisions of the company. The form outlines the general meeting times, managerial responsibilities, and financial investments of the members, among other things.
6. Employer Identification Number (EIN)
An Employer Identification Number (EIN) should be acquired once you've correctly filed your LLC with the State. This identifier is used when reporting tax information to the Internal Revenue Service, much like a Social Security Number. To apply, submit PDF Form SS-4 through the mail or complete the Online Application.
Laws
Utah Revised Uniform Limited Liability Company Act

 – Title 48, Chapter 3A

Operating Agreement Statutes
"Operating Agreement" Definition
"Operating agreement" means the agreement, whether or not referred to as an operating agreement and whether oral, implied, in a record, or in any combination thereof, of all the members of a limited liability company, including a sole member, concerning the matters described in Subsection 48-3a-112(1). The term includes the agreement as amended or restated.
Video