Updated April 14, 2023
A Virginia LLC operating agreement is a document that sets how the company will conduct its affairs and its relations among the members. It should cover the primary purpose of the business, appoint officers, rights of certain members, and mention the company's ownership. An operating agreement serves as a private document to be signed and kept by all members and is not filed with the State Corporation Commission.
Is an Operating Agreement 

REQUIRED

in Virginia?
No. Businesses are not required to adopt an operating agreement in Virginia.
By Type (2)
---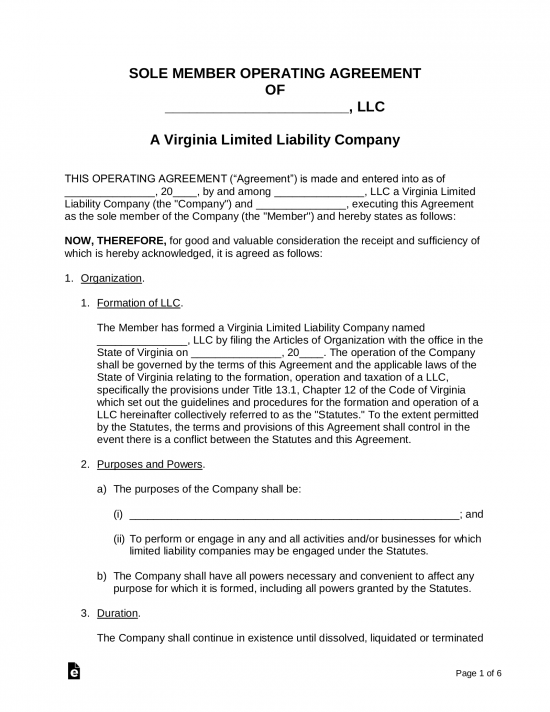 Single-Member LLC Operating Agreement – This would be the document to select to create a proper LLC if the business has only one owner/manager.
Download: Adobe PDF, MS Word (.docx), OpenDocument
---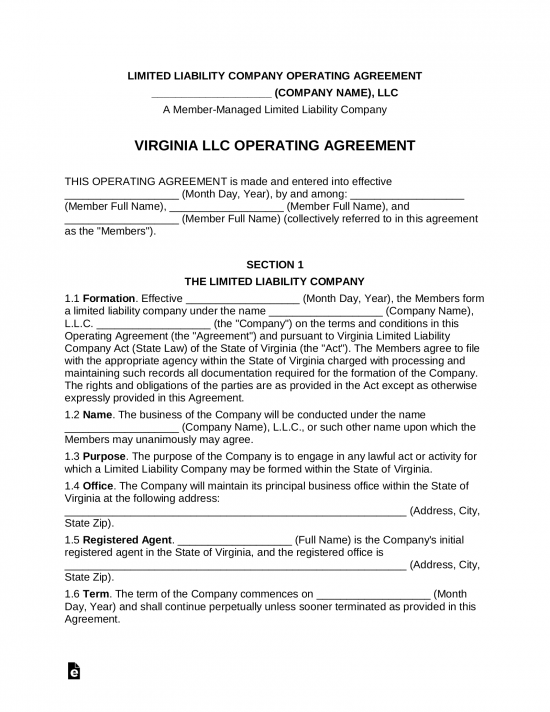 Multi-Member LLC Operating Agreement – This document would be used in the event that there would be more than one contributing member in the company.
Download: Adobe PDF, MS Word (.docx), OpenDocument
---
How to Form an LLC in Virginia (5 steps)
All LLC filers are advised to Search for their Business Name in the State Corporation Commission's database prior to registration, thus ensuring that the name hasn't already been taken by another company or reserved for future use.
Step 1 – Nominate a Registered Agent
The Virginia State Corporation Commission demands that each LLC elects a Registered Agent for the purpose of forwarding government correspondence and legal notices to the company.
In Virginia, the Registered Agent may be either of the following:
Member or manager of the LLC who resides in the State
Member of the Virginia State Bar who also resides in the State
Qualified business with the authority to transact business in the State
Step 2 – Select LLC Type
Choose the link below which matches your LLC type and complete the corresponding application. If you choose to file online, you'll need to create an account with the state clerk.
Domestic – Articles of Organization
*Foreign – Application for Certificate of Registration to Transact Business in Virginia
*Foreign applications must include a certified or authenticated copy of the initial formation articles dated within the past twelve (12) months, complete with any applicable amendments and corrections. See § 13.1-1052 of the Code of Virginia for more information.
Step 3 – Pay the Filing Fee
Supply the $100 processing fee to complete the filing procedure. A credit card is necessary when providing payment online. If filing a paper application, enclose a check made out to the 'State Corporation Commission' and send all articles to the following address:
Clerk of the State Corporation Commission, P.O. Box 1197, Richmond, Virginia 23218-1197
Step 4 – Operating Agreement 
An LLC operating agreement may be used by the managing member(s) to define the rules and regulations which will govern the overall operating structure of the company (i.e. member duties, general meeting times, etc.). This is strictly an internal document as there is no statute dictating that such an agreement must be drafted and filed with the State Corporation Commission.
Step 5 – Employer Identification Number (EIN)
An Employer Identification Number (EIN) should be obtained once your filing is complete with the Virginia State Corporation Commission. This number is used for tax purposes and it will be necessary to obtain if your business plans on opening company bank accounts or paying employees.
Laws
"Operating Agreement" Definition
"Operating agreement" means an agreement of the members as to the affairs of a limited liability company and the conduct of its business, or a writing or agreement of a limited liability company with one member that satisfies the requirements of subdivision A 2 of § 13.1-1023.
Video