Updated August 24, 2023
A Kansas LLC operating agreement acts as the foundation for how a company is run and includes its ownership. The members must all sign and agree to its officers, how it will be managed, capital contributions, and any other business matters. After signing, the members should receive a copy as the document is not filed with the Secretary of State.
Is an Operating Agreement 

REQUIRED

in Kansas?
No. The State of Kansas does not legally require businesses to implement an operating agreement.
By Type (2)
---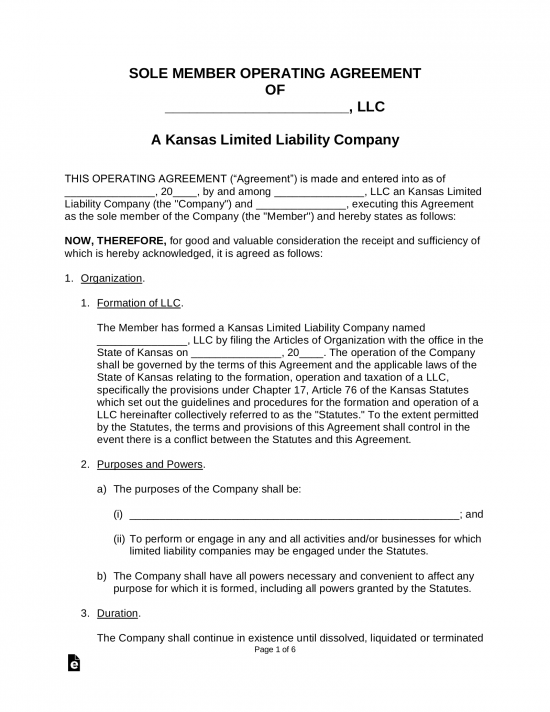 Single-Member LLC Operating Agreement – For use by sole proprietors (single owners) to establish their business procedures, recording of daily activities, and provide protection to personal financial assets, among other aspects.
Download: PDF, MS Word (.docx), OpenDocument
---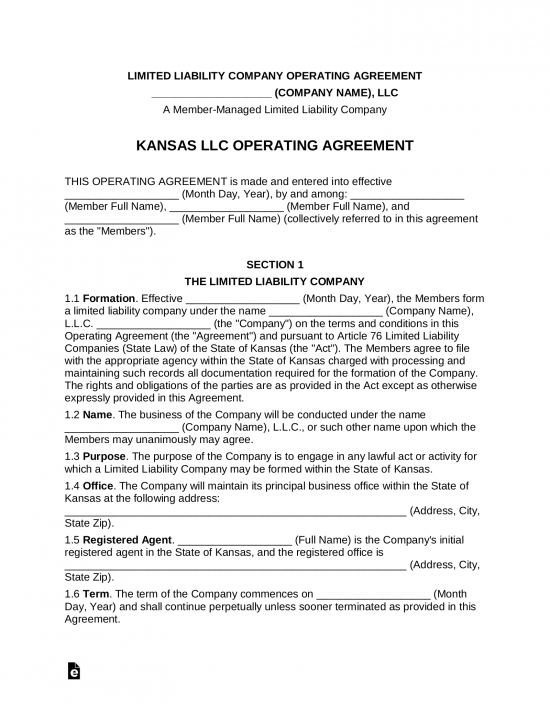 Multi-Member LLC Operating Agreement – For use by companies with more than one member. The document shall set forth procedures and policies that will be observed by all managing members. The document will provide protection for all contributing members.
Download: PDF, MS Word (.docx), OpenDocument
---
How to Form an LLC in Kansas (5 steps)
Individuals filing in the State of Kansas should ensure that their chosen operating name is available for use before formally applying for registration. By conducting a Business Entity Search, you can verify your name's availability and make certain that the name is distinguishable on the records of the Secretary of State.
1. Registered Agent
All LLCs must appoint a Registered Agent as part of the filing process. The Registered Agent will notify the LLC of any official notices received, such as annual reports or other correspondence from the Secretary of State.
A Registered Agent may be an:
Individual with residence in the State
Business operating in the State
2. Registration Documents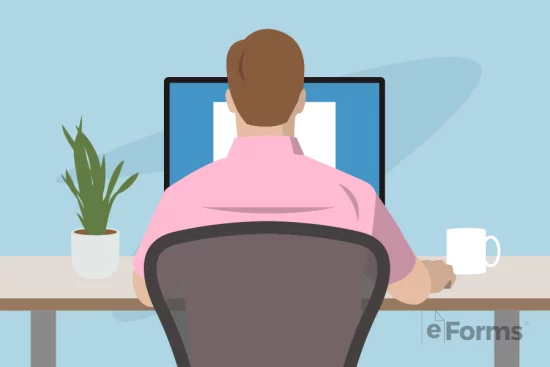 Filers must submit their registration documents to the Secretary of State either by mail or via the online filing system. Select the option below which matches your entity type and the desired method of application:
Domestic – Articles of Organization

Online – select

Kansas Business Entity Formation

, then create an account to complete

Foreign – Application for Registration of Foreign Covered Entity
*A Certificate of Existence, or document of equal qualification, is required when filing a Foreign LLC by mail (PDF).
3. Pay the Fee
The filing fee for both a Domestic and Foreign LLC is $165, unless you are filing a Domestic LLC online which will result in a reduced fee of $160.
Online filers may pay the fee by e-check or credit card. For applicants filing a paper form, attach a check or money made payable to the 'Secretary of State' and send all articles to the following address:
Memorial Hall, 1st Floor, 120 S.W. 10th Avenue, Topeka, KS 66612-1594
4. LLC Operating Agreement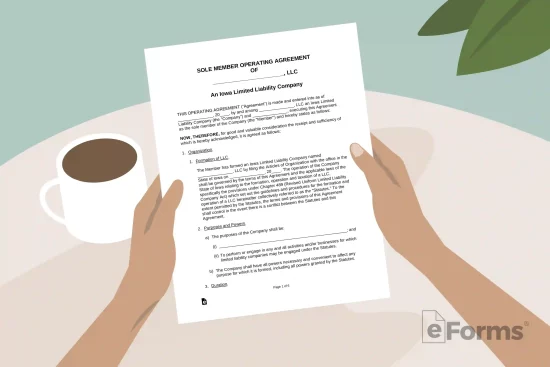 The managing member(s) may draft an operating agreement as a means to organize the internal affairs of the LLC, and to provide documentation that assets of the LLC are separate from those of the ownership. While the form is not required by State law, it is in the best interest of the LLC to implement this type of agreement after successfully filing for formation.
5. Employer Identification Number (EIN)
The Employer Identification Number (EIN) is issued to companies for the purpose of overseeing financial activity. An EIN is issued by the Internal Revenue Service (IRS) and it may be applied for by completing a short Online Application or through the filing of Form SS-4. Once obtained, the LLC will be able to do the following:
Hire employees
Apply for financing
Acquire company credit cards

Laws
"Operating Agreement" Definition
"Operating agreement" means any agreement, whether referred to as an operating agreement, limited liability company agreement or otherwise, written, oral, or implied, of the member or members as to the affairs of a limited liability company and the conduct of its business. A member or manager of a limited liability company or an assignee of a limited liability company interest is bound by the operating agreement whether or not the member or manager or assignee executes the operating agreement. A limited liability company is not required to execute its operating agreement. A limited liability company is bound by its operating agreement whether or not the limited liability company executes the operating agreement. An operating agreement of a limited liability company having only one member shall not be unenforceable by reason of there being only one person who is a party to the operating agreement. An operating agreement is not subject to any statute of frauds, including K.S.A. 33-106, and amendments thereto. An operating agreement may provide rights to any person, including a person who is not a party to the operating agreement, to the extent set forth therein …
Video