Updated August 24, 2023
An Illinois LLC operating agreement is a binding document that establishes the ownership, operations, officers, and responsibilities of company members. The agreement acts as the bylaws and oversees the day-to-day operations of the company. It becomes effective after being signed by all members and can be changed upon amendment. After completion, the agreement is not filed with the Secretary of State and is kept by each member.
Is an Operating Agreement 

REQUIRED

in Illinois?
No — implementing an operating agreement is not mandatory in Illinois.
By Type (2)
---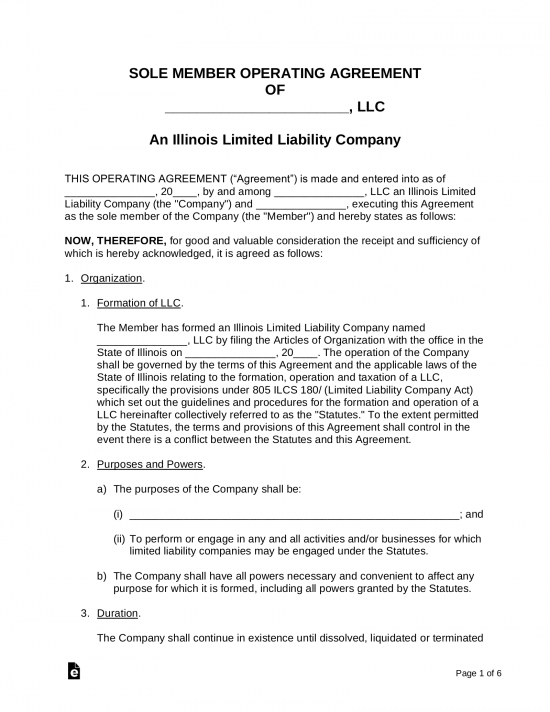 Single-Member LLC Operating Agreement – For use by a single owner to establish daily business practices, procedures, and other important business aspects.
Download: PDF, MS Word (.docx), OpenDocument
---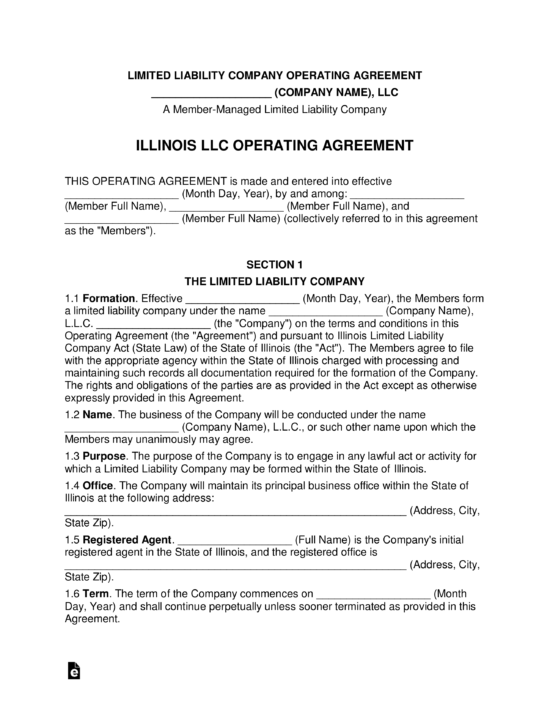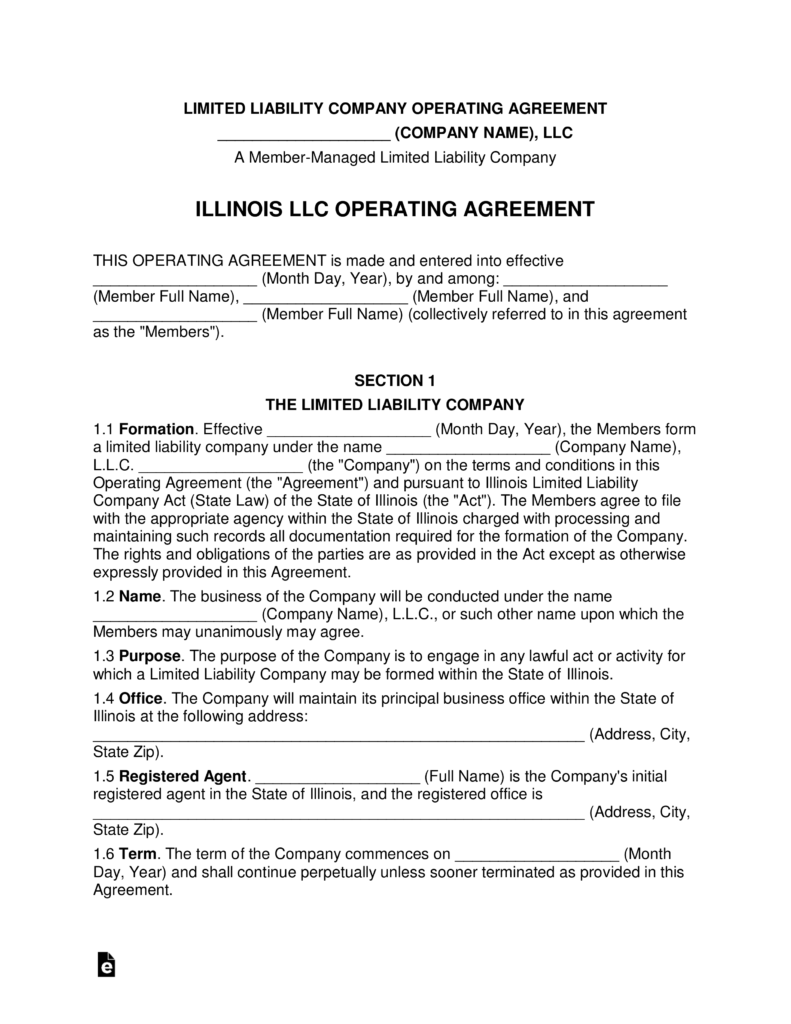 Multi-Member LLC Operating Agreement – For use by companies with more than one (1) member to assist in organizing a member-managed business by setting forth various regulations and policies.
Download: PDF, MS Word (.docx), OpenDocument
---
How to Form an LLC in Illinois (5 steps)
To begin the LLC filing process, conduct a Search for Your Business Name in the Secretary of State's official records to ensure that it is currently available for use. Otherwise, your application is likely to be rejected. Furthermore, the name must include the words Limited Liability Company or the abbreviation L.L.C./LLC.
1. Nominate a Registered Agent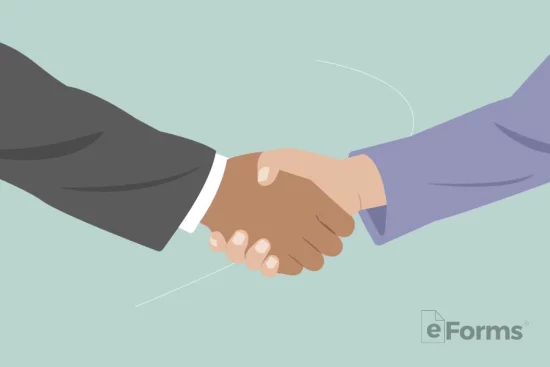 State law in Illinois demands that each LLC nominates a Registered Agent to receive government notifications and service of process on behalf of the business. The agent can be an individual with legal residence in the State or a business with authorization to conduct business in the State.
2. Registration Documents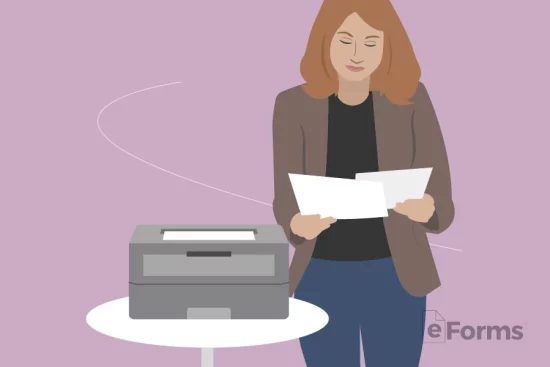 Select your LLC type from the options below and fill in the application that follows.
Domestic – Articles of Organization
Foreign LLC – Application for Admission to Transact Business
Filing Requirements:
Print paper applications in duplicate
Foreign applicants must include a Certificate of Existence issued within sixty (60) days of filing and authenticated by an officer in the initial jurisdiction
3. Filing Fee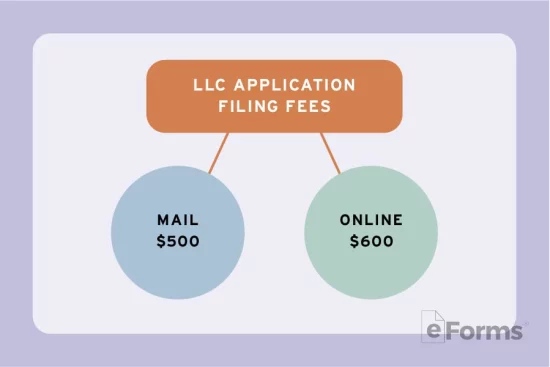 The required filing fees are as follows:
Online – $600
Mail – $500
Online applications will be complete once the filing fee has been paid by credit card. If you are filing a paper application, attach a check or money order made payable to the 'Secretary of State' and send your filing package to the following address:
Department of Business Services, Limited Liability Division, 501 S. Second St., Rm. 351, Springfield, IL 62756
4. Operating Agreement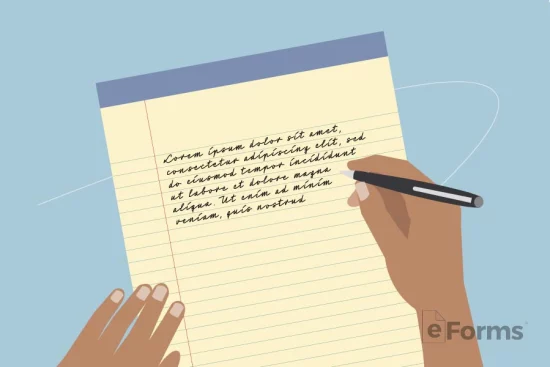 While an LLC operating agreement is entirely optional in Illinois, we highly recommend that one is implemented into your business structure as it can help organize your internal affairs. The agreement documents the rules and regulations for the business as well as any other provisions you'd like to establish.
5. Employer Identification Number (EIN)
The Employer Identification Number (EIN) is a nine-digit identifier that the Internal Revenue Service issues to business entities operating in the country. Specifically, the number is used to report tax information to the government. It is free to obtain an EIN
Online
or through the mail using 
Form SS-4
.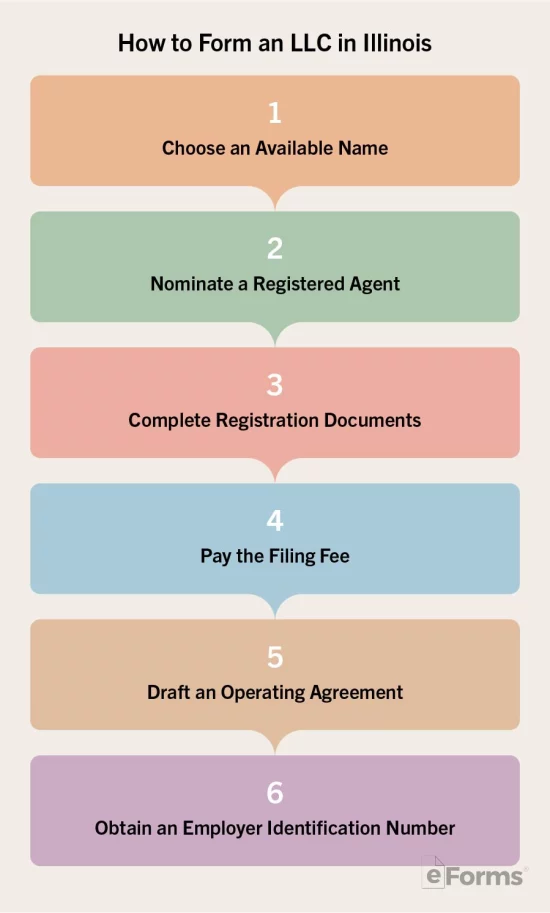 Laws
"Operating Agreement" Definition
"Operating agreement" means the agreement under Section 15-5 concerning the relations among the members, managers, and limited liability company. The term "operating agreement" includes amendments to the agreement.
Video