Updated August 24, 2023
An Arkansas LLC operating agreement outlines the internal day-to-day operations of a company and records each member's ownership interest. The agreement can include any rules the members agree upon such as management, capital contributions, and when distributions of the company are paid. Each member must keep their own copy of an operating agreement after it is signed and is not filed with any government office.
Is an Operating Agreement

REQUIRED

in Arkansas?
No — An operating agreement is not legally required for an LLC to operate in the state.
By Type (2)
---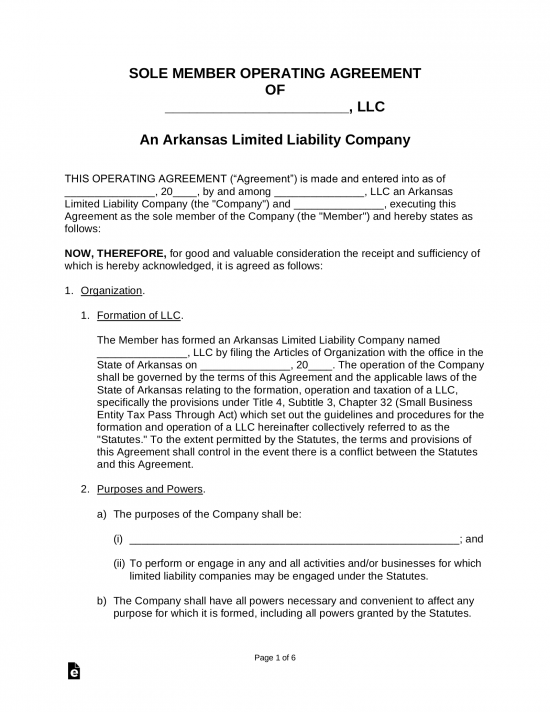 Single-Member LLC Operating Agreement – The document would be used only by a single owner or sole proprietor of a business. The document would offer protections that are vital to a business that is run primarily by the owner of the business. The document outlines policies and procedures just as any business would and offers the same protections and tax advantages.
Download: PDF, MS Word (.docx), OpenDocument
---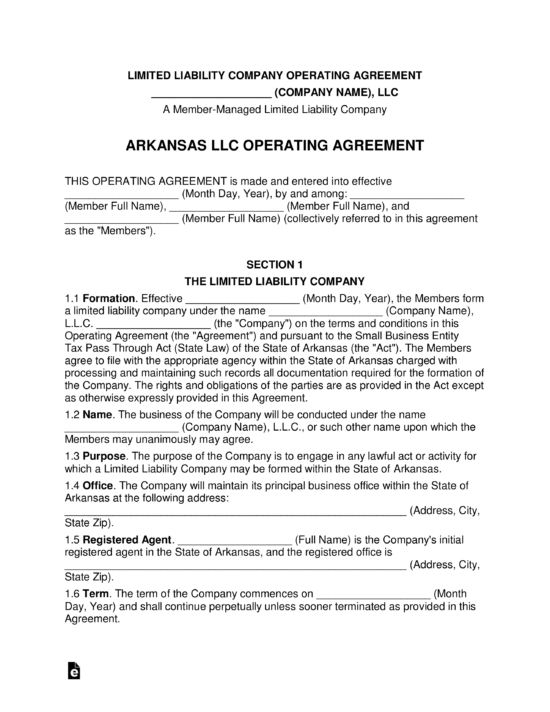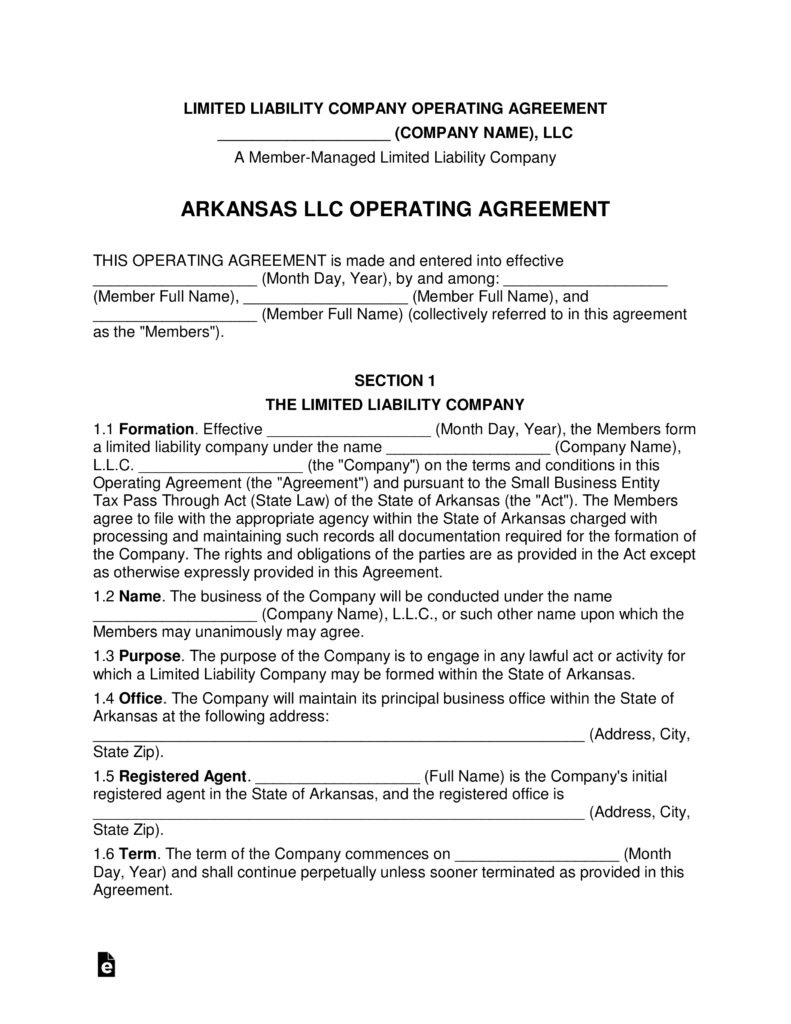 Multi-Member LLC Operating Agreement – To be used by entities who will share a partnership (member management) with multiple contributing members. The document will list all members and provide in writing an outline of agreement between the members as to procedures and policies of the company's daily operations.
Download: PDF, MS Word (.docx), OpenDocument
---
How to Form an LLC in Arkansas (4 steps)
It is of the utmost importance that you check the availability of your business name before proceeding to file with the Arkansas Secretary of State. By performing a search of their Name Database, you can make certain that your desired operating name is indeed available for use and not currently registered by another business. Be sure that the name includes the words Limited Liability Company, or an accepted abbreviation (LLC, L.L.C.).
1. Articles of Organization/Certificate of Registration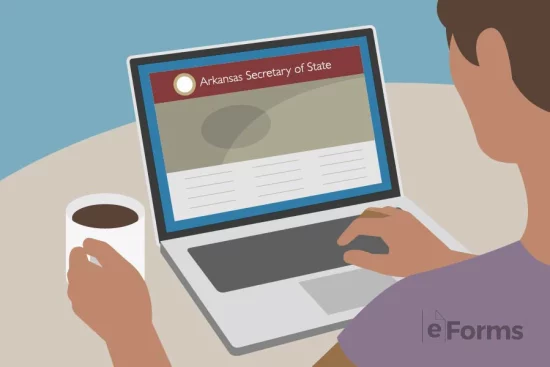 Choose the type of LLC that you would like to create; Domestic or Foreign. The Arkansas Secretary of State allows both Foreign and Domestic applications to be submitted Online and by PDF format.
Domestic – Articles of Organization

Online – scroll down and select

Articles of Organization for Domestic LLC – LL-01

Foreign – Certificate of Registration

Online – scroll down and select

App. for Certificate of Registration of For. LLC – FL-01
2. Filing Fee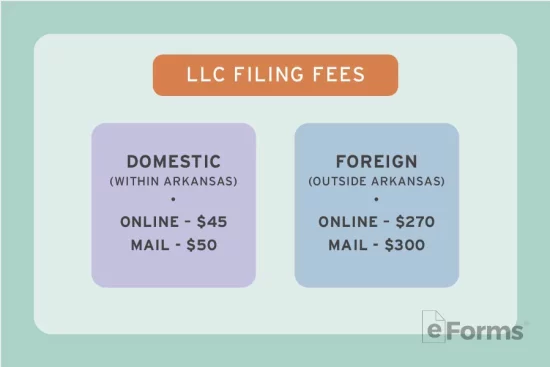 Applicants will be required to supply a filing fee upon submission of their registration documents. The fees for each LLC type are:
*A Certificate of Good Standing or like document issued from the initial jurisdiction of formation is required for all foreign applications.
Those filing via PDF must attach to their filings a check made payable to the Arkansas Secretary of State. All articles must then be sent by mail to the below address.
Business and Commercial Services, 1401 W. Capital, Suite 250, Little Rock, AR 72201
3. Operating Agreement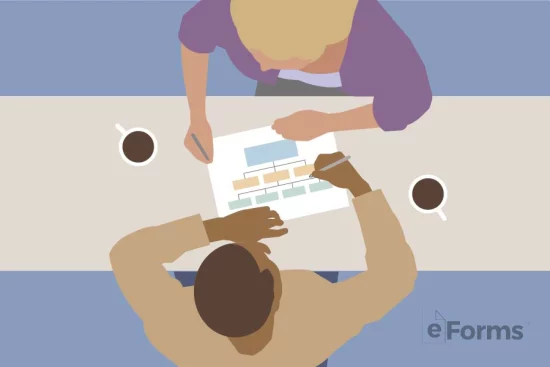 An operating agreement is a document used to legally define the rights and responsibilities of the Managing Member(s). The agreement states clearly the financial structure of the business as well as the capital contributions invested by those involved. There is no legal obligation to draft this document though it is highly advisable as it may be of great use in the event of future legal disputes.
4. Employer Identification Number (EIN)
The Employer Identification Number (EIN) is what the IRS uses to identify businesses for tax purposes, much like a Social Security Number. It allows the LLC to perform financial transactions legally using the company name. Acquiring an EIN will be necessary to hire employees, register for bank accounts, apply for credit cards, and the like. It can be applied for directly on the IRS Website or by mail using PDF Form SS-4.
Laws
"Operating Agreement" Definition
"Operating agreement" means the agreement, whether or not referred to as an operating agreement and whether oral, implied, in a record, or in any combination thereof, of all the members of a limited liability company, including a sole member, concerning the matters described in § 4-38-105(a). The term includes the agreement as amended or restated.
Video