Updated April 14, 2023
A Texas LLC operating agreement, or "company agreement", is used to establish the company's procedures, policies, and ownership. It is not a requirement of Texas, but the owners (members) are highly recommended to create one. An operating agreement is the only document that mentions the member's ownership interest in the company. Therefore, it should be signed and kept by all members.
Is an Operating Agreement 

REQUIRED

in Texas?
No. Texas state law does not require LLCs to implement an operating agreement.
By Type (2)
---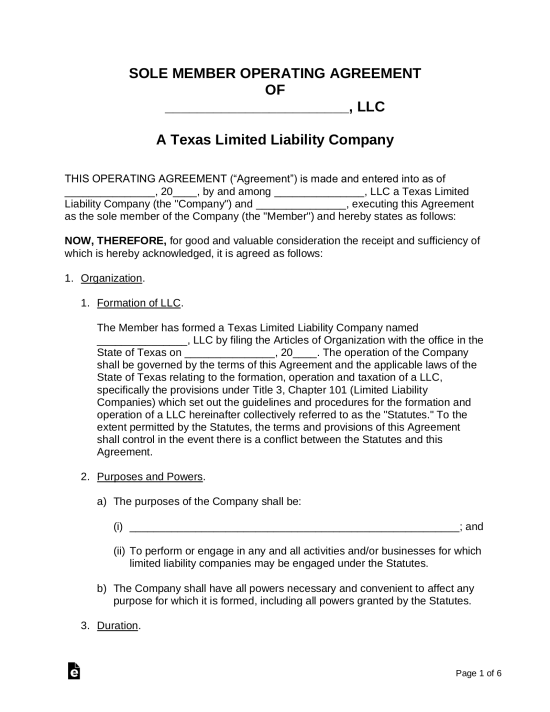 Single-Member LLC Operating Agreement – For use specifically by single owner businesses in need of the creation of company establishment and to protect their personal and financial assets.
Download: Adobe PDF, MS Word (.docx), OpenDocument
---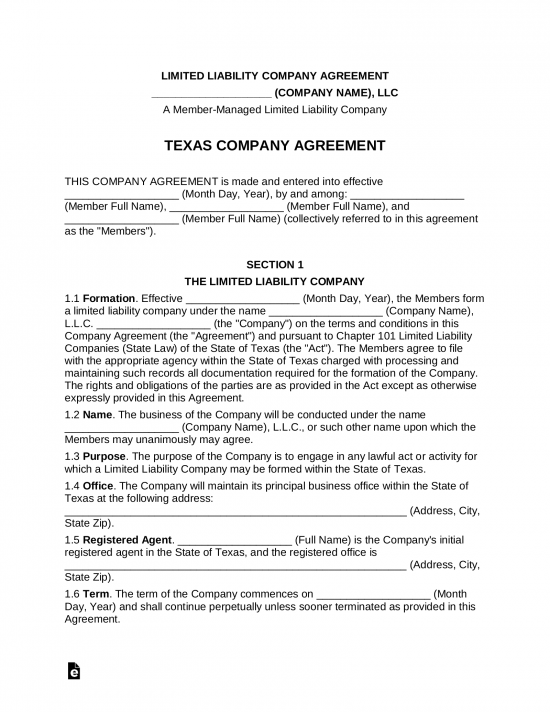 Multi-Member LLC Operating Agreement – For use by businesses with more than one (1) member who would like to establish their company policies and shall agree on needed protections for their members.
Download: Adobe PDF, MS Word (.docx), OpenDocument
How to Form an LLC in Texas (6 steps)
Business applicants in the State of Texas should confirm the availability of their operating name prior to filing with the Secretary of State. By performing a Preliminary Search for the name in the State's records, it will be possible to verify its availability and uniqueness (an Online Account must be created in order to access the State's search function).
Step 1 – Registered Agent
The LLC must elect a Registered Agent to receive service of process or other legal demands served upon the company. In this State, a Registered Agent may be an individual resident or an organization authorized to transact business.
Step 2 – LLC Type
When filing a new business with the Secretary of State, it is important to understand which type of LLC needs to be applied for; each type requires a separate set of forms and filing fee.
A Domestic LLC is a company formed

within

the State of Texas
A Foreign LLC is a company initially formed in an 

outside

jurisdiction
Step 3 – File for Registration
Complete the form that corresponds with your LLC type:
Domestic – Certificate of Formation
Foreign – Application for Registration
Important Information
An Account is required to access the online filing system
Foreign filers must include a Certificate of Existence (or like document)
Paper applications must be printed in duplicate
Step 4 – Pay the Fee
The requisite processing fees are as follows:
Domestic – $300
Foreign – $750
Online applications will be submitted upon payment of the fee. If filing by mail, enclose your remittance and send all articles to the following address:
P.O. Box 13697, Austin, Texas 78711-3697
Step 5 – Operating Agreement
An operating agreement is a document that LLC owners may use to create a suitable operating structure for their company. The form is optional; however, you are advised to implement the document after successfully filing with the Secretary of State as it will enable you to establish the general rules and relay all provisions by which your LLC will operate.
Step 6 – Employer Identification Number (EIN)
The Employer Identification Number (EIN) is issued by the Internal Revenue Service to business entities operating within the US. An EIN is used for tax reporting purposes, however, it is also necessary to have the identifier if your LLC plans to open bank accounts or hire employees. Application is free and can take place Online or by Mail.
Laws
"Company Agreement" Definition
"Company agreement" means any agreement, written or oral, of the members concerning the affairs or the conduct of the business of a limited liability company. A company agreement of a limited liability company having only one member is not unenforceable because only one person is a party to the company agreement.
Video