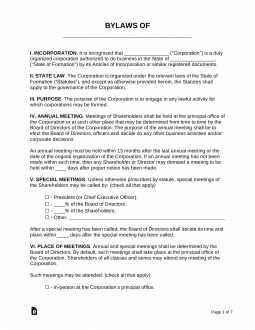 A Corporate bylaws template outlines the rules of an organization and how it will operate. The bylaws are written by the initial directors which are commonly the individuals named in the articles of incorporation filed with the Secretary of State. After the bylaws are created they should be signed by each director.
Required States – Corporate bylaws are required in thirty-one (31) States.
By State
Table of Contents
What are Corporate Bylaws?
Corporate bylaws are created by the board of directors who are usually the shareholders of the corporation and listed on the articles of incorporation. Once complete, a copy of the bylaws should be kept at the principal place of business and updated after each meeting, if necessary.
What Should be Included?
Name of Corporation;
Board of Directors;
Stock Certificates;
What Determines a Quorum;
Voting Rights;
Date and Time of Annual Meetings;
Committees;
Indemnification; and
Other Individuals (officers, members, etc.).
What is a Quorum?
A quorum is a minimum number of directors or shareholders that is required to have a meeting. It is common to have a majority or at least 50% of individuals present to constitute a quorum.
For example, in California (Corp. Code § 602) no meeting can be made without the consent of at least 1/3 of the shareholders being present.
Are Corporate Bylaws Required?
Corporate bylaws are required in the following thirty-one (31) States:
Alabama, Arizona, Arkansas, Connecticut, Florida, Georgia, Hawaii, Idaho, Indiana, Kentucky, Maine, Maryland, Massachusetts, Montana, Nebraska, New Hampshire, New Jersey, New Mexico, New York, North Carolina, Oklahoma, Oregon, South Carolina, South Dakota, Tennessee, Texas, Vermont, Virginia, Washington, West Virginia, and Wyoming.
State Laws
How to Create Bylaws (5 steps)
Creating bylaws involves the initial incorporators of the entity writing a simple agreement of the rules for decision-making and when annual meetings are to occur.
Step 1 – Gather the Incorporators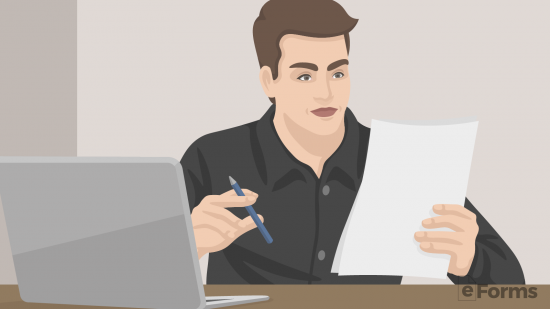 The initial incorporators or shareholders that currently own the company will select the leaders of the business moving forward. In most states, it is required that a majority of the shareholders, either majority or 2/3's vote, to make the initial decisions.
Step 2 – Select the Initial Directors and Chairperson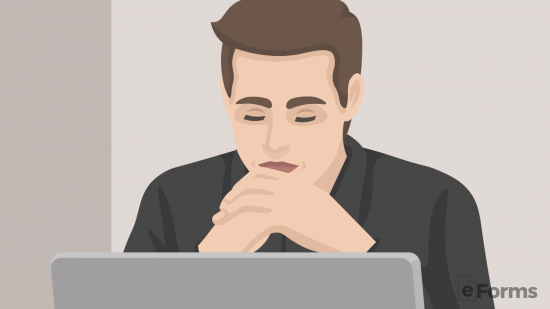 Also known as a board of directors, these individuals will be the primary decision-makers of the business. Usually, the individuals with a majority of shares will be nominated to the board with a chairperson that controls the meetings. For annual meetings to occur, a minimum number (#) or percentage (%) of the directors or board of directors must be present at the meeting.
Step 3 – Create the Rules for the Entity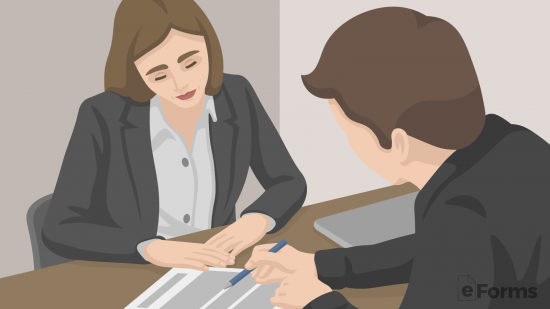 Once the initial directors have been selected they can begin to make rules for the entity. Rules to be decided on include:
How business decisions are made;
When and where annual meetings are to occur;
Percent (%) of shareholders needed to make decisions;
When and how dividends are paid;
Roles for each officer or member; and
Any other decisions should be made at the first meeting.
Step 4 – Write the Corporate Bylaws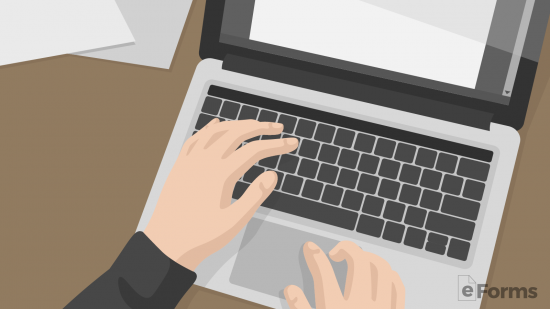 Use the Instructions (How to Write) to make the corporate bylaws. In most states, a secretary for the business or other administrative person needs to sign for the agreement to be in effect.
Although, it is recommended that a majority of the shareholders sign the bylaws and notarize using a Notary Acknowledgment.
Step 5 – Schedule Meetings and Amend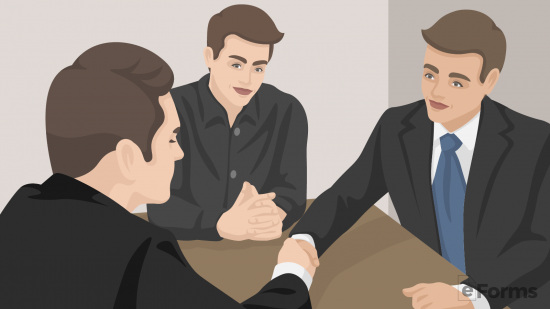 After the corporate bylaws have been written, the board of directors can start business activities by obtaining an Employer Identification Number (EIN) from the IRS. Bank accounts can be created in addition to hiring employees and making meetings and further amending the corporate bylaws as the business changes.
For Profit vs Non-Profit Corporations
For-Profit
Higher registration and renewal fees.
Profits after expenses are distributed to the shareholders
Salaries can be adjusted at any time.
Register at the State only (EIN required by IRS).
Employees are paid.
Non-Profit
Lower registration and renewal fees.
Profits after expenses must be to a "worthy cause" (find out in IRS)
Salaries of individuals must be set at the start of the year.
Register at the State and Federally.
Employees are mainly volunteers.
Frequently Asked Questions (FAQ's)
Who can Amend the Corporate Bylaws?
The bylaws can only be amended by the directors and/or shareholders in an official meeting. The rules of amending should be located in the most updated version of the bylaws.
Are Corporate Bylaws a Public Record?
No. Unlike the articles of incorporation which are public in most States, the bylaws are a private document kept at the principal place of business.
Who Signs the Bylaws?
Bylaws are not required to be signed. It is recommended that they be signed by the corporation's secretary or the chairman of the board but it is not a requirement.
Sample – Corporate Bylaws
Download: Adobe PDF, MS Word, OpenDocument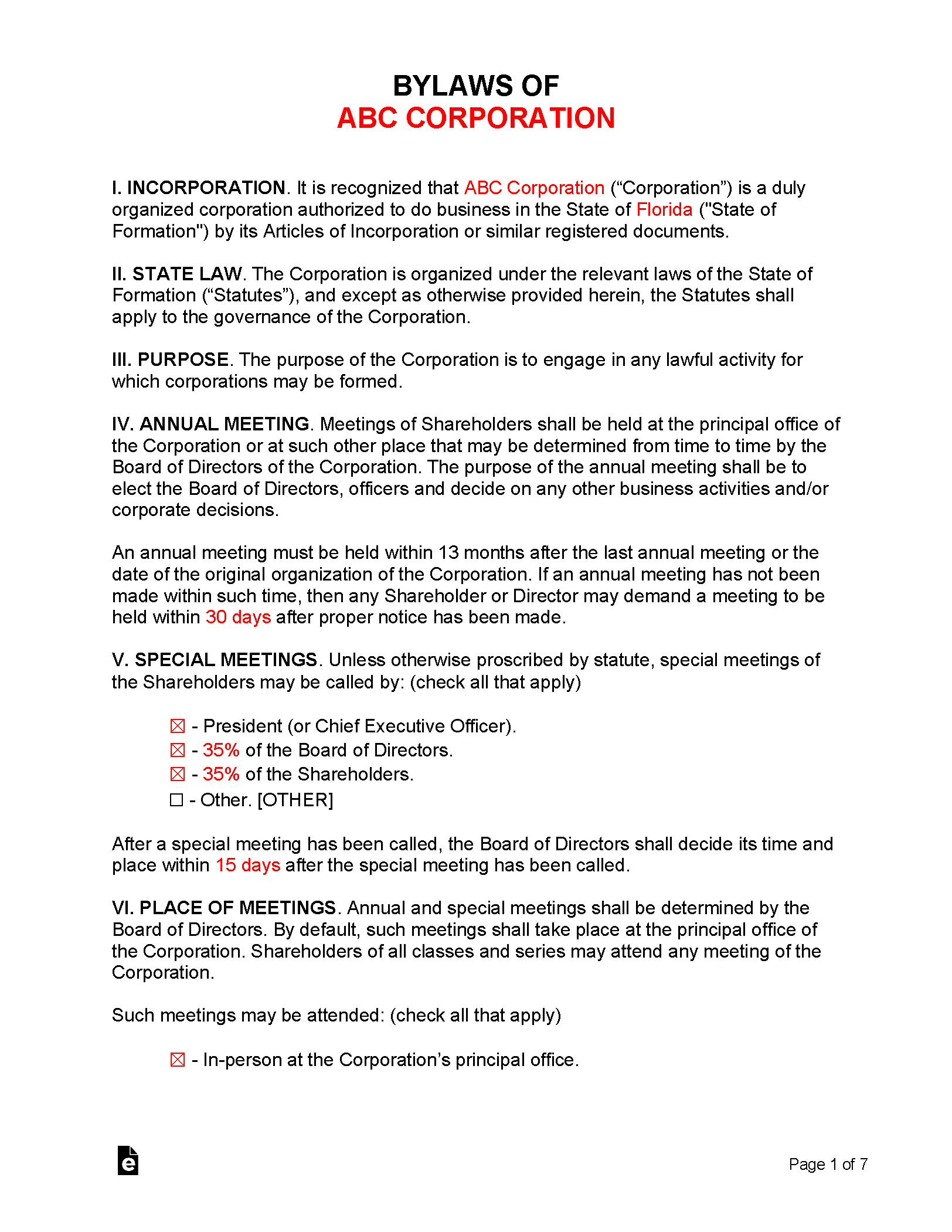 How to Write
Download: Adobe PDF, MS Word, OpenDocument
Title
(1) Entity Name. The full name of the corporation whose bylaws this document concerns must be used to complete the title. Since this will formally attach this document to the Entity named here, make sure its full legal name is recorded including (if applicable) the official status suffix.

I. Incorporation
(2) Corporation Name. Confirm the name of the Corporation this paperwork discusses as well as the state where this Entity was first legally formed.

IV. Annual Meeting
(3) Annual Meeting Demand. The number of days allowed to elapse once a properly submitted notice to hold an overdue annual meeting has been delivered should be established in this paperwork.

V. Special Meetings
(4) Formal Special Meeting Request. The Corporate Parties who may call a special meeting should be defined here if it has not been done so by the Corporate's statutes. A list of Corporate Parties is on display requesting that all Parties allowed to call special meetings be selected. For instance, the first checkbox should be marked if the President or the Chief Executive Officer of the Corporation has the power to call a special meeting.
(5) Board Of Directors And Shareholders. The Corporations' Board of Directors, as well as its Shareholders, can be given the right to call for a special meeting provided you, select the corresponding checkboxes then record the minimum percentage of the total Members (of Board of Directors or Shareholders) that may call for a special meeting.
(6) Other Parties. If additional Parties may call for a special meeting (i.e. Employees), then use the space provided to record the Corporate Party being given this power with any conditions that should be applied and mark the appropriate checkbox.
(7) Meeting Arrangement. The official number of days that shall be given to the Board of Directors to determine the time and place of a special meeting that has been is required to complete this article.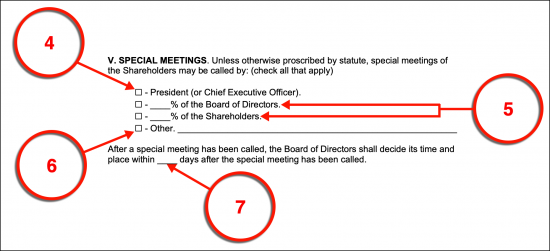 IV. Place Of Meetings
(8) Meeting Venues. A checklist of meeting options can be used to establish the venue of special meetings. Two common options are available for immediate definition by selecting the desired checkbox so that such meetings can be set to occur in the Corporation's principal office (in person) or through appropriate remote communication that bears the Board of Director's approval. If an additional venue will be allowed, then use the space available for the final choice to directly report the approved meeting venue for this Corporation making sure to select the corresponding checkbox once completed.

VII. Dissolution
(9) Causing Dissolution. If it becomes time to dissolve this Entity then the Initiators of this action will need to have the power to do so. This will be set within this document. Select the checkbox that defines the Corporate Parties allowed to make this decision (i.e. the Board of Directors and/or the Shareholders) and dispense the percentage of Members required to make this decision. If a Corporate Party not named in this checklist should be able to dissolve this Corporation, then select the final statement item and present the Corporate Parties allowed to cause this Corporation's dissolution. Be advised, that if any conditions should be applied to the Corporate Party you name in the final option, then they should be included in the Corporation's statutes and/or reported in the space provided.

VIII. Notice Of Meetings
(10) Notice Delivery Method. Once it has been decided that a meeting must take place at a specific time and place, the expected Attendees will need to be informed. A checklist of delivery methods can set the meeting notice to be delivered by e-mail, mail, fax, in-person or delivered by hand, or by some other means that you define. Be advised that unless state law requires more notice to be given this document shall set the time frame for the delivery method you chose to be completed with successful delivery of a meeting notice no earlier than sixty days before the meeting and no later than ten days before the meeting.
IX. Quorum
(11) Required Attendees. The Attendees expected at annual or special meetings of the Corporation must also be discussed. A percentage of the Board of Directors, a percentage of Shareholder, or any Other Corporate Parties that should attend the meeting should be defined using the appropriate checkbox then using the space provided to deliver the exact percentage of Board of Directors and/or Shareholders required. This article must be completed with a full roster of expected special or annual meeting Attendees, thus, if necessary define any other Corporate Party expected to attend as well as any criteria that must be met by your entry.

X. Actions Of The Corporation
(12) Action Requirement. When a Corporation takes action in its business, it will (ideally) be the result of the deciding Members of that Corporation thus, wether a meeting is required to decide upon Corporate actions or not must be set to paper in this document. Therefore, a selection of the first checkbox will dictate that the Corporation may only take actions based on decisions made in meeting while selecting the second checkbox allows actions to be taken as a result of decisions made during a meeting as well as decisions made outside of meetings that hold Shareholder votes of consent that would be required) in a meeting have been delivered in writing.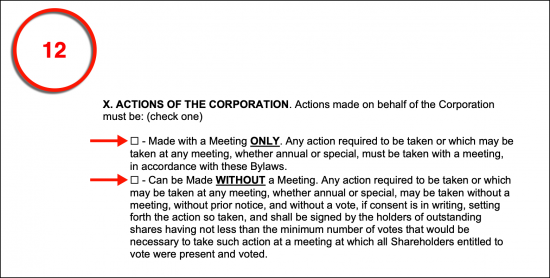 XI. Corporate Seal
(13) Seal Status. It should be reported if the Corporation intends to maintain and identify itself through a seal or if no seal will be maintained and used by the Corporation. This can be indicated using selecting one of the checkbox choices presented. Notice, that in this article these statements will contradict each other, so only one may be adopted as part of Corporate Bylaws.

XII. Execution Of Documents
(14) Signature Representative(s). Hardcopy actions carried out by this Corporation will generally need to be signed by an Authorized Signature Representative. This will be the Corporate Party that will perform functions such as signing a binding contract with outside Entities on behalf of the Corporation. Present all the Corporate Parties that will be approved through this paperwork to carry out signature actions. If the list displayed (i.e. Board of Directors, Chairperson, President, etc.) does not contain a Party that should possess this power of signature then the final list item should be selected and provided with the remaining Authorized Signature Parties this Corporation grants such power to.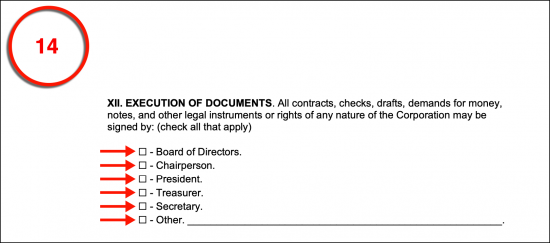 XIII. Indemnification
(15) Director Or Officer Protection Status. Directors and Officers of Corporate Entities can be vulnerable to legal repercussions from corporate actions. These bylaws can be set to provide indemnification from blame and reasonable support from the Corporation or can be set to prevent any such indemnification by selecting one of the checkbox choices on display.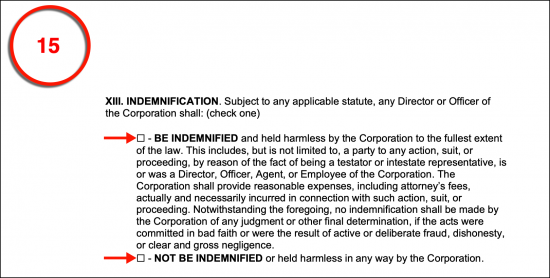 XIV. Amendments
(16) Approved Amendment Authors. These bylaws can be approved for amendments by Parties defined within its content. This means that a minimum percentage of the Board of Directors, Shareholders, and/or Other defined Corporate Parties can alter what is required by this paperwork before it is formally re-issued. Check all of the boxes that define who may amend these bylaws before the next annual using the proper channels (in this document and the Corporate statutes).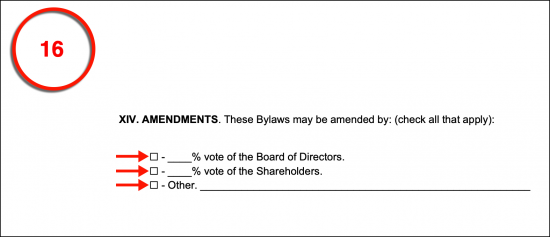 XV. Stock Certificates
(17) Paper Certificate Status. While many would say that hardcopy or paper stock certificates have been edged out with more modern means of verifying share ownership (i.e. the internet), it should be solidified in the bylaws whether this Corporation shall issue physical certificates to prove stock ownership or if such proof is offered through a release of the same information on a certificate through some other and reliable means (i.e. an electronic statement). Only one of the options in the fifteenth article can be selected to define this status.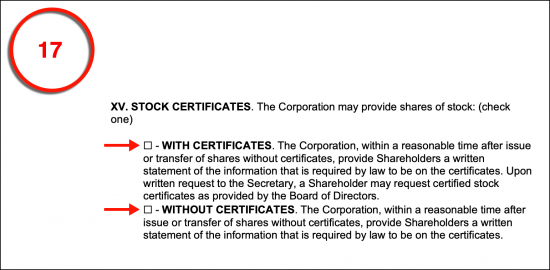 XVI. Directors
(18) Required Director Count. Record the exact number of Directors that must constitute the membership roster of this Corporation's Board Of Directors.
(19) Directorship Term. The number of years that a Director may sit on the Board of Directors should b e determined then reported. This will represent the minimum term period that a sitting Board Of Director Member may expect if no action is taken against him or her before another is naturally appointed.
XX. Certification
(20) Execution Date. The bylaws discussed and solidified above will only be placed in effect upon the verifying signature of an Authorized Signature Party elected to represent the Corporation in this manner (see article XII). Before this signature can be provided the date when these bylaws will be considered formally adopted by the Corporation should be documented.
(21) Director Or Officer Signature. The Authorized Signature Party for this Corporation must sign his or her name to place these bylaws in effect.
(22) Signature Date. The Signature Party is expected to record the current calendar date immediately upon signing the bylaws.
(23) Printed Name. The printed name of the Corporation's Authorized Signature Party effecting this document on its behalf should be presented.
(24) Formal Title. The Signature Party should report the official office he or she holds with the corporation being bound to this document with this Party's act of signing.
Related Forms
Download: Adobe PDF, MS Word, OpenDocument