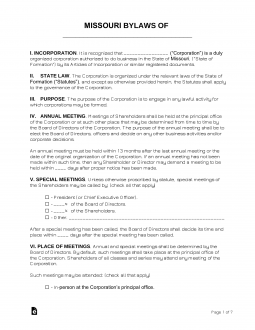 Missouri corporate bylaws are policies designed to organize the internal and daily operating procedures of a corporation. The original bylaws will be adopted by the corporate directors when forming the corporation, typically occurring at the first board meeting. During this time, the directors will establish the rights and responsibilities of the officers, procedures for the issuance and distribution of stock, shareholder meeting policies, and other provisions that aid the management of the corporation going forward. Alterations to the original bylaws can be executed by the shareholders unless such authority is assigned to the board of directors in the articles of incorporation.
Required in Missouri? No (§ 351.290(1))
Laws
Emergency Bylaws
Emergency bylaws may be adopted by the corporation to be implemented during an attack on the United States or a nuclear or atomic threat. These bylaws are intended to manage the corporation while the emergency exists and shall cease to be effective once the state of emergency has ended (§ 351.290(2)).