Updated August 24, 2023
A Colorado LLC operating agreement allows the partners (members) of a company to enter its rules and ownership interest. Any binding language that the members agree upon can be included in an operating agreement. Such items include management (manager or member-managed), capital contributions, fiduciary duties, officer designation, and responsibilities of each member.
After the execution of an operating agreement, the members should keep a copy for their own records. It is not filed with any government office.
Is an Operating Agreement 

REQUIRED

in Colorado?
No. A limited liability company can legally operate in Colorado without implementing an operating agreement.
By Type (2)
---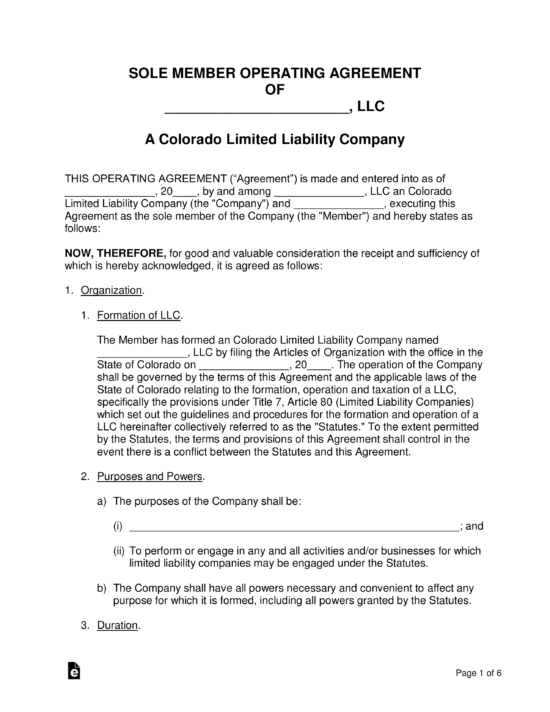 Single-Member LLC Operating Agreement – This document would be designed specifically for a sole proprietor (owner) to establish a single-member entity.
Download: PDF, MS Word (.docx), OpenDocument
---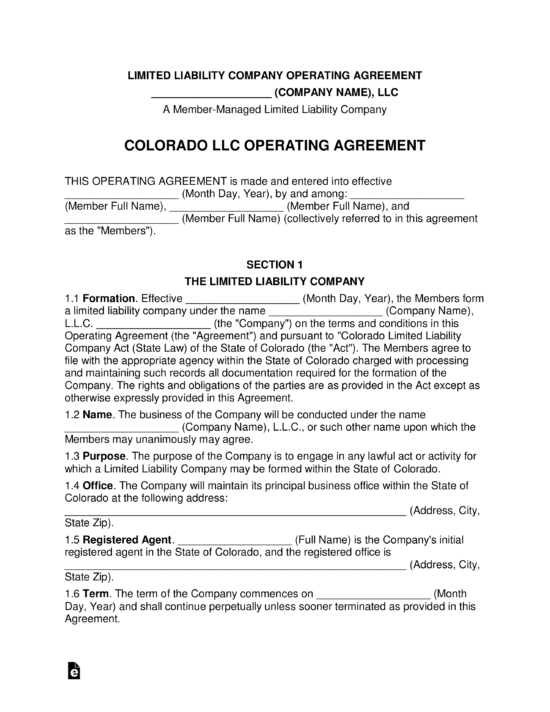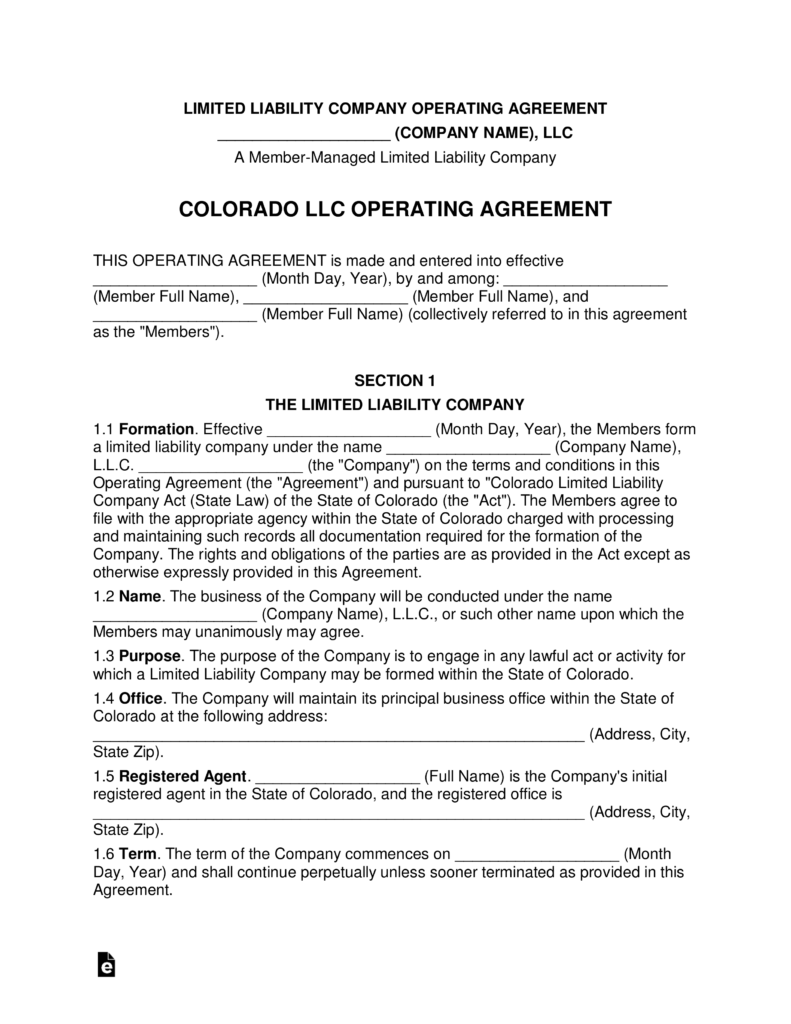 Multi-Member LLC Operating Agreement – For a company or business that shall operate with more than one contributing, managing member.
Download: PDF, MS Word (.docx), OpenDocument
---
How to Form an LLC in Colorado (4 steps)
The Colorado Secretary of State requires all entities to operate under a unique business name that is distinct and dissimilar to that of any others currently registered in the State. Therefore it is best to conduct a Name Availability Search prior to filing to guarantee the usage of a name. It is also possible to reserve a name for up to 120 days by filing the Statement of Reservation of Name.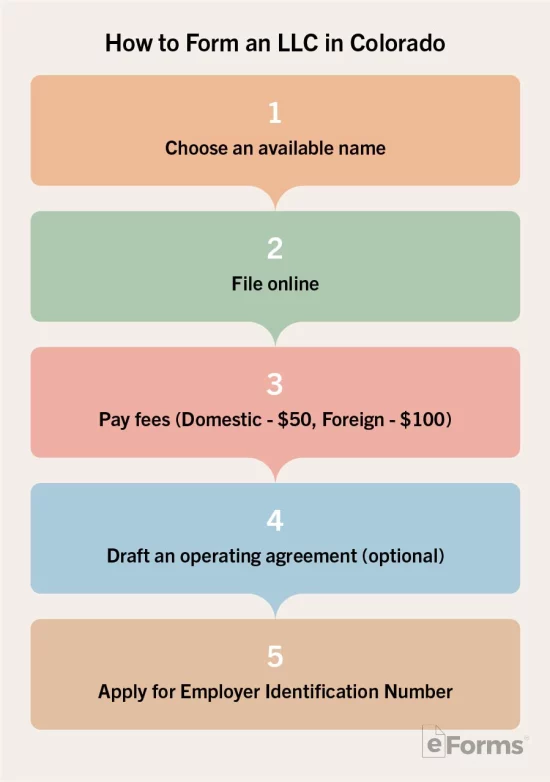 1. File Online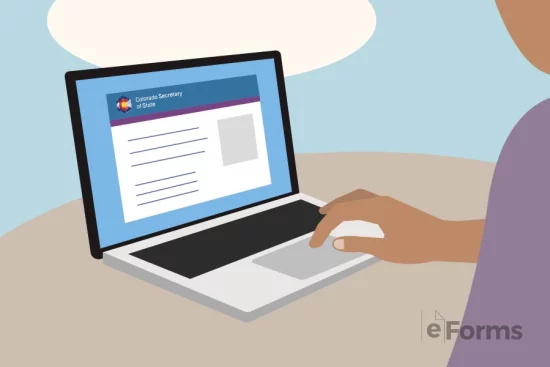 The Colorado Secretary of State has designed an online filing system through which may submit your application; online filing is preferred as there are no pre-made forms currently available. Select your entity type below and begin filling in the online form.
Domestic – Articles of Organization
Foreign – Statement of Foreign Entity Authority
3. Operating Agreement (not required)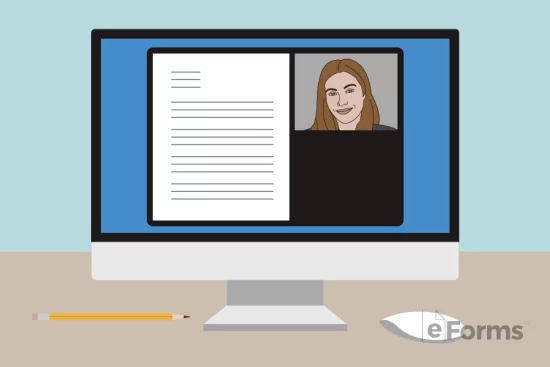 An operating agreement may be drafted to outline the rights and duties of the company's ownership as well as describe each owner's financial interest (if a multi-member LLC). A single-member LLC can use a document of this nature to prove in court that the entity's structure is separate from the individual and completely unique to the entity itself. Although the form is not required by State law, it is highly recommended that one be drafted after the LLC has been filed with the Secretary of State.
4. Employer Identification Number (EIN)
The Internal Revenue Service (IRS) uses the Employer Identification Number (EIN) to keep track of the financial activity of any particular business. If the owner(s) want to hire employees, register for bank accounts, apply for loans, or obtain credit cards, an EIN will be required. Applying for this identifier can be accomplished both
Online
or through
Form SS-4
.
Laws
"Operating Agreement" Definition
"Operating agreement" means any agreement of all of the members as to the affairs of a limited liability company and the conduct of its business. Except as otherwise provided in this article or as otherwise required by a written operating agreement, the operating agreement need not be in writing. An operating agreement may contain any provisions required or permitted by section 7-80-108 (1). An operating agreement includes any amendments to the operating agreement.