The Mississippi LLC operating agreement is a binding legal document that controls the affairs of an LLC. The company's owners and managers are bound by the agreement. Owners can use these agreements to establish financial information about themselves and the company, such as their initial investments, the values of their shares in the company, profits and losses, and more. Mississippi does not require owners to file one of these agreements with the State, but owners are strongly advised to create one and provide copies for each owner.
Operating Agreement Laws – § 79-29-123
Revised Mississippi Limited Liability Company Act – Title 79, Chapter 29
State Definition – § 79-29-105(t)
Table of Contents
By Type (2)
---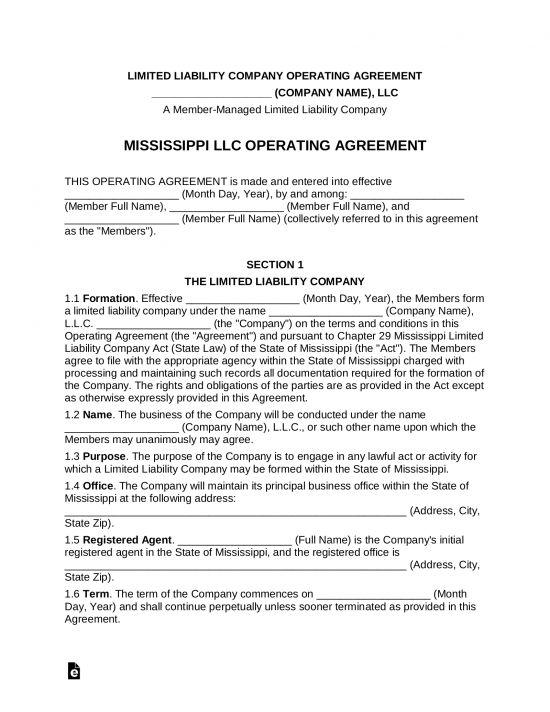 Multi-Member LLC Operating Agreement – This agreement is for an LLC with more than one owner to set out the relationship between the owners.
Download: Adobe PDF, MS Word (.docx), OpenDocument
---
Single-Member LLC Operating Agreement – This agreement is for an LLC with only one owner to establish the business's internal functions and provide liability, indemnification, and other terms.
Download: Adobe PDF, MS Word (.docx), OpenDocument
---
How to Form an LLC in Mississippi
The Mississippi Secretary of State demands that all new businesses applications be filed under an operating name which is unique and distinctly different than any other business name in their records. Therefore, it is advisable that you conduct a Business Search prior to filing to ensure that the name you've chosen is available for use.
Step 1 – Choose a Registered Agent
Each LLC must elect a Registered Agent; a third-party contact who shall receive service of process and general correspondence delivered upon the LLC. The agent may be an:
Individual residing in Mississippi
Active business in Mississippi
Step 2 – Create Account
Unlike most states, the State of Mississippi will only accept applications submitted through their online filing system and not those filed by mail or in person. To access their filing system you will need to Create an Online Account with the Secretary of State.
Step 3 – Which Type
Select your entity type from the following options:
Domestic – LLC formed

within

the State
Foreign – LLC initially formed 

outside

the State
After choosing your LLC type, complete the online filing with the Secretary of State.
Step 4 – Filing Fee
You will be required to supply a filing fee upon completion of your online application. A Domestic LLC costs $50 while a Foreign LLC has an increased fee of $250.
Step 5 – Operating Agreement
An LLC operating agreement is an official document used to establish rules, regulations, and otherwise govern the overall structure by which the LLC shall operate. It is not required that the form be drafted, however, it is essential in providing proof of each member's financial interest in the company.
Step 6 – Employer Identification Number (EIN)
Most LLC owners will need to obtain an Employer Identification Number (EIN) after completing their filing. The number is issued by the Internal Revenue Service for the purpose of reporting tax information, used in a similar manner as a Social Security Number. You may apply for an EIN by Mail or Online.
(Video) How to Make an LLC Operating Agreement in Mississippi
How to Write
Step 1 – Begin by filling in the company's name at the top of the header. Next, enter the date below, and select single-member or multi-member company. Write the company's name, "Mississippi," and the owner's name and address if you choose single-member. If not, enter the multiple owners' names and addresses, attaching a sheet with additional owners if needed.
Step 2 – Section 1: Enter the street address of the company's principal office, along with the company's name.
Step 3 – Section 2: Write the month, day, and year that you filed the company's articles of incorporation.
Step 4 – Section 5: Enter any capital contributions next to the owners' names here if you select multi-member.
Step 5 – Section 6: Here, write the percentage interest in the company that each owner's investment amounts to for multi-member companies.
Step 6 – Sections 9 and 12: If you select single-member, write the single member's name in Section 9, and write the company's name and date again in Section 12.
Step 7 – Finally, write the name the company once more on the last page, date the agreement, and have each member sign their names.