Updated August 24, 2023
A Louisiana LLC operating agreement is a document that establishes the ownership of a company and how it will be run. It allows the members to agree on officers, management, capital contributions, and any other business matters. Once signed, the agreement is held by each member and is not filed with the Secretary of State.
Is an Operating Agreement 

REQUIRED

in Louisiana?
No — Louisiana state law does not require LLCs to implement an operating agreement in order to conduct business.
By Type (2)
---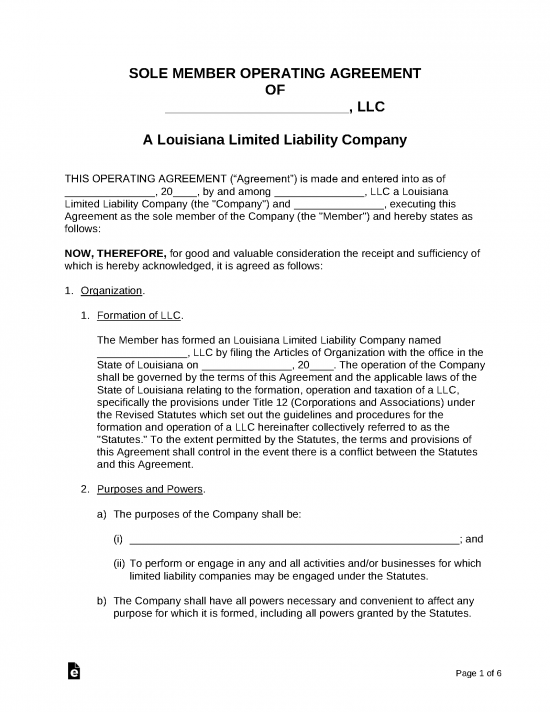 Single-Member LLC Operating Agreement – To be executed by a sole proprietor for the purpose of outlining company policies and procedures.
Download: PDF, MS Word (.docx), OpenDocument
---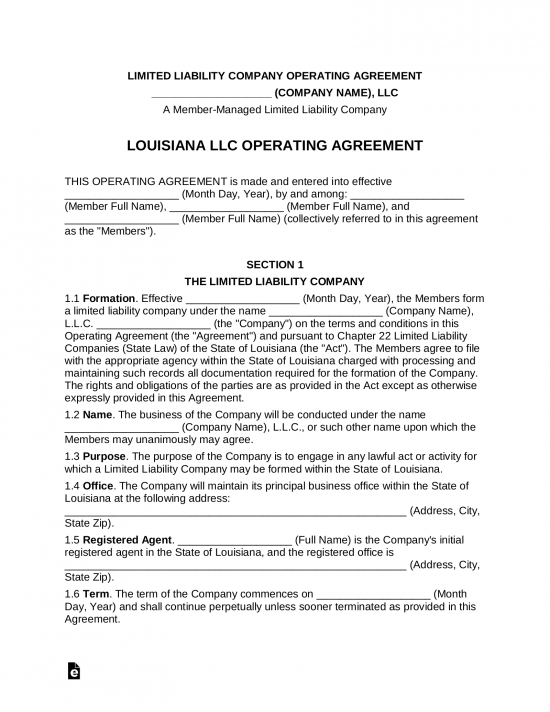 Multi-Member LLC Operating Agreement – To be used by companies who shall include more than one (1) member to operate and manage the entity.
Download: PDF, MS Word (.docx), OpenDocument
How to Form an LLC in Louisiana (7 steps)
All LLC filings in Louisiana will be handled by the Secretary of State, and it is with the State's offices that you should conduct a Business Entity Search to check the availability of your business name. The State will not accept applications submitted under an operating name that is already in their records. After confirming the availability of the name you, may commence the filing process.
1. Select an Agent
Business registrations in Louisiana will require the nomination an agent, often referred to as a Registered Agent or Statutory Agent, to act as a contact for government correspondence or legal action against the LLC. The agent may be a:
Person of legal age who resides in the State
Company registered to do business in the State
Some LLCs may need to employ an organization that supplies agent services. If you would like a list of companies that provide this service, you may send a request to the Secretary of State.
3. Complete the Application
There are two methods of application available to you; *online and PDF. From the following list of options, choose the one that you would like to use to file your application:
Domestic – Articles of Organization
Foreign – Application for Authority to Transact Business in Louisiana
*An Online Account with the Secretary of State must be created in order to access the online filing system.
5. Submit your Application
Online applications will be sent to the Secretary of State upon payment of the filing fee. Applications filed via PDF must be sent to the below address. Note that Foreign LLCs must include a Certificate of Existence (a.k.a Certificate of Good Standing) issued by the proper authority in the initial jurisdiction and dated within ninety (90) days of filing.
P. O. Box 94125, Baton Rouge, LA 70804-9125
6. Operating Agreement
It is recommended that all LLCs implement an operating agreement upon completion of their filing with the Secretary of State. The form is not required, though it is essential in providing legal evidence that the assets accrued by the LLC are entirely separate from those earned by the managing member(s).
7. Employer Identification Number (EIN)
Issued by the Internal Revenue Service, the Employer Identification Number (EIN) is used to identify a business for tax purposes. An EIN will allow your business to legally pay employees, request loans from financial institutions, and apply for company credit cards. To apply, submit Form SS-4 or complete the Online Application.
Laws
"Operating Agreement" Definition
"Operating agreement" means any agreement, written or oral, of the members as to, or in the case of a limited liability company having a single member, any written agreement between the member and the company memorializing the affairs of a limited liability company and the conduct of its business.
Video