Updated November 22, 2023
An Alabama LLC operating agreement is a document that records the ownership of each member and outlines the management of the company. The agreement should include the rules for running the day-to-day operations of the entity and each officer's responsibilities. After signing, each member should keep an original copy as the agreement is not filed or recorded with a government office.
Any amendments to an operating agreement are required to be signed by all members.
Is an Operating Agreement

REQUIRED

in Alabama?
Yes, an operating agreement is required to be entered between its members either before, at the time, or after the formation documents are filed (certificate of formation).(Section 10A-5A-2.01(d))
By Type (2)
---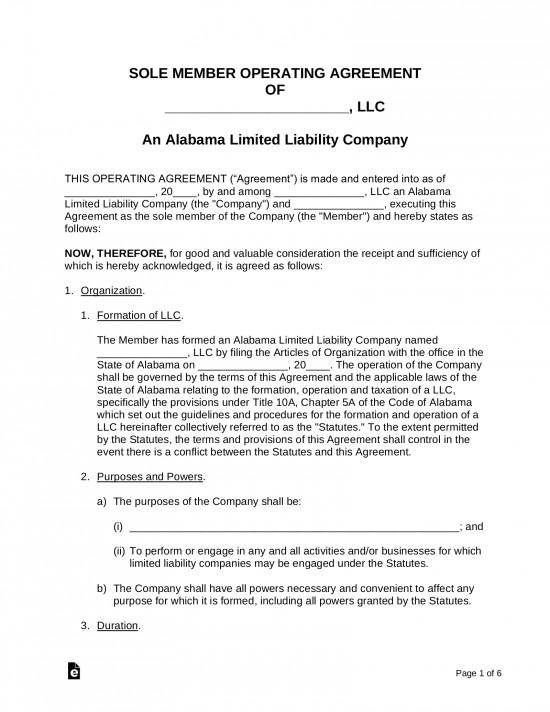 Single-Member LLC Operating Agreement – For the purpose of one (1) owner so that they may be able to write the everyday business practices while maintaining separate status from their personal activities.
Download: PDF, MS Word (.docx)
---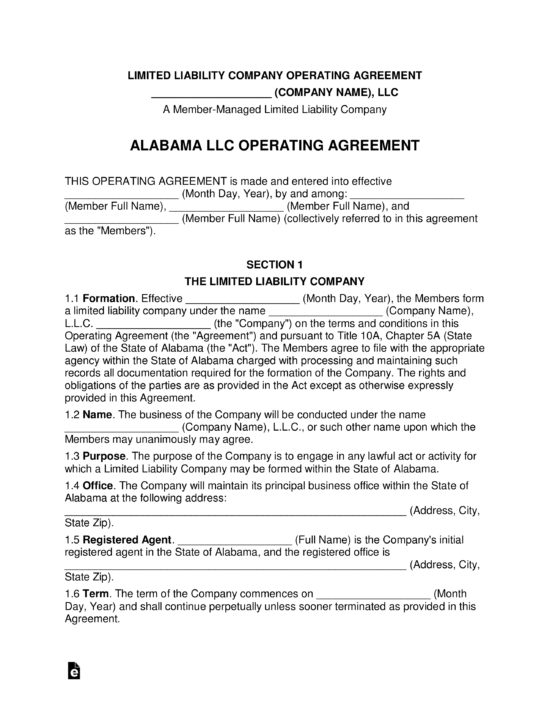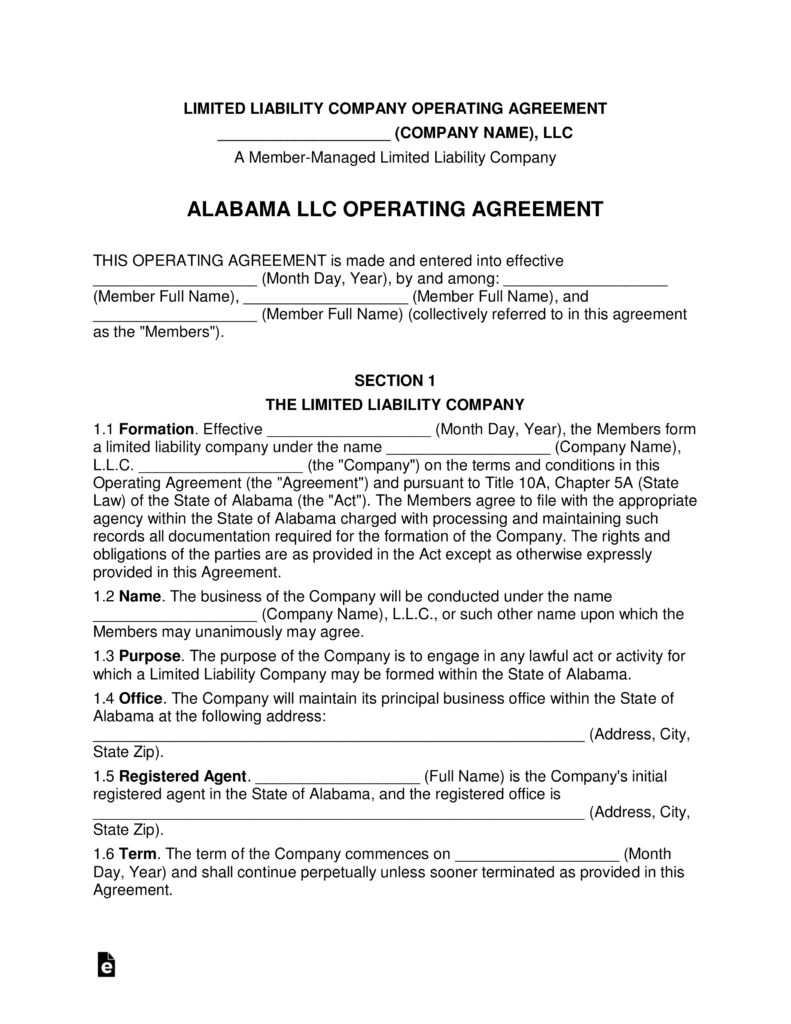 Multi-Member LLC Operating Agreement – For companies with more than one (1) owner to establish primarily the ownership and the business agreement between all of those involved with the entity.
Download: PDF, MS Word (.docx)
---
How to Form an LLC in Alabama (6 steps)
Before formally applying for an LLC in the State of Alabama the applicant should perform a search of the name they would like to use with the Secretary of State's Business Name Search. The State will not accept any duplicate or similar names. Therefore it is best after conducting your query to not have any matching results. If you have questions about a related name you can contact the Alabama Secretary of State.
1. Name Reservation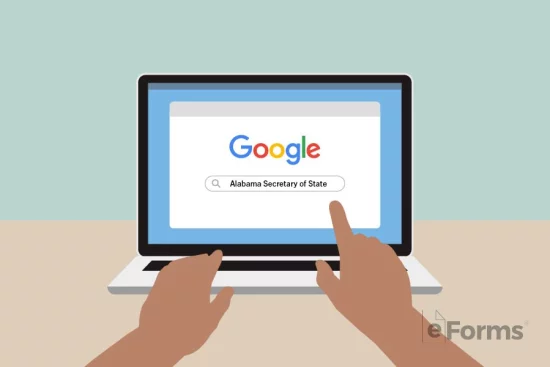 Alabama requires that all LLC filers first obtain a name reservation by submitting one of the following applications:
2. Certificate of Formation/Application for Registration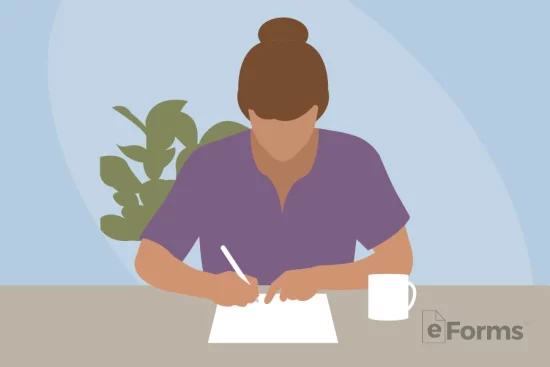 After the Name Reservation has been processed (takes 2-3 days), choose which type of LLC you are going to create:
3. Filing Fee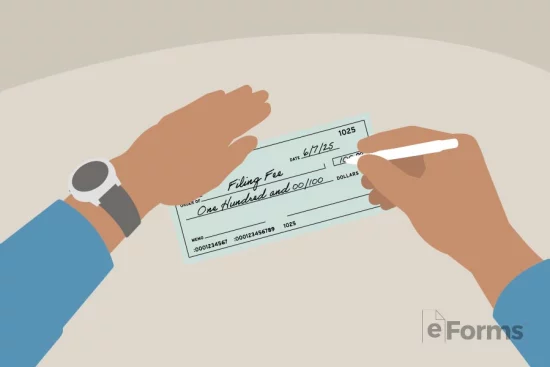 The filing fees are as follows:
Domestic – *$100
Foreign – $150
*Judge of Probate's Office – There may be an additional fee depending on the Probate County in which you reside. Be sure to contact your local Probate County Office to ensure there aren't any additional fees.
Expedited – An additional $100 can be added for the application process to be expedited.
4. Copies and Mailing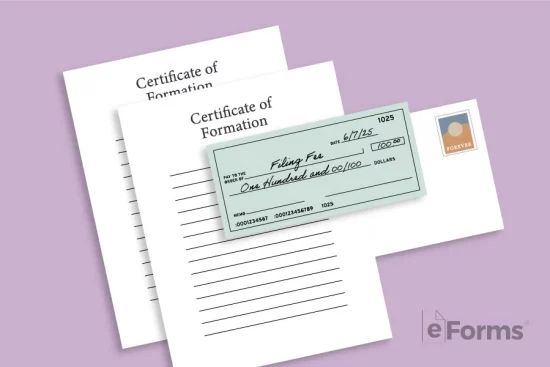 After completing the PDF application, it is required for two (2) copies to be made. The filing fee should be attached and the forms, along with the filing fee(s), should be sent to the following location:
Domestic – The Certificate of Formation is to be sent to the Judge of Probate's Office in the jurisdiction of the LLC's principal office
*Foreign – The Application for Registration should be sent to P.O. Box 5616, Montgomery, AL 36103
*Privilege Tax Form (2022 Version) – For Foreign LLC's only, this document must be completed and filed within the initial two and a half (2.5) months after the Foreign entity has been created.
5. Operating Agreement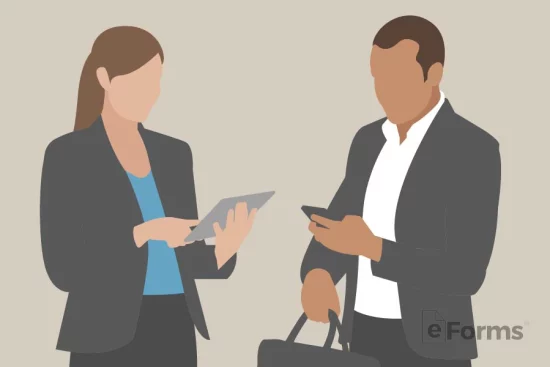 There is no State requirement in Alabama to have an operating agreement, however, it is still
highly recommended
to have one in order to state the purpose of the business as well as the ownership interest of the members (if a multi-member LLC). The form is not to be filed with any government agency after completion, although it should be notarized and kept by all member(s) of the entity.
6. Employer Identification Number (EIN)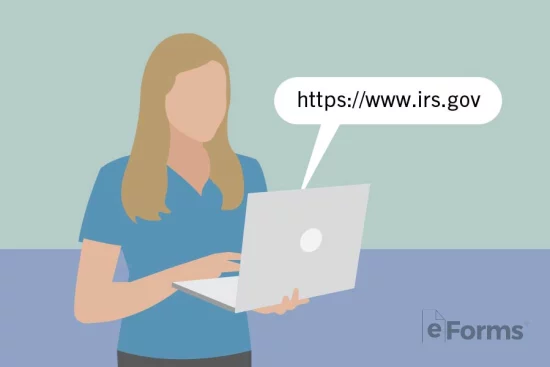 An Employer Identification Number (EIN) is like a Social Security Number for a business. Whereas if the owner(s) of the entity wishes to establish bank accounts, credit cards, or have employees, they will need to obtain this number from the Internal Revenue Service (IRS) either by
Applying Online
or through
Form SS-4
.
It is free to obtain this number and takes about 10-15 minutes to do
Laws
"Limited Liability Company Agreement" Definition
"Limited liability company agreement" means any agreement (whether referred to as a limited liability company agreement, operating agreement or otherwise), written, oral or implied, of the member or members as to the activities and affairs of a limited liability company or series thereof. The limited liability company agreement of a limited liability company having only one member shall not be unenforceable by reason of there being only one person who is a party to the limited liability company agreement. The limited liability company agreement includes any amendments to the limited liability company agreement.
Video