Updated August 24, 2023
An Iowa LLC operating agreement allows a company to outline how it's run on a day-to-day basis and its ownership. The agreement includes any terms agreed by the owners (members) and once signed becomes effective. It is not required to be filed with the Secretary of State but is to be kept by all the company members.
Is an Operating Agreement 

REQUIRED

in Iowa?
No — businesses are not required to implement an operating agreement in Iowa.
By Type (2)
---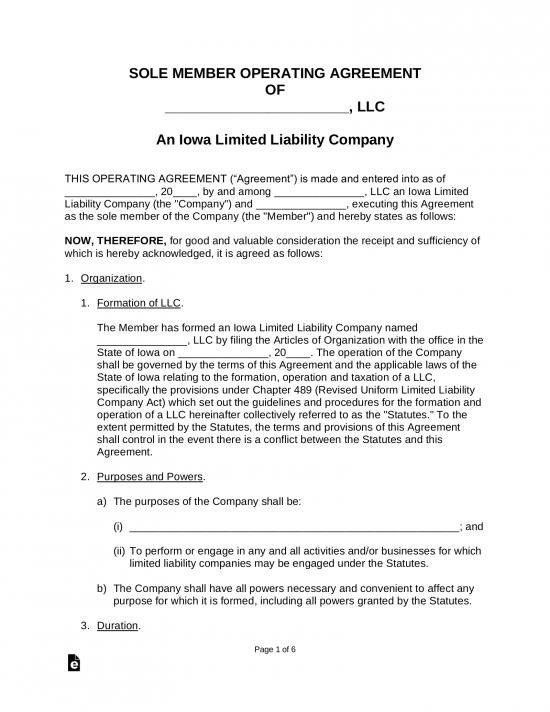 Single-Member LLC Operating Agreement – To be used by sole proprietors (single owners) to establish a method of daily business reporting, company policies, and owner protections among other aspects of the business.
Download: PDF, MS Word (.docx), OpenDocument
---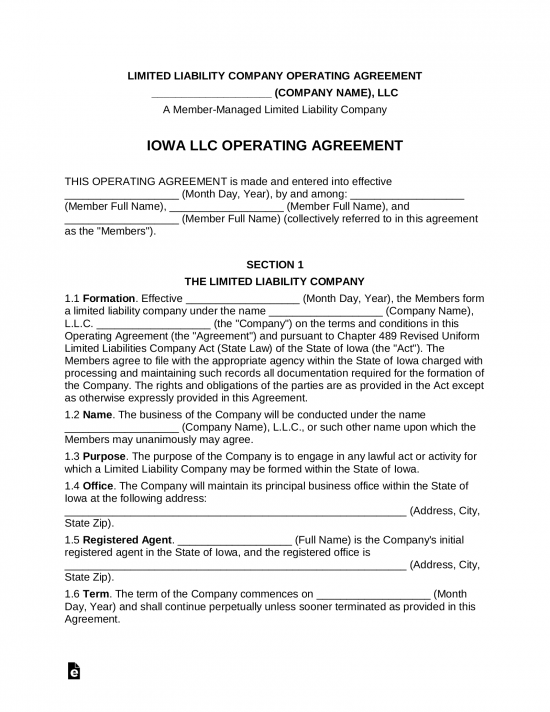 Multi-Member LLC Operating Agreement – For use by companies with more than one (1) member to establish the many various policies, procedures, and relationships between members.
Download: PDF, MS Word (.docx), OpenDocument
---
How to Form an LLC in Iowa (5 steps)
The first step that filers should take before submitting their applications is a Name Availability Search to ensure that the chosen business name is not similar to that of another on file with the Secretary of State. If the name is not distinguishable on their records, the application will consequently be rejected by the State's offices.
1. Registered Agent (Statutory Agent)
The LLC must appoint a Registered Agent (a.k.a. Statutory Agent) which may be an individual with residence in the State or a registered business with the authority to operate in the State. This individual/business entity will receive annual state filings and other important documents on the LLC's behalf.
2. Registration Documents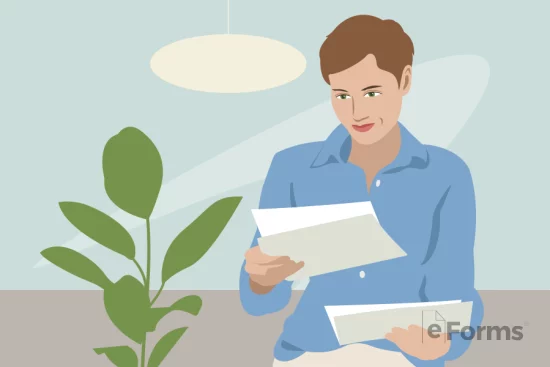 No formal documents are available for Domestic LLCs (new LLCs formed within the State). Therefore, you will need to draft your own form in accordance with § 489.201 of the Revised Uniform Limited Limited Liability Company Act.
Foreign LLCs (LLCs expanding into Iowa from an outside jurisdiction) can download and complete the Certificate of Authority.
3. Attach the Filing Fee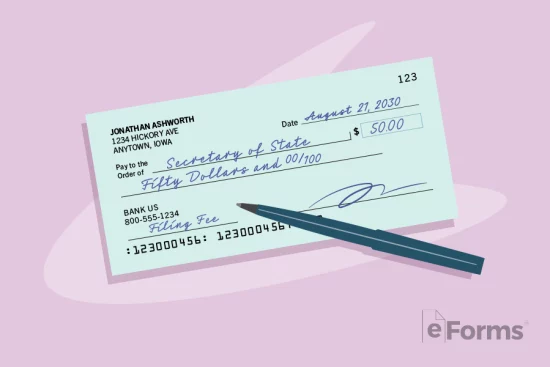 Filing fees are payable by way of check made out to the 'Secretary of State'. The following fee must be attached to your registration documents:
Domestic LLC – $50
*Foreign LLC – $100
*If filing as a Foreign LLC, be sure to include a Certificate of Existence that has been issued by the proper authority in the initial jurisdiction and dated within ninety (90) days of filing your application.
Send your filing package to the following address for processing:
Business Services Division, Lucas Building, 1st Floor, Des Moines, IA 50319
4. LLC Operating Agreement (not required)
LLC owners may organize their internal affairs by implementing an operating agreement. The form is a legal document that allows the managing member(s) to put in place a set of rules and regulations that in turn will dictate the operating structure of the business.
5. Employer Identification Number (EIN)
In order for the LLC to legally hire employees and perform most financial transactions, it will be necessary to obtain an Employer Identification Number (EIN). You may apply for an EIN directly on the IRS Website or through the submission of Form SS-4. An EIN will not expire once acquired and it cannot be reissued.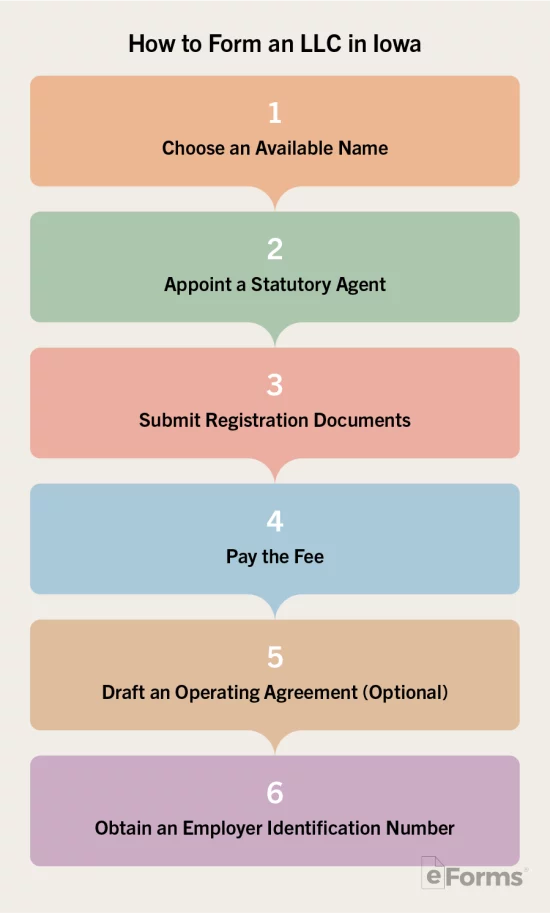 Laws
Revised Uniform Limited Liability Company Act

– Chapter 489

Operating Agreement Statutes
"Operating Agreement" Definition
"Operating agreement" means the agreement, whether or not referred to as an operating agreement and whether oral, in a record, implied, or in any combination thereof, of all the members of a limited liability company, including a sole member, concerning the matters described in section 489.110, subsection 1. The term includes the agreement as amended or restated.
Video