Updated August 25, 2023
An Oregon LLC operating agreement is a legal document that controls how a company operates. The agreement will state the business purpose, day-to-day activities, and establish the company's ownership. The document is not required but recommended as an official record of the company.
Is an Operating Agreement 

REQUIRED

in Oregon?
No. Businesses in Oregon are not legally mandated to implement an operating agreement.
By Type (2)
---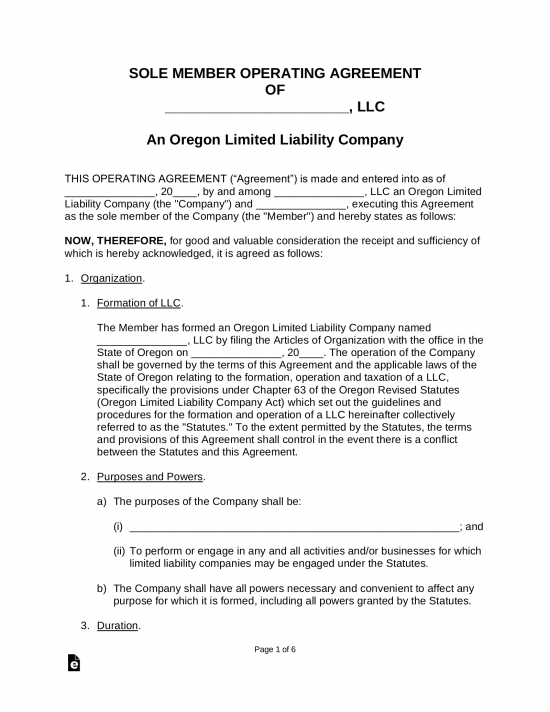 Single-Member LLC Operating Agreement – For use by a sole proprietor, to establish various aspects of their business and to provide separation of the owner's personal assets and finances from business financials.
Download: PDF, MS Word (.docx), OpenDocument
---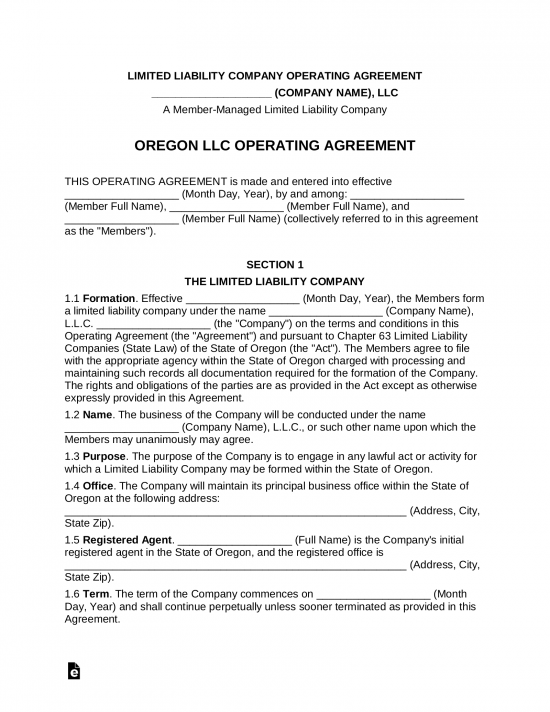 Multi-Member LLC Operating Agreement – This form is provided for the use of a company or business that has one (1) or more contributing, managing members.
Download: PDF, MS Word (.docx), OpenDocument
How to Form an LLC in Oregon (5 steps)
Before commencing the LLC filing process, each applicant is encouraged to Search for their Business Name in the Secretary of State's records to ensure the availability and uniqueness of the name. The State will reject any submission with a name that is similar or indistinguishable from that of another.
1. Choose Registered Agent
Each LLC must elect a Registered Agent; a third-party that receives service of process and government filings on the company's behalf. The Secretary of State demands that the Registered Agent be one of the following:
Person with residence in Oregon
Qualified Domestic or Foreign business in Oregon
2. File Online/Mail
Select your LLC type and filing preference from the following options:
Domestic – Articles  of  Organization
*Foreign – Application  for  Authority  to  Transact  Business
*To prove the validity of your Foreign business, you are asked to provide a web-verifiable registry number from the initial jurisdiction or a current Certificate of Existence.
3. Pay the Fee
A filing fee will be required upon completion of your registration documents; a Domestic LLC costs $100 and a Foreign LLC is $275. If filing online, you will be able to pay the fee with your credit card. Should you choose to file by mail, attach a check made out to the 'Corporation Division' and send your filings to the following address:
Secretary of State, Corporation Division, 255 Capitol St. NE, Suite 151, Salem, OR 97310-1327
4. Operating Agreement
The LLC operating agreement is a legal document that may be drafted by single and multi-member companies for the purpose of establishing policies, management structure, and various other provisions. A document of this nature is not required by law, though it is an essential organizational tool that can aid in the general operation of your LLC.
5. Employer Identification Number (EIN)
Many important transactions are unavailable to a business without the acquisition of an Employer Identification Number (EIN), such as hiring employees or opening company bank accounts. The EIN is issued by the Internal Revenue Service and it may be obtained for free on their Website or through the submission of IRS Form SS-4.
Laws
"Operating Agreement" Definition
"Operating agreement" means any valid agreement, written or oral, of the member or members as to the affairs of a limited liability company and the conduct of the limited liability company's business.