Updated August 24, 2023
A California LLC operating agreement is a required document to be executed by the owners (members) of a company after formation. Most importantly, it allows the members to enter their ownership interest (as a percentage). Additionally, the members can write company rules, enter capital contributions, appoint officers, and decide its management.
After the members sign an operating agreement, it should be kept in a safe and accessible place. It is not filed with the Secretary of State.
Is an Operating Agreement

REQUIRED

in California?
Yes, California requires that an LLC must "maintain in writing" a copy of an operating agreement (§ 17701.13(d)(5)).
By Type (2)
---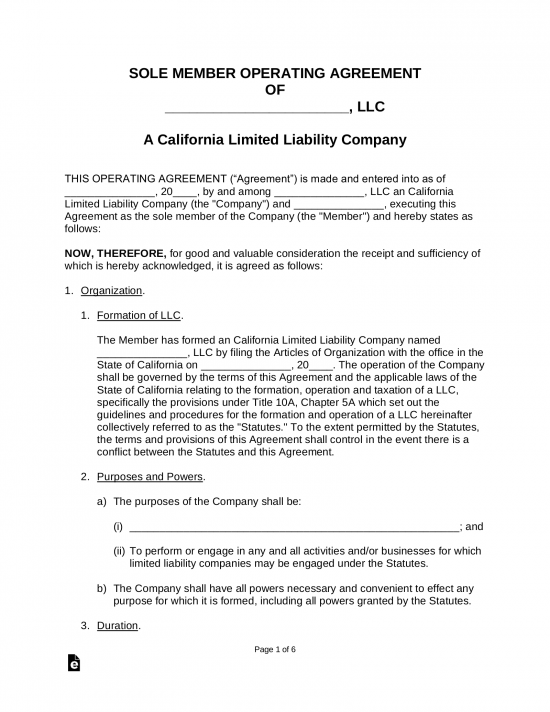 Single-Member LLC Operating Agreement – To be used by a single-member business whereas only the owner would be the managing member and the sole contributor to the business.
Download: PDF, MS Word (.docx), OpenDocument
---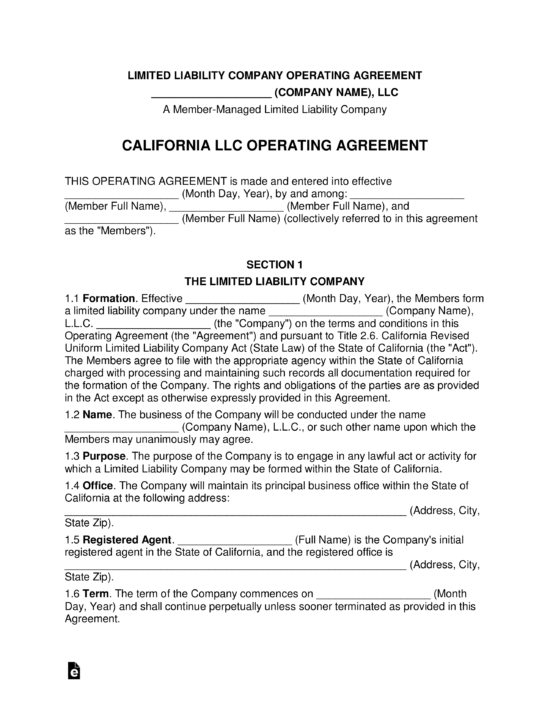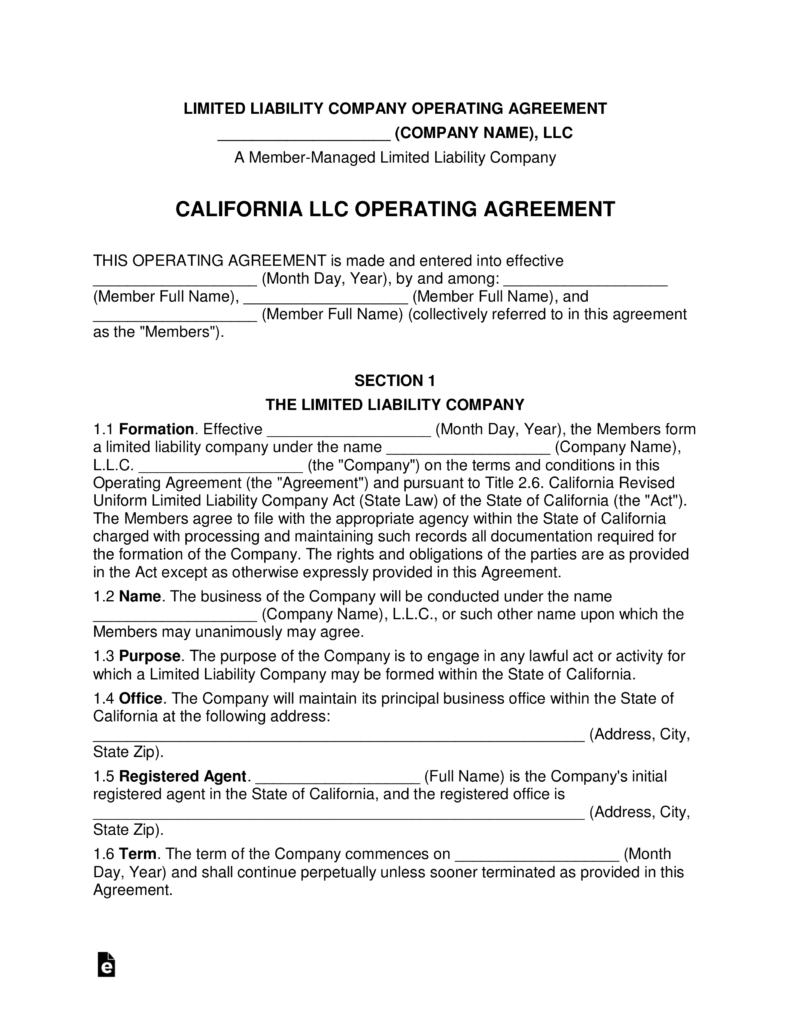 Multi-Member LLC Operating Agreement – This form is for use by companies that would have more than one contributing member and would be member-managed.
Download: PDF, MS Word (.docx), OpenDocument
---
How to Form an LLC in California (5 steps)
All applicants are encouraged to check the availability of their desired business name before attempting to file in the State of California. Conducting an Online Business Search will allow you to verify whether or not your chosen name is distinguishable from that of all other active Domestic and Foreign LLCs within the State. You may also file the Name Availability Inquiry Letter as an alternate means of verification.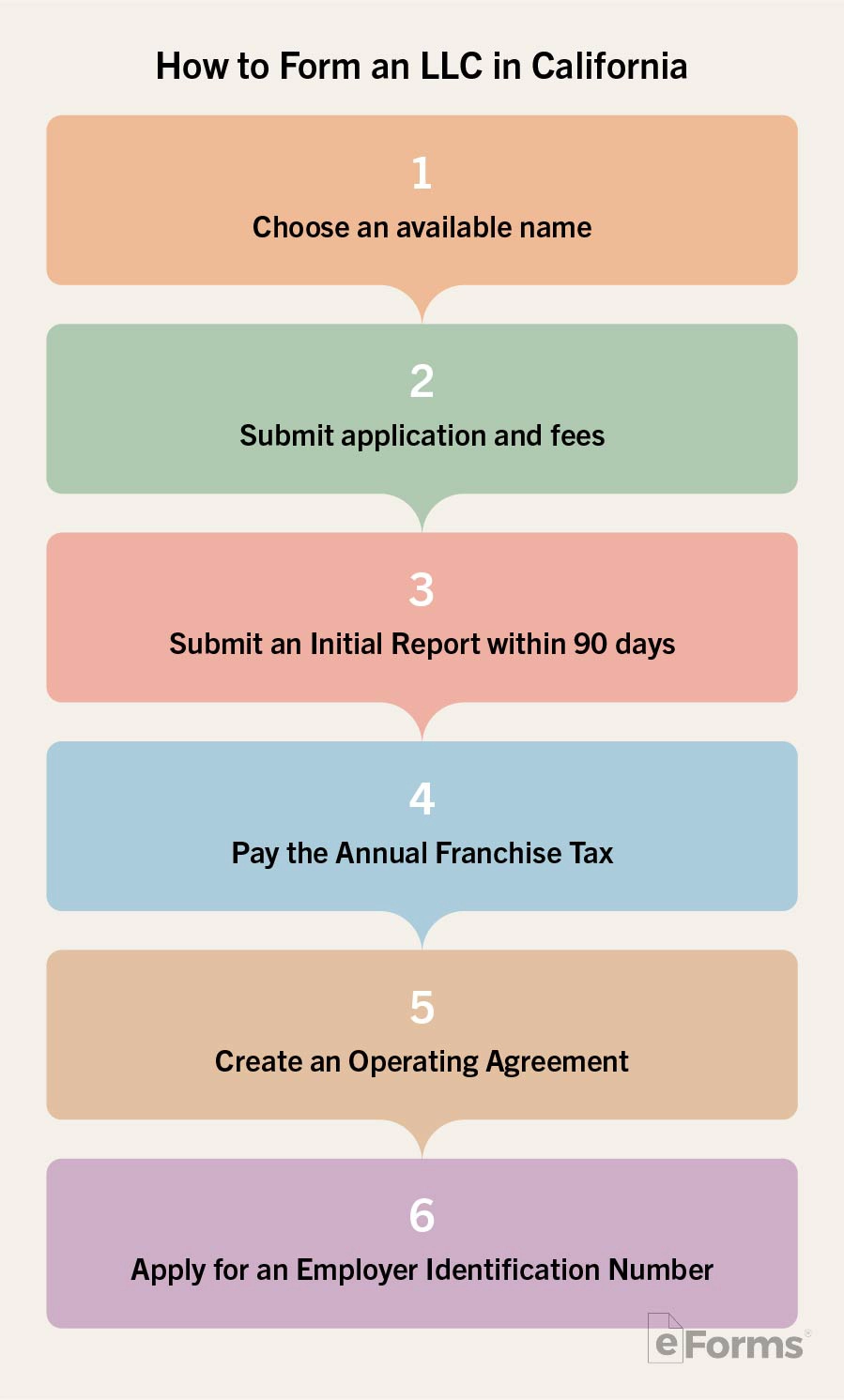 1. Articles of Organization/Application to Register a Foreign LLC
Download and complete the PDF application specific to your entity type. The two available applications are:
Domestic – Articles of Organization

Online – select "Register a Business"

Foreign – Application to Register a Foreign LLC
2. Attach Filing Fee
Applications submitted by mail must include a check or money order made payable to the Secretary of State. Those filing in-person may also pay by credit card. The fee for both a *Foreign and Domestic LLC is $70 (in-person submissions require an additional $15 fee).
*A Certificate of Good Standing issued within the last six (6) months is required for all Foreign LLC applications.
Once the filing fee is attached, you may deliver your documents by mail or in-person to the following address:
Business Entities, P.O. Box 944228, Sacramento, CA 94244-2280
3. Initial Report and Annual Franchise Tax
LLC owners are required to submit an Initial Report within ninety (90) days of filing with the Secretary of State. Additionally, all LLCs must pay the Annual Franchise Tax on the 15th day of the 4th month after the beginning of the tax year. Failing to submit reports on time will result in late fees and various penalties.
4. Operating Agreement
The State of California demands that all new LLCs draft an operating agreement to define the duties of the ownership and any other provisions left undocumented when filing the initial registration articles. You may have a verbal agreement or it may be written and distributed between all relevant parties.
5. Employer Identification Number (EIN)
Newly formed entities should apply for an Employer Identification Number (EIN) following the acceptance of their registration documents. Much like a Social Security Number, an EIN is used by the Internal Revenue Service (IRS) to identify businesses for tax purposes. An EIN may be acquired Online or through the submission of Form SS-4.
Laws
California Revised Uniform Limited Liability Company Act

– Corp Code Title 2.6

Operating Agreement Statutes
"Operating Agreement" Definition
"Operating agreement" means the agreement, whether or not referred to as an operating agreement and whether oral, in a record, implied, or in any combination thereof, of all the members of a limited liability company, including a sole member, concerning the matters described in subdivision (a) of Section 17701.10. The term "operating agreement" may include, without more, an agreement of all members to organize a limited liability company pursuant to this title. An operating agreement of a limited liability company having only one member shall not be unenforceable by reason of there being only one person who is a party to the operating agreement. The term includes the agreement as amended or restated.