Updated August 28, 2023
A Kentucky LLC operating agreement outlines the policies that govern a business. It is not required under state law; however, it is the only document that records the ownership of an entity. Like a partnership agreement, any items to be agreed upon by the members should be included. After signing, a copy should be kept for safekeeping. It is not filed with the Secretary of State.
Is an Operating Agreement 

REQUIRED

in Kentucky?
No. Businesses in Kentucky are not legally required to execute an operating agreement.
By Type (2)
---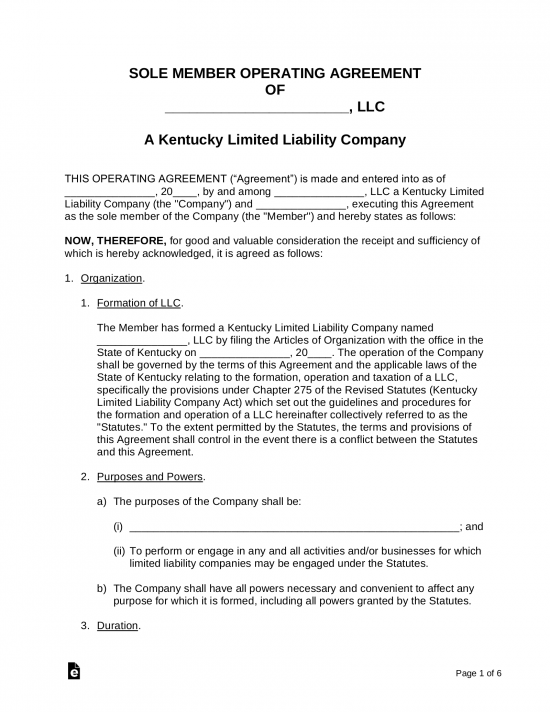 Single-Member LLC Operating Agreement – For a sole proprietor who would like to provide an outline of their business and acquire the protections and benefits that the document provides.
Download: PDF, MS Word (.docx), OpenDocument
---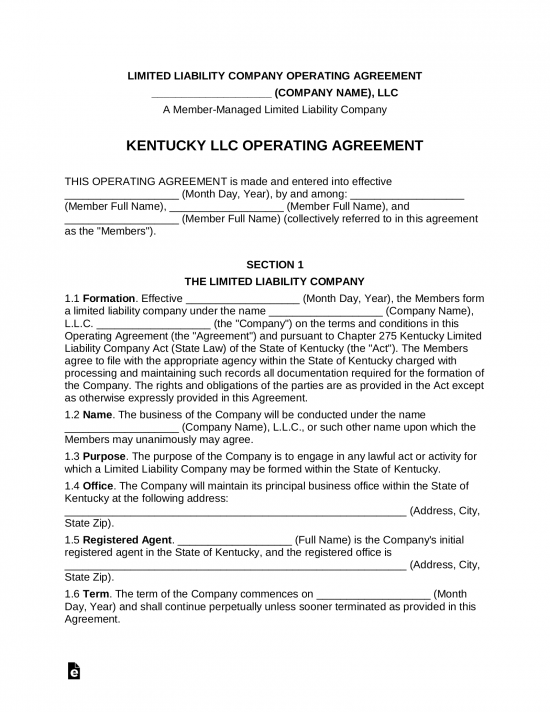 Multi-Member LLC Operating Agreement – For companies that will have more than one member participating in the management of the business.
Download: PDF, MS Word (.docx), OpenDocument
How to Form an LLC in Kentucky (5 steps)
First and foremost, a name for the Limited Liability Company (LLC) must be chosen. The name you decide on needs to be completely unique and distinguishable in the State of Kentucky, otherwise, your application is likely to be rejected. Before proceeding, ensure that your business name is available by conducting a Preliminary Search of the Secretary of State business database.
1. Choose a Registered Agent
The State of Kentucky requires all LLCs to nominate a Registered Agent. Essentially, the Registered Agent will act as a third-party contact for the LLC, receiving annual state filings and service of process notices. The Registered Agent may be an:
Individual residing in the State (you may elect someone within the company)
Business entity with the authority to transact business in the State
2. Complete the Application
Applications may be submitted to the Secretary of State in a few different ways; online, by mail and in person. Select the link below which matches your preferred method of application:
3. Supply the Fee
You will be required to pay a filing fee in order to complete the LLC filing process. Online filing fees may be paid by credit card while all paper applications must include a check made payable to the 'Kentucky State Treasurer'. The exact filing fees are as follows:
Domestic LLC – $40
Foreign LLC – $90
If filing via PDF, send your filing package by mail to the first address below, or hand-deliver it to the second.
Secretary of State, P.O. Box 718, Frankfort, KY 40602-0718
or
Room 154, Capitol Building, 700 Capital Avenue, Frankfort, KY 40601
4. Operating Agreement
While not required in the State of Kentucky, LLC managing member(s) are encouraged to draft an operating agreement to provide legal clarification of the separation between company assets and the personal earnings of the ownership. If you've formed a multi-member LLC, have each member review the document before implementing it officially.
5. Employer Identification Number (EIN)
An Employer Identification Number (EIN) should be applied for immediately after filing your LLC with the Secretary of State. This identifier is used by the Internal Revenue Service (IRS) to oversee the financial activity of the company. Once an EIN has been acquired, the LLC will be able to:
Legally pay employees
Request loans
Obtain company credit cards
Apply for an EIN by completing the Online Application, or submit PDF Form SS-4 through the mail.
Laws
"Operating Agreement" Definition
"Operating agreement" means any agreement, written or oral, among all of the members, as to the conduct of the business and affairs of a limited liability company. If a limited liability company has only one (1) member, an operating agreement shall be deemed to include:
(a) A writing executed by the member that relates to the affairs of the limited liability company and the conduct of its business regardless of whether the writing constitutes an agreement; or

(b) If the limited liability company is managed by a manager, any other agreement between the member and the limited liability company as it relates to the limited liability company and the conduct of its business, regardless of whether the agreement is in writing."
Video