Updated August 25, 2023
A Vermont LLC operating agreement governs how a business is run and includes its ownership. The agreement should confirm the officers, voting rights, and ownership interests of each member. In addition, rules that are related to the conduct of the company should be included in the document. After signing, it is not filed with any government office and is required to be kept by each member.
Is an Operating Agreement 

REQUIRED

in Vermont?
No. An operating agreement is not mandatory for businesses in Vermont.
By Type (2)
---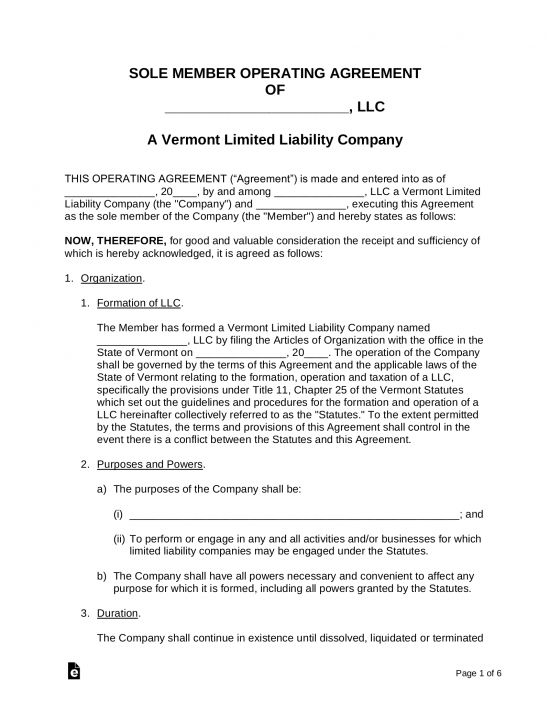 Single-Member LLC Operating Agreement – This document would be used by a sole proprietor who would like to establish their business and protect their assets.
Download: PDF, MS Word (.docx), OpenDocument
---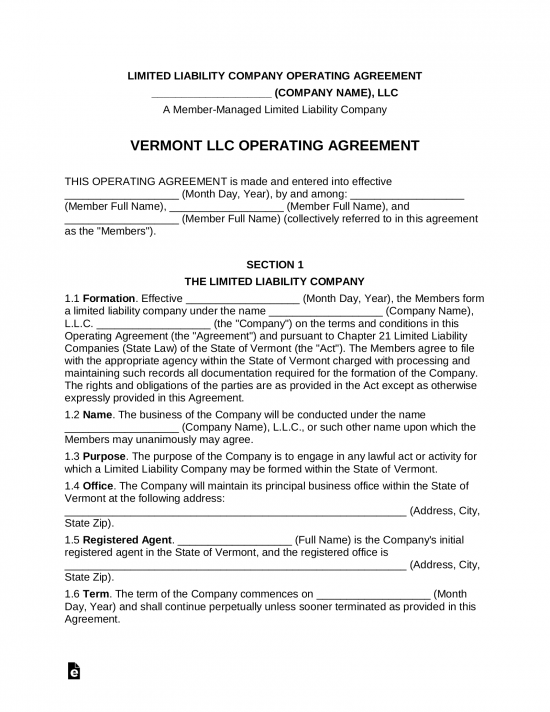 Multi-Member LLC Operating Agreement – This would be the document that would be used when there is more than one (1) member contributing to and managing the business.
Download: PDF, MS Word (.docx), OpenDocument
---
How to Form an LLC in Vermont (5 steps)
Before taking any steps towards filing your LLC, it is recommended that you conduct a Preliminary Search for your business name in the State's records to ensure that it is distinguishable and unique. Any similar or identical names filed with the Secretary of State's offices are liable to be rejected.
1. Choose a Registered Agent
A Registered Agent is an individual or organization designated by the LLC to receive correspondence in the event of legal action against the company. The agent may be either of the following:
An individual residing in Vermont
A corporation which is in good standing in Vermont
2. File for Registration
Select the link below that corresponds with your LLC type and the desired method of application. The Vermont Secretary of State's office prefers online filings, but individual forms for filing by mail may be requested here.
Important Filing Information
Print your paper applications in duplicate and include a self-addressed stamped envelope
Foreign applicants must provide a Certificate of Good Standing
3. Supply the Fee
The processing fee for both Domestic and Foreign LLC applications is $125; you may pay by credit card (online) or with a check made out to the 'Vermont Secretary of State' (paper). If submitting a paper application, send your complete filing package to the following address:
Vermont Secretary of State, Corporations Division, 128 State Street, Montpellier, VT 05633‐1104
4. Operating Agreement
Owners of both single and multi-member LLCs are advised to draft an operating agreement after completing their filing with the Vermont Secretary of State. This form outlines the various provisions of the company while also providing financial protection of each member's personal assets in the event of litigation.
5. Employer Identification Number (EIN)
Laws
"Operating Agreement" Definition
"Operating agreement" means an organization formed under this chapter or subject to this chapter following a merger, conversion, or domestication pursuant to subchapter 10 of this chapter.
Video