Updated August 25, 2023
A South Carolina LLC operating agreement is a legal document that establishes how a company will conduct its affairs and run its operations. The agreement also includes financial information related to the company such as ownership interest, initial loans, capital contributions, and any other records. The company should be run in accordance with the agreement and, if any changes are made, to be reflected in an added amendment.
Is an Operating Agreement 

REQUIRED

in South Carolina?
No — Businesses in South Carolina are not legally required to implement an operating agreement.
By Type (2)
---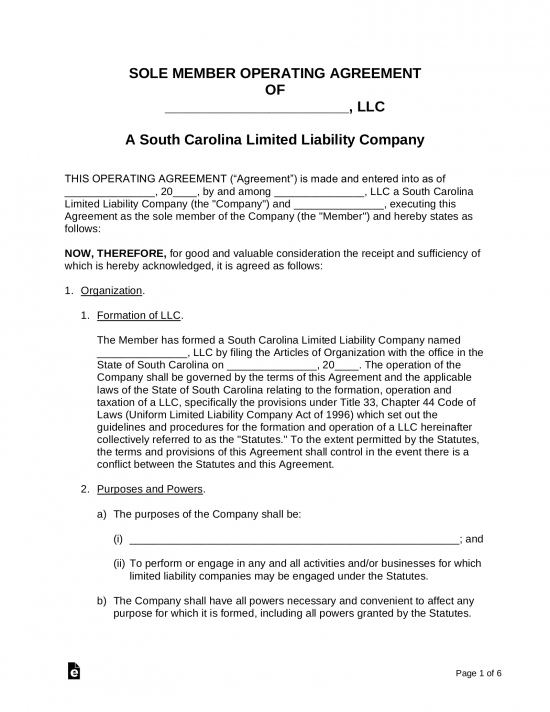 Single-Member LLC Operating Agreement – For use by a sole proprietor who will establish the procedures and policies of their company, as well, take advantage of the protections the document offers.
Download: PDF, MS Word (.docx), OpenDocument
---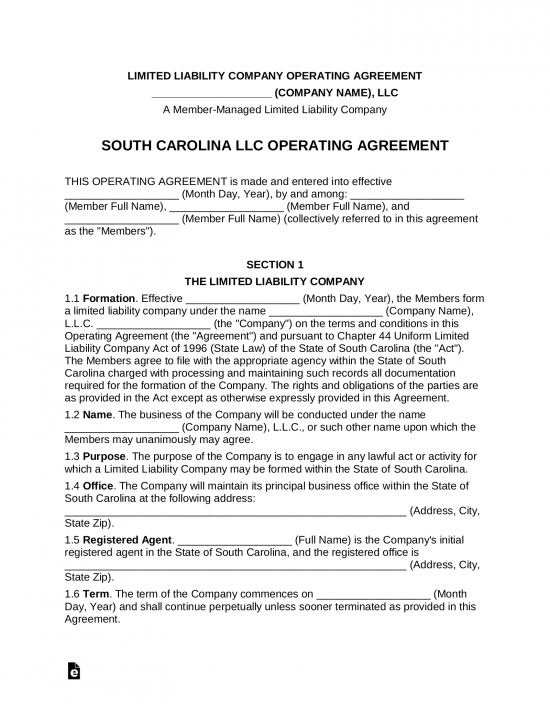 Multi-Member LLC Operating Agreement – For use by companies that will have more than one (1) managing member to agree upon various company policies and procedures among other aspects of the business. The members will have the opportunity to access protections that the document will offer all members.
Download: PDF, MS Word (.docx), OpenDocument
How to Form an LLC in South Carolina (5 steps)
A preliminary step to the LLC filing process is choosing of a unique business name which is distinguishable from that of any other on the State's files (any similar or duplicate names will be declined by the Secretary of State). To ensure that your chosen business name is available, conduct a Search for the Name in the State's database.
1. Choose Registered Agent
South Carolina State law demands that each LLC continuously maintains a Registered Agent for the purpose of receiving legal demands on behalf of the company.
The Registered Agent may be one of the following:
Individual residing in South Carolina
Authorized Domestic or Foreign corporation in South Carolina
Authorized Domestic or Foreign LLC in South Carolina
2. Which LLC Type
Select your LLC type and complete the application that follows:
Domestic – Articles of Incorporation

Online – select

Start New Business Filing

Foreign – Application  for  a Certificate  of  Authority  to  Transact  Business

Online – select

Start New Business Filing
Important Information
Online applicants will be required to create an Online Account
PDF applications must be printed in duplicate
Foreign filers must include a Certificate of Existence issued within thirty (30) days of filing
3. Filing Fee
A $110 filing fee must be supplied to the State in order for them to process your application. If filing by mail (PDF), have a check made out to the 'South Carolina Secretary of State' and send all articles to the address below. An online application may be paid for by credit card.
South Carolina Secretary of State's Office, Attn: Corporate Filings, 1205 Pendleton Street, Suite 525, Columbia, SC 29201
4. Operating Agreement (not required)
An operating agreement may be used by LLC owners to establish a set of rules and regulations which will govern the operating structure of the company. The form also provides proof that the LLC and its assets are separate from those of the member(s), documentation that is useful in the event of litigation.
5. Employer Identification Number (EIN)
The Internal Revenue Service uses the Employer Identification Number (EIN) to keep track of a company's financial activity. It will be necessary to apply for an EIN if your LLC plans to hire employees or request company credit cards. Should you be interested in applying, complete the Online Application or file IRS Form SS-4 through the mail.
Laws
"Operating Agreement" Definition
"Operating agreement" means the agreement under Section 33-44-103 concerning the relations among the members, managers, and limited liability company. The term includes amendments to the agreement.
Video