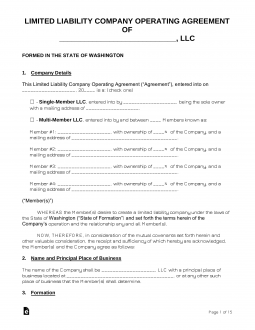 A Washington LLC operating agreement is a legal document that is used by managing members/owners of companies to negotiate and form the policies and procedures of their company. The State of Washington does not require that any company file this document. However, it's vitally important to implement the document if the members are interested in creating protection between the financial aspects of all members/owners and the business. Without the document, should any issues arise involving creditors or litigation, all of the members would be financially responsible, taking from their personal financial accounts and investments.
The documents are workable for multi-member companies and sole owner businesses. In the State of Washington, once the document is complete, it must be filed with the State. There should be copies provided to all members and they should keep them in a safe location and which is easily accessible.
Limited Liability Companies – Chapter 25.15 RCW
Operating Agreement Laws – RCW 25.15.018
State Definition – RCW 25.15.006(7)
Table of Contents
By Type (2)
---
Multi-Member LLC Operating Agreement – For use by contributing members of any company that has more than one (1) member.
Download: Adobe PDF, MS Word (.docx), OpenDocument
---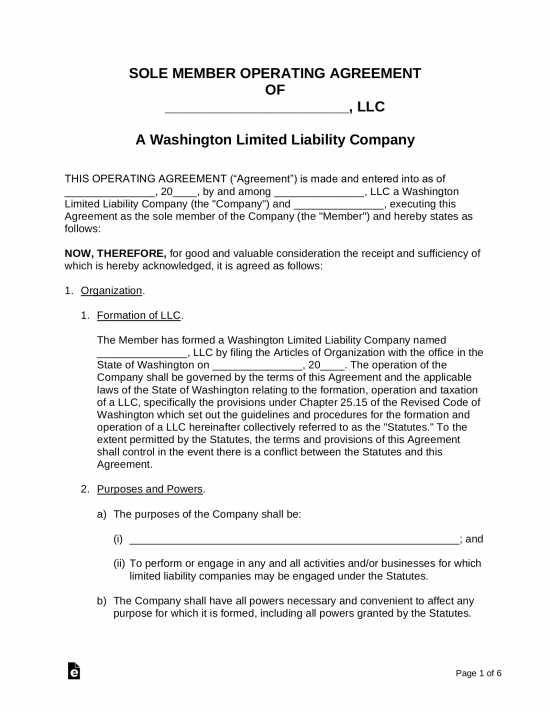 Single-Member LLC Operating Agreement – For use by a sole proprietor and sole manager of a business.
Download: Adobe PDF, MS Word (.docx), OpenDocument
---
How to Form an LLC in Washington (5 steps)
One of the more important steps of the LLC filing process is the choice of a business name which has not already been taken or reserved by another business; any duplicate or like names will be rejected by the State. To verify the availability of your business name, search for it in the Washington Department of Revenue's records.
Step 1 – Choose your Registered Agent
A Registered Agent must be elected by the LLC to act as a contact in the event of service of process or other legal demand to be delivered upon the company. The agent may be an individual with legal residence in the State or a business operating in the State.
Step 2 – Which LLC Type
Choose your LLC type and fill in the subsequent application.
Domestic LLC – Form a

new

company within Washington
*Foreign LLC – Expand an

existing

company (formed in an outside jurisdiction)
*Foreign applicants will need to include a Certificate of Existence in Adobe PDF or JPEG format.
Washington State has modified their registration process so that only online filing is available. To get started filing online, create a user account here.
Step 3 – Processing Fee
Next, a processing fee must be supplied in order to complete your application:
Online Fee – $200
Paper Fee – $180
Pay the online fee with your credit card.
Step 4 – Operating Agreement
An operating agreement allows LLC owners to create a suitable operating structure for the company by establishing the rights, duties, and financial investments of each member. There is no State law requiring the form, though it is highly recommended that one be implemented once the LLC has been filed with the Secretary of State.
Step 5 – Employer Identification Number (EIN)
An Employer Identification Number (EIN) must be acquired if your LLC plans to hire/pay employees or conduct major financial transactions under the company name. It is free to obtain an EIN on the IRS Website as well as through the submission of an Adobe PDF of Form SS-4.
(Video) How to Make an LLC Operating Agreement in Washington